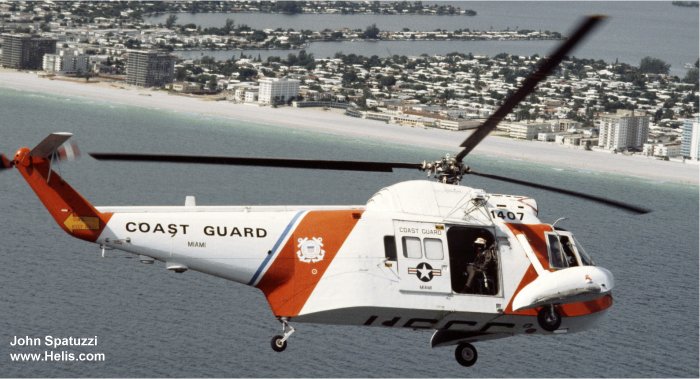 Two S-62 prototypes were completed, with 1,050 shp T58-GE-6 engines derated to 670 shp. The design utilized the main and tail rotor of the S-55. The maiden flight occurred on May 22, 1958 by c/n 62-001, N880. Subsequently, world-wide demonstration flights were made and the FAA type certificate was awarded on June 30, 1960. The prototypes were followed by the S-62A for civil passenger and utility use. One S-62B was built utilizing the four bladed main rotor of the S-58, however, shortened by .33m. The improved S-62C was built and ordered by the US Navy for the US Coast Guard, initially as the HU2S-1G, then
redesignated in 1962
as the HH-52A Seaguard. Mitsubishi built the type under license as the S-62J for Japanese domestic use.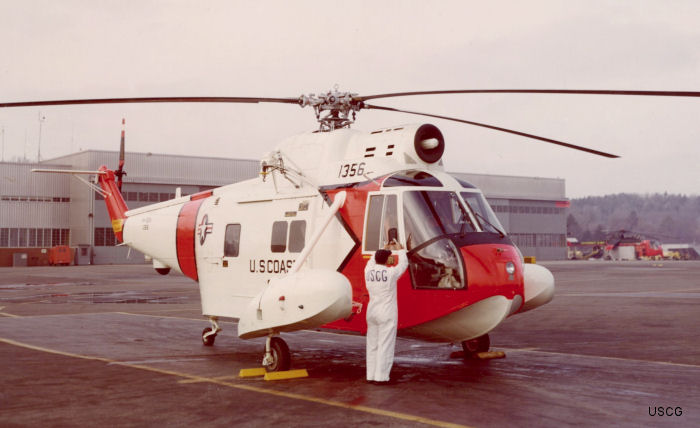 Coast Guard Remembers Crew of HH-52A 1363, 22-Dec-15 : The U.S. Coast Guard held a memorial service in remembrance of the HH-52A 1363 helicopter crashed on December 22, 1964 during the North Coast's "Storm of the Century."
Model
Year
History
S-62A
1960
Two S-62 prototypes were completed, with 1,050 shp T58-GE-6 engines derated to 670 shp. The design utilized the main and tail rotor of the S-55. ...

S-62B
1961
Sikorsky modified a S-62A (c/n 62-008) to accept the larger four blade S-58 rotor and other S-58 components in order to satisfy a requirement of ...

S-63
1961
The Sikorsky S-63 was a derivative of the S-62 design, but utilizing the S-58 dynamic four blade rotor (shortened) and four blade tail rotor (sho ...

HH-52A Sea Guard
1962
The Sikorsky S-62C was used by the United States Coast Guard as the HH-52A Seaguard for search and rescue. It was in service from 1962-1989 when ...

Mitsubishi S-62J
1962
Mitsubishi produced a MS-62J under license from Sikorsky. Begining in 1962, it received three S-62A as components and built another 22 as MS-62Js ...