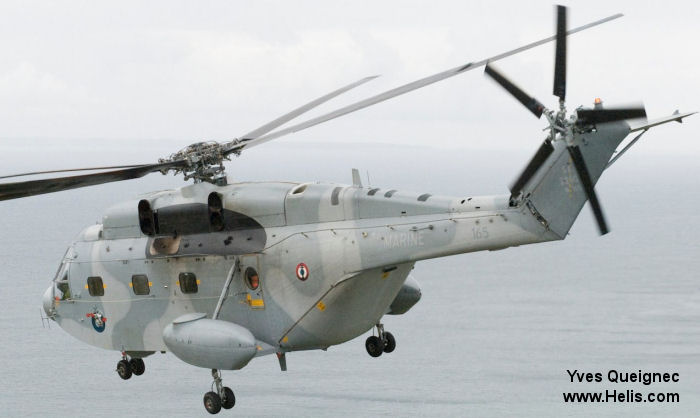 Developed from the all French SE 3200 Frelon (Hornet), the SE 3210 Super Frelon benefitted from three Turmo IIIC engines (the 3200 had three Turmo IIIBs), plus significant design input from
Sikorsky
, especially in the 6 bladed, self-folding rotor head and from Fiat with the transmission system. The army prototype (01), first flew on 7 Dec 1962, followed by the second (maritime prototype, 02) on 28 May 1963. It entered service in 1966. When
Aerospatiale
was formed in 1970, the model became known as the
SA-321 Super Frelon
. There were several versions and it was a successful export product. When production ceased in 1983, 99 had been built.

Variants not built:
SA.321A : Land based military transport

SA.321B : Land based troop transport

SA.321C : Land based civil transport

SA.321D : Maritime ASW

SA.321E : Maritime transport

SA.321F : Civilian transport. One Built


A single aircraft was adcquired in 1975 by the Republic of Zaire ( present Democratic Republic of the Congo ) for use as personal transport for president Mobutu. Also that year, SA.321J were delivered to China which lead to the indigenous Z-8 helicopter.