Hélicoptère d'Appui Destruction (HAD, french for Support and Attack Helicopter ) is basically an improved HAP with more engine power, better ballistic protection and also capable of carrying Hellfire or Spike anti-tank missiles. Tiger HAD is navalised and can be fully operated from sea. The HAD-E is assembled by Eurocopter Spain at Albacete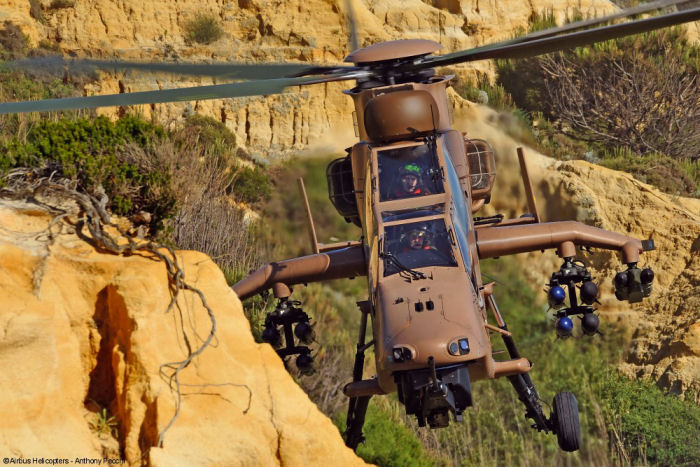 Tiger HAD Presentation in Poland, 27-Aug-15 : MSPO 2015 A French Army Tiger HAD give a presentation in Poland a week before being displayed at the 23rd edition of the International Defence Industry Exhibition MSPO in Kielce.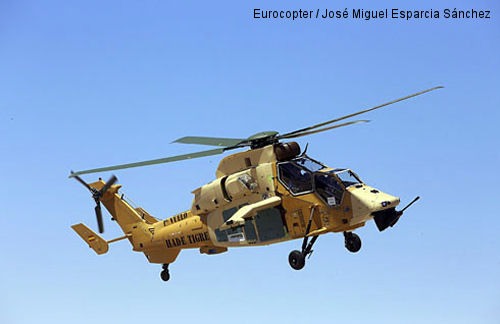 Spanish-assembled Tiger HAD/E first flight, 30-Jul-13 : Albacete, Spain - Eurocopter's Tiger combat helicopter program has reached an important new milestone with the maiden flight yesterday of the initial Tiger HAD/E variant assembled at Eurocopter's Spanish facilities in Albacete, Spain.
Tiger HAD version for France performs its maiden flight, 17-Dec-10 : Marignane, France, The first pre-serial Tiger HAD (fire support and destruction) for France made its maiden flight from Eurocopter's Marignane, France facility. It marks an important step towards the Block I initial qualification of the Tiger HAD, which is one of four versions in Eurocopter's multi-role Tiger combat helicopter family.
List of Operators of Eurocopter Tiger HAD
From
Organisation with model Tiger HAD
2003
2007




Construction Numbers on database of Tiger HAD


C/N
Year
History
5001
2007
F-ZWBP : Eurocopter France f/f 14dec07, first serial HAD French +
HA.28-18 : 5001/HAD/E01 Eurocopter España f/f Sep10

5002
HA.28-07 : 5002/HADE02 as HA.28-07-10008; Feb14 as HA.28-10008
ET-707 d/d 15jan15 BHELA I from Airbus Albacete
21may16 picture (pic2) at El Bruch, Barcelona open day+

5003
HA.28-08 : 5003/HAD/E03 ET-708 d/d Jan15. HA.28-08-10009

5004
HA.28-09 : 5004/HAD/E04 ET-709 Jun15, HA.28-09-10010

5005
HA.28-10 : 5005/HAD/E05 ET-710 Sep15, HA.28-09-10011

5006
HA.28-11 : 5006/HAD/E06 ET-711 Jun17, HA.28-08-10041

6001
2010
F-ZWPB : Eurocopter f/f 17dec10; 1st HAD for French Army
Aug14 with Airbus Helicopters at MSPO 2014, Poland
6001 : ALAT, test serial F-ZWPB
22jun17 as /BJA pictured (pic1) on display at Paris Air+
13/17nov17 as /BJA pictured (pic2) on landing qualifica+

6002
2012
F-ZWBV : Eurocopter France
6002 : ALAT /BJB dd 10apr13, F-MBJB
14jul13 unit ?./BJB flew in parade Quatorze Juillet 201+
29jun/29jul 2014 asg 1RHC pictured in Djibouti during H+

6003
6003 : ALAT /BJC Aug13 EFA

6004
6004 : ALAT c/n 6004
14jul14 asg, EFA./BJD flew in parade Quatorze Juillet
10jun15 pictured arriving at LeBourget for Paris airsho+

6005
6005 : ALAT /BJE Oct13 EFA

6006
6006 : ALAT /BJF Dec13 1RHC

6007
6007 : ALAT /BJG, test serial F-MBJG; 2014 1RHC

6008
6008 : ALAT /BJH, test serial F-MBJH; Jul15

6009
6009 : ALAT /BJI, test serial F-MBJI
14jul17 pictured leading the ALAT section of the helico+

6010
6010 : ALAT /BJJ, test serial F-MBJJ

6011
6011 : ALAT /BJK, test serial F-MBJK; Oct14 as F-ZWBH

6012
6012 : ALAT /BJL, test serial F-FMBL; Jul15

6013
6013 : ALAT /BJM, test serial F-FMBM; 2015 as F-ZKBL
08sep18 pictured during Belgian Air Force Days 2018 at +

6014
6014 : ALAT /BJN, test serial F-FMBN; 2015 as F-ZKBU

6015
6015 : ALAT /BJO, test serial F-FMBO; Jul16

6016
6016 : ALAT /BJP, test serial F-FMBP

6017
6017 : ALAT /BJQ, test serial F-FMBQ

6018
6018 : ALAT /BJR, test serial F-FMBR; Feb16 as F-ZKBI

6019
6019 : ALAT /BJS, test serial F-FMBS; Feb16 as F-ZKBM

6020
6020 : ALAT /BJT, test serial F-FMBT; May16 as F-ZKBC; Sep16+

26 C/N.