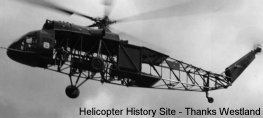 private venture heavy lift / transport development. with twin napier eland e220 turboshaft engines, in its day the wg.7 westminster was the western world s largest mechanically driven, twin turbine, single rotor system helicopter. developed at the end of the 1950s, the project was eventually doomed by: 1) westland s acquistion of saunders-roe and the helicopter elements of fairey and bristol with the need to consolidate and reorganise the business; 2) the admiralty s concern over the potential loss of focus on the anti-submarine version of the wessex; 3) a lack-lustre order book, despite appearances at the 1958, 1959 and 1960 aviation showcase sbac airshows at farnborough. only 2 protoypes built.
4) the more progressive technology and commercial potential of the
Rotodyne
, recently acquired through the purchase of
Fairey Aviation
.

List of Operators of Westland Westminster
From
Organisation with model Westminster
1958






Construction Numbers on database of Westminster or its versions


C/N
Built as
Year
History
wa1
1958
G-APLE : ff 15 Jun 1958, registered as G-APLE 27 Feb 1959. De-re+

wa2
1959
G-APTX : Registered as G-APTX 5 May 1959, ff 4 Sep 1959. wfu Sep+



2 C/N.