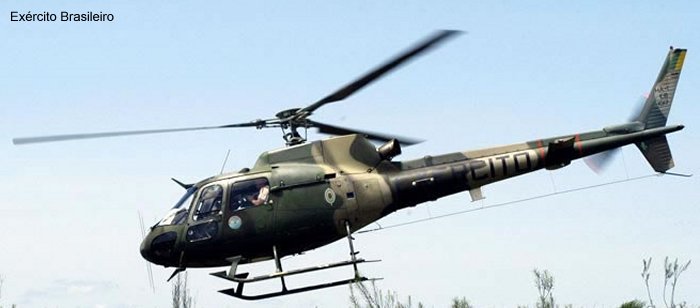 Known as
HA-1 Esquilo
in Brazilian service and assembled in Brazil by
Helibras
. Upgraded from 2014.
Early Aerospatiale airframes
listed separately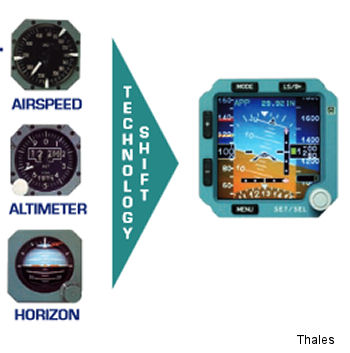 Thales avionics for Brazilian Army Esquilos, 26-May-14 : Thales will provide its Integrated Electronic Stand-by Instrument (IESI) to modernise the Esquilo/Fennec helicopter fleet of the Brazilian Army. A total of 36 helicopters will be retrofitted with the Thales system with completion expected in 2018.
C/N
Built
ID In this Org
In other Org


2662
EB-1017: Exercito HA-1 type

: Helibras AS550A2 Fennec Army HA-1 type

2663
EB-1018: Exercito HA-1 type

: Helibras AS550A2 Fennec Army HA-1 type

2676
EB-1019: Exercito HA-1 type; w/o 1995

: Helibras AS550A2 Fennec Army HA-1 type

2716
EB-1020: Exercito HA-1 type

: Helibras AS550A2 Fennec Army HA-1 type

2730
EB-1021: Exercito HA-1 type

: Helibras AS550A2 Fennec Army HA-1 type

2731
EB-1022: Exercito HA-1 type

: Helibras AS550A2 Fennec Army HA-1 type

2743
EB-1023: Exercito HA-1 type

: Helibras AS550A2 Fennec Army HA-1 type

2744
EB-1024: Exercito HA-1 type

: Helibras AS550A2 Fennec Army HA-1 type

2745
EB-1025: Exercito HA-1 type

: Helibras AS550A2 Fennec Army HA-1 type

2746
EB-1026: Exercito HA-1 type

: Helibras AS550A2 Fennec Army HA-1 type

2755
EB-1027: Exercito HA-1 type

: Helibras AS550A2 Fennec Army HA-1 type

2757
EB-1028: Exercito HA-1 type

: Helibras AS550A2 Fennec Army HA-1 type

2762
EB-1029: Exercito HA-1 type; w/o 10mar10

: Helibras AS550A2 Fennec Army HA-1 type

2763
EB-1030: Exercito HA-1 type

: Helibras AS550A2 Fennec Army HA-1 type

2769
EB-1031: Exercito HA-1 type

: Helibras AS550A2 Fennec Army HA-1 type

2770
EB-1032: Exercito HA-1 type; w/o 20jan11 at Campo do Coelho, Nova Fr+

: Helibras AS550A2 Fennec Army HA-1 type

2779
EB-1033: Exercito HA-1 type

: Helibras AS550A2 Fennec Army HA-1 type

2780
EB-1034: Exercito HA-1 type

: Helibras AS550A2 Fennec Army HA-1 type

2783
EB-1035: Exercito HA-1 type

: Helibras AS550A2 Fennec Army HA-1 type

2784
EB-1036: Exercito HA-1 type

: Helibras AS550A2 Fennec Army HA-1 type