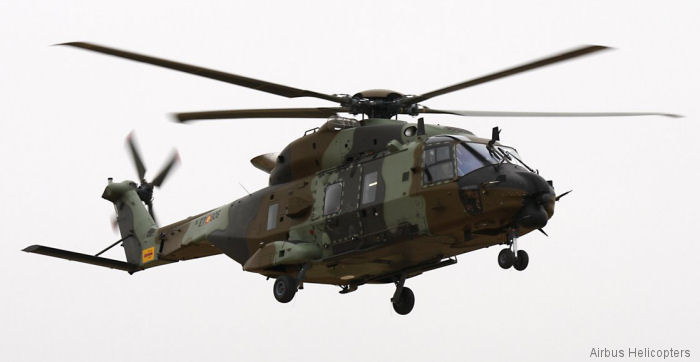 Original plans called for 104 NH90 to be assembled locally at Albacete and distributed between the 3 armed Forces. In 2005 the order was reduced to 45. In 2013 the number was set to 22 (until 2019) although the total cost was increased.

These aircraft, known as GSPA and HT-29 Caimán, used General Electric CT7 8F5 engines and avionics software developed in Spain.

First flight of a Spanish NH90 took place on December 17, 2010. The first 2 were built in France while the rest also to be manufactured in France but the Eurocopter España plant located in Albacete and inaugurated in 2007 is responsible for the assembly. First Spanish NH90 roll out in 2013.

FAMET received their first NH90 on December 2014. The second (ET-804) was delivered on December 2015.

On September 13, 2016 at Colmenar Viejo was held the official ceremony of acceptance for the first 2 aircraft. It was announced that 16 helicopters will be delivered at a rate of 3 aircraft per year until 2023.

On September 2017 performed first public display during Naval Aviation Centennial at Rota naval base.

On December 2017 performed first live fire exercise at San Gregorio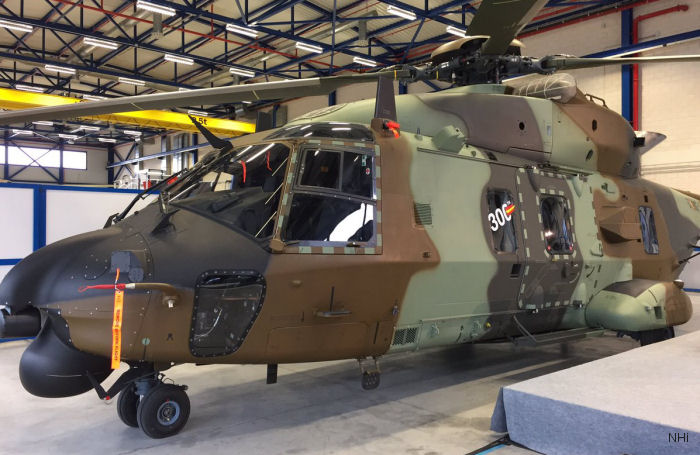 300th NH90 Delivered, 15-Dec-16 : NH Industries delivered the 300th NH90 production helicopter to the Spanish Armed Forces on December 15 at the Albacete plant.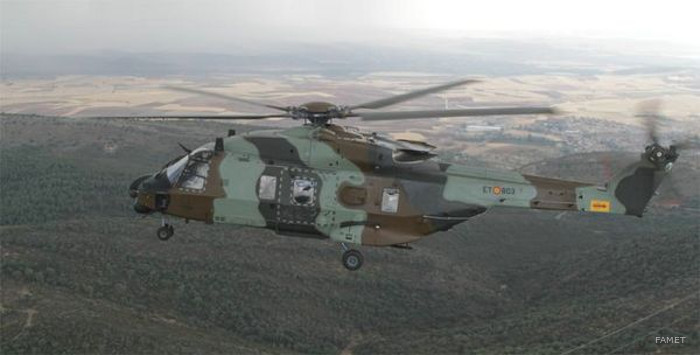 Spanish Army Accepts First Two NH90, 13-Sep-16 : Spanish Army Aviation (FAMET) held a ceremony at Colmenar Viejo for the official introduction into service of the first 2 NH90 (HT-29 Caimán)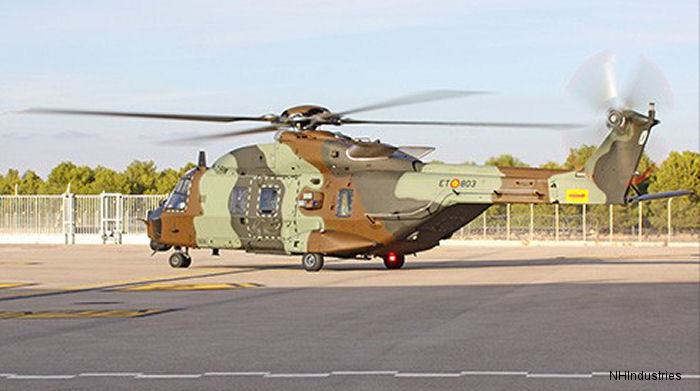 NHI Delivers The First Spanish Built NH90TTH, 18-Dec-14 : NHI delivered to the Spanish Army the first NH90H Tactical Transport Helicopter built in Spain. Airbus Helicopters España at Albacete will supply a total of 22 helicopters through to 2019.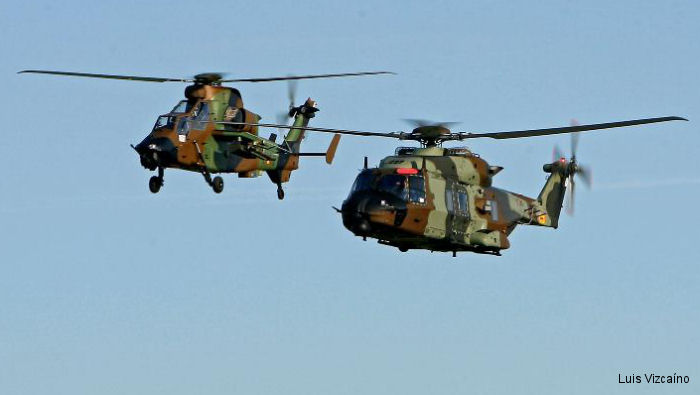 One NH90 and Two HAD-E Tiger Delivered to FAMET, 18-Dec-14 : Official delivery of the first two Tiger helicopters in the new HAD-E version and the first NH90 GSPA tactical transport helicopter to the Spanish Army Airmobile Force (FAMET).
King Juan Carlos I on a FAMET NH90, 17-Sep-12 : Madrid - His Majesty Juan Carlos I, King of Spain, took off this morning from the Cuatro Vientos Air Base in Madrid for a flight in the Spanish variant of the cutting-edge NH90 helicopter, which is being fitted out and tested at the company's facility in Albacete. The first deliveries of this aircraft to the Spanish Army Airmobile Force (FAMET) are scheduled for next year.
C/N
Built
ID In this Organisation
In other Org


1215
HT.29-01: 1215/GSPA01 Jul11 at Eurocopter Albacete as HU.29-01; 2016 s+

F-ZWRE: Eurocopter France FAMET TTH 01 f/f 17dec10

1242
HT.29-02: 1242/GSPA02 2012 Eurocopter Albacete as HU.29-02; 2016 still

F-ZWFE: Eurocopter France FAMET TTH 02

1264
2013
HT.29-03: 1264/GSPA03 first built in Spain f/f 23/jan13 as HU.29-03

1276
HT.29-04: 1276/GSPA04 Dec15 as HU.29-04

1282
HT.29-05: 1282/GSPA05; FAMET ET-805

1283
HT.29-06: 1283/GSPA06; FAMET ET-806