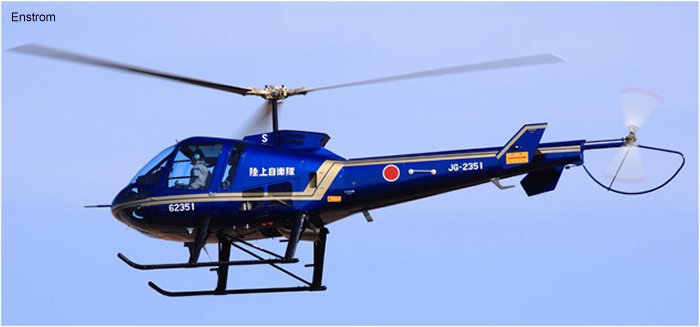 First aircraft received on March 2011 and the second one on November. 30 are to be delivered through 2014 in order to replace the
kawasaki OH-6
as the JGSDF primary training helicopter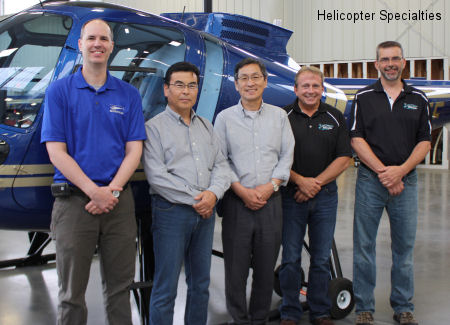 Two more Enstrom 480B for the JGSDF, 09-Jul-13 : Helicopter Specialties, Inc. (HSI) of Janesville, Wis., in partnership with Enstrom Helicopter Corporation of Menominee, Mich., has delivered two Enstrom 480B training helicopters to Aero Facility Co. Ltd. of Tokyo, Japan.
Japan received 10th of 30 Enstrom 480s, 30-Oct-12 : Menominee, MI – Representatives from Japan visited Enstrom the week of October 22, 2012 to accept their last delivery for the year. This delivery marks eight aircraft for the year, completing a total 10 out of a contracted 30 TH-480B helicopters that have been delivered.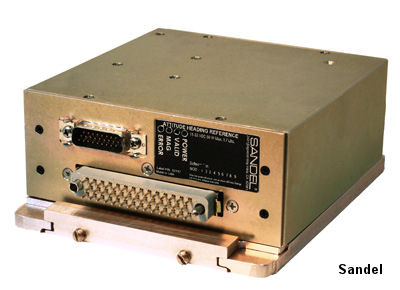 Sandel avionics chosen for Japan TH-480B, 20-Mar-12 : Vista, CA — Sandel Avionics has announced it has been chosen by the Japan Ground Self Defense Force (JGSDF) to provide its 3-ATI SN3500 Primary Navigation Display and SG102 Attitude Heading Reference System (AHRS) with unique Reversionary Attitude Display mode for a fleet of 30 new Enstrom 480B turbine helicopters purchased by the JGSDF. A representative of the Japanese military met with Sandel and Enstrom representatives at HAI and specified that Sandel's package was exactly what they wanted on their new helicopter fleet. The final purchase order was submitted to Enstrom Helicopter for the fleet purchase at HAI Heli-Expo 2012. Enstrom will begin configuring the JGSDF helicopters with the Sandel products immediately and plans call for completing helicopter deliveries over the next three years.
JGSDF signed contract for 28 TH-480B, 13-Feb-12 : Dallas TX, February 13, 2012 – Enstrom Helicopter Corporation signed a contract today for the follow on 28 aircraft contract with their Representative, Aero Facility Co. Ltd., of Japan, at the HAI convention. This signing, which took place on Feb. 13, 2012 at the Enstrom display, follows a contract awarding the aircraft between the Japanese government and Enstrom's Japanese representative. The aircraft are part of an overall 30 helicopter program award for the Japanese Ground Self Defense Force. Enstrom's model TH-480B turbine helicopter was chosen in a competitive bid to be the JGSDF's new primary training helicopter in 2010.
Enstrom ships second JGSDF helicopter, 21-Oct-11 : Menominee, MI – Enstrom Helicopter Corporation recently shipped the second of a planned 30 TH-480B helicopters for the Japanese Ground Self Defense Force. The turbine powered training helicopter was shipped to Aero Facility Co. Ltd., Enstrom's representative in Japan. The aircraft will be used by the JGSDF to train flight instructors for the future TH-480B fleet. Aero Facility will deliver the helicopter to the JGSDF in early 2012 and then continue delivering the remainder of the fleet through 2014.