On November 2011 has signed a contract for six AW189 helicopters to be used to perform offshore transport missions.
On March 2013, Bristow proposal of
S-92
and AW189 wins the
UK SAR
contract. Further 11 AW189 will be use in this role.
On July 21, 2014 runs their first commercial North Sea operation with the AW189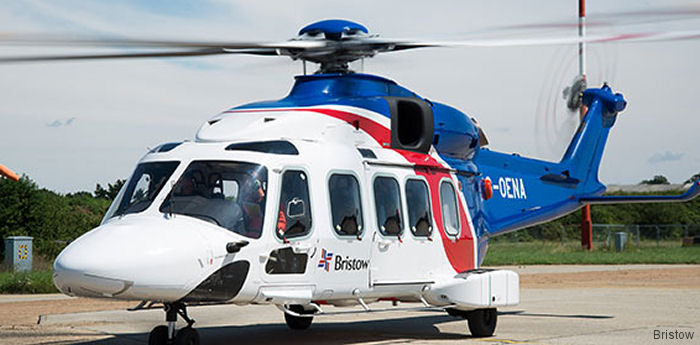 Bristow AW189 with New Terminal at Aberdeen, 23-Jan-18 :

Bristow developed a new fixed-wing passenger terminal at the Forties Road heliport complex in Aberdeen, Scotland improve conditions for offshore workers. They recently added 2 AW189 to their fleet.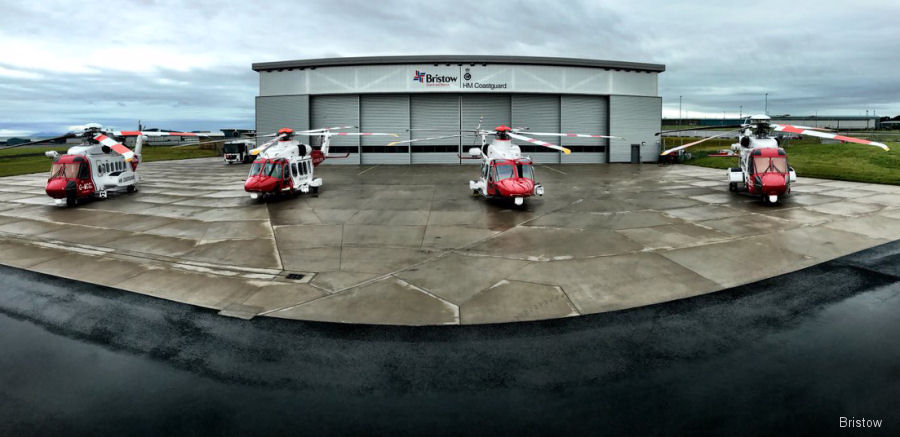 Prestwick Starts Operations with AW189, 04-Jul-17 : HM Coastguard search and rescue (SAR) helicopter base in Prestwick, operated by Bristow, started flying the new Leonardo AW189 on Saturday July 1st, 2017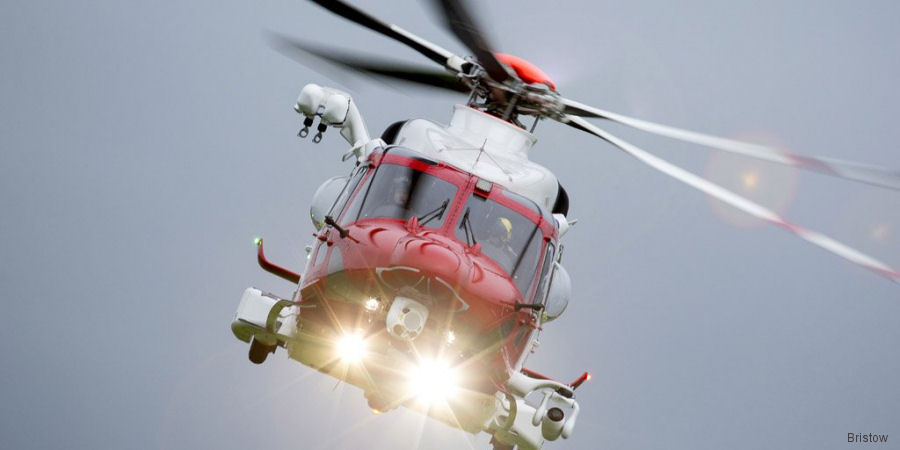 Coastguard Prestwick Received AW189, 02-May-17 : The first of two AW189 helicopters operated by Bristow for the Coastguard is set to arrive soon at Prestwick airport in Scotland to start operations next July in replacement of the S-92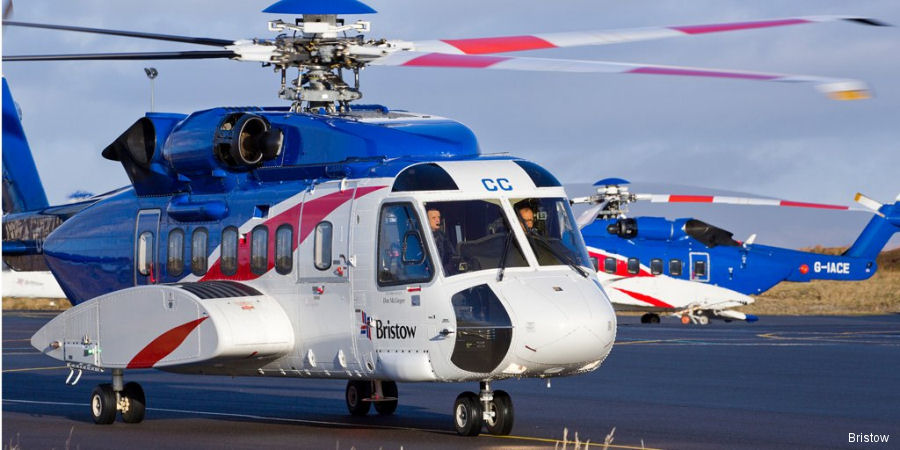 Bristow Announces North Sea Apache Contract, 18-Apr-17 : Starting September 2017 and for 5 years, Bristow S-92 and AW189 helicopters to support Apache North Sea Limited in United Kingdom Continental Shelf (UKCS) Beryl and Forties fields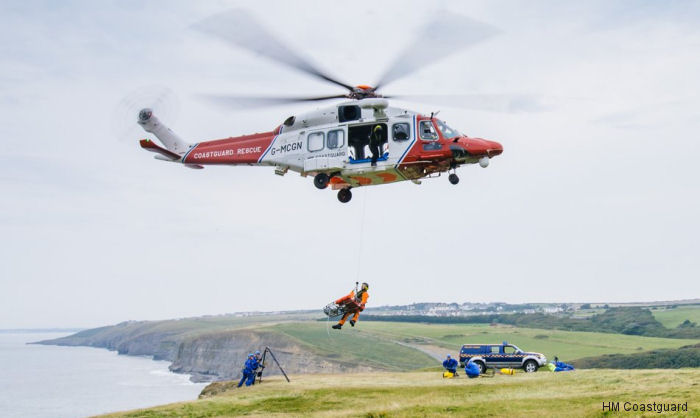 AW189 Enters HM Coastguard Service, 31-Mar-17 : HM Coastguard helicopter base in Lee-On-Solent has started flying the AW189 helicopter for SAR operations. Operated by Bristow, bases Prestwick, St Athan, Lydd and Inverness will follow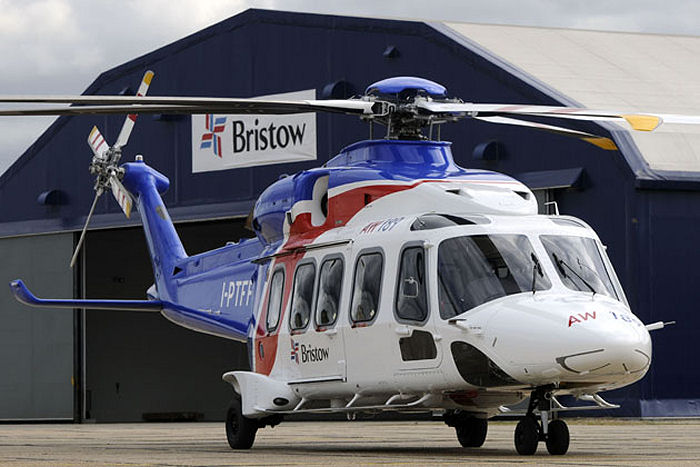 Bristow Celebrating Cygnus First Gas, 06-Feb-17 : Bristow AW189 serving ENGIE E&P UK's in the Cygnus Field in the Southern North Sea since 2014. Since then they transported 21,967 passengers on 3,927 flights
C/N
Built
ID In this Organisation
In other Org


49005
2013
I-PTFF: Jul13 AgustaWestland pre-production aircraft used for tours +

I-PTFF: AgustaWestland P5 prototype 2013


---

I-PTFF: 24sep13 pictured (pic1) in Bristow colours at London He+


---

04oct13 pictured (pic2) at Aberdeen, Scotland


---

I-AWTG: AgustaWestland UK 2014, based at Yeovil still in Bristo+


---

I-PTFF: 30sep14 in HM Coast Guard Rescue livery at Yeovil


---

I-PTFF: 07oct14 unveiled by Bristow and AgustaWestland in HM co+

49007
2013
G-OENA: Bristow from 22may14

I-RAID: AgustaWestland f/f 10oct13, first production aircraft (+

49008
2013
G-OENB: Bristow from 17apr14

I-RAIP: AgustaWestland Italy Feb13

89001
2014
G-MCGM: Bristow Helicopters from 19jan15

G-MCGM: AgustaWestland UK Nov14-Jan15, test serial I-EASN


---

G-MCGM: HM Coastguard, op by Bristow; 17feb15 pictured (top) at+


---

16apr15 low level flight thru Snowdonia


---

12mar15 pictured (bot) at Norwich

89002
2017
G-OENC: Bristow from Aug17

I-RAIU: AgustaWestland

92001
2014
G-MCGN: Bristow Helicopters Apr15-Nov16, for Coast Guard
G-CJNV: Bristow Nov16-Dec17, new white livery; 03jan17 pictured (p+

G-MCGN: AgustaWestland Dec14-Apr15


---

G-MCGN: HM Coast Guard Apr15-Nov16, op by Bristow; 28apr15 pict+

92002
2014
G-MCGO: Bristow for Coastguard

G-MCGO: AgustaWestland from Mar15


---

G-MCGO: HM CoastGuard from Jan17 at Solent District


---

05jul17 15:38 at 400' above river Itchen, Southampton


---

13aug17 16:30 used in 2 rescues within 2 hours at Durdl+

92003
2014
G-MCGP: Bristow d/d 04jun15 at Norwich

G-MCGP: AgustaWestland from Mar15


---

G-MCGP: 11feb16 atMOD St Athan, South Wales


---

17jul17 22:30hs landed Homefield park Worthing, West Su+


---

05oct17 17:10hs flew South over Guisborough

92004
2014
G-MCGR: Bristow from Dec16, for Coastguard

G-MCGR: AgustaWestland Mar15-Dec16


---

G-MCGR: HM Coastguard; 11jul16 pictured (pic1) on display at FI+


---

HM CoastGuard from May17 at Prestwick


---

12jul17 asg Prestwick pictured (pic2) in first rescue m+

92005
2014
G-MCGS: Bristow from Sep16, for Coastguard

G-MCGS: AgustaWestland Mar15-Sep16


---

G-MCGS: HM CoastGuard from Jan17 at Solent District

92006
2014
G-MCGT: Bristow from Feb17, for Coastguard

G-MCGT: AgustaWestland Mar15-Feb17


---

G-MCGT: HM CoastGuard from May17 at Prestwick


---

09may17 pictured at Fort William, Scotland

11 C/N.