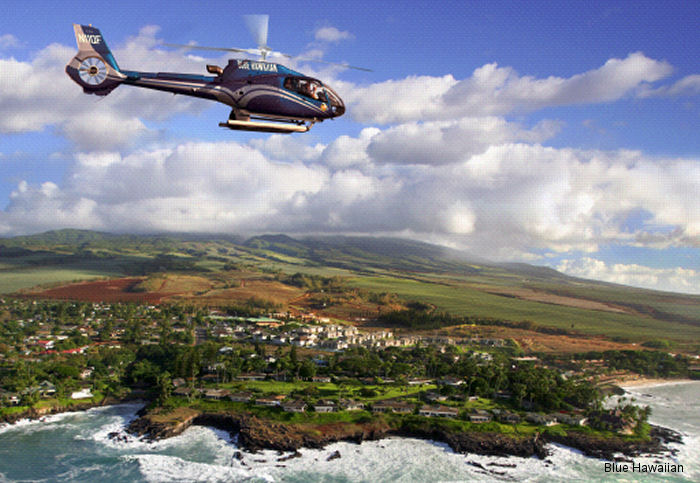 Blue Hawaiian Eighth EC130T2 in Service, 30-Apr-15 : Blue Hawaiian Helicopters announces the placement of its EC130T2 "Eco-Star" into service, making it the eighth to enter operation with Blue Hawaiian in the past two years.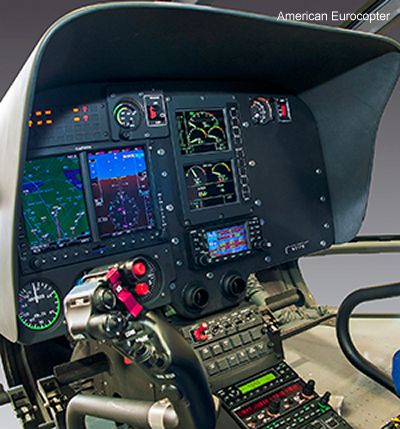 First 2 EC130 T2 delivered to Blue Hawaiian, 22-Jul-13 : Grand Prairie, Texas – American Eurocopter has received a Supplemental Type Certificate from the Federal Aviation Administration for installing the Garmin G500H "glass cockpit" multifunction electronic flight display system in the EC130 T2 helicopter.
Blue Hawaiian orders 20 EC130 T2 aircraft, 12-Feb-12 : Dallas, Texas – At the Heli-Expo launch of Eurocopter's new EC130 T2 helicopter, American Eurocopter announced today that Blue Hawaiian Helicopters has ordered 20 of the updated EC130 model that has made a name for itself in the United States in a variety of industries, particularly the aerial tour industry. The agreement with Blue Hawaiian includes 10 firm orders with options for 10 more. These helicopters will be used as part of an ongoing fleet replacement program.
C/N
Mod
Built
ID In this Org
In other Org


7485
2012
N11EQ: Nevada Helicopter Leasing at Henderson, NV from May13; Blue +

7571
2013
N11FQ: Nevada Helicopter Leasing at Henderson, NV from Aug13; Blue+

N11FQ: American Eurocopter Apr13

7603
N11HQ: Nevada Helicopter Leasing at Henderson, NV from Dec13; Blue +

N11HQ: American Eurocopter Aug13

7723
N11KQ: Nevada Helicopter Leasing at Henderson, NV from Jul14; Blue+

N11KQ: American Eurocopter Oct13


---

N11KQ: Airbus Helicopters Inc Feb14

7801
h130
2013
N11LQ: Nevada Helicopter Leasing from May14; Blue Hawaiian

N11LQ: Airbus Helicopters Inc from Feb14

7879
h130
2014
N11MQ: Nevada Helicopter Leasing at Henderson, NV from Aug14; Blue +

7950
h130
2014
N11NQ: Nevada Helicopter Leasing Llc at Greenwood Village, CO from +

N11NQ: Airbus Helicopters Inc Aug14

8044
h130
2014
N11TQ: Nevada Helicopter Leasing Llc at Las Vegas, NV from Apr15; B+

N11TQ: Airbus Feb15

8053
h130
2015
N11UQ: Nevada Helicopter Leasing from Jul16; Blue Hawaiian

8070
h130
2015
N11VQ: Nevada Helicopter Leasing at Las Vegas, NV from Oct 15; Blu+

N11VQ: Airbus Helicopters May15

8113
h130
2015
N11XQ: Nevada Helicopter Leasing from Jan16; Blue Hawaiian

8156
h130
2015
N11YQ: Nevada Helicopter Leasing from Apr16; Blue Hawaiian