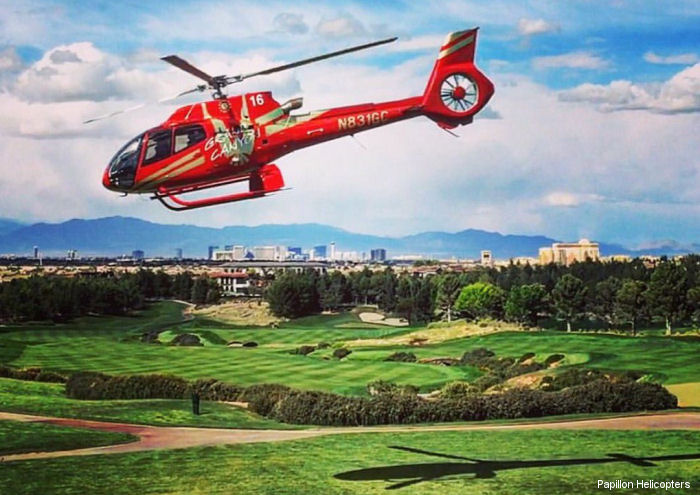 Papillon orders 20 EC130 T2 helicopters, 12-Feb-12 : Dallas, Texas – At today's launch of Eurocopter's new EC130 T2 helicopter, American Eurocopter announced that Papillon Helicopters, one of the launch customers for the new line, has placed an order for 20 EC130 T2s. The order is for an initial six EC130 T2 helicopters, with an additional 14 options. Papillon's fleet includes 19 EC130s and 10 AS350 B2s, and this order is part of an ongoing renewal of its Grand Canyon flightseeing fleet.
C/N
Mod
Built
ID In this Org
In other Org


7507
2012
N830GC: Zuni LLC at Kirkland, WA from May13

7582
N831GC: Papillon from Sep13; pictured at Grand Prairie, TX

N831GC: American Eurocopter from Jan13

7667
N832GC: grand canyon with Papillon

N832GC: American Eurocopter from Aug13

7747
2013
N833GC: Xebec Llc from Mar14

7829
h130
2014
N834GC: American Helicopters Llc at Kirkland, WA from May14; Papillo+

7833
h130
2014
N835GC: Zuni Llc from May14

8012
h130
2014
N836GC: Papillon Golden Helicopter 50th Anniversary; pictured at He+

N836GC: Airbus Helicopters from Jan15

7 C/N.