AW139 operated under UK SAR contract for the Coastguard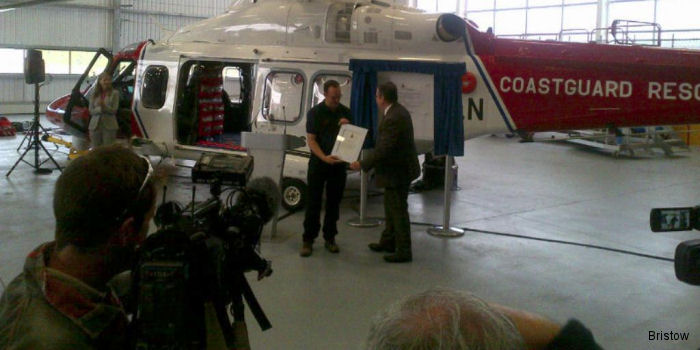 UKSAR St Athan Service Launch Ceremony, 15-Oct-15 : The launch of the St Athan civilian UK search and rescue (SAR) helicopter service was marked with a ceremony held at the new SAR base at St Athan airfield.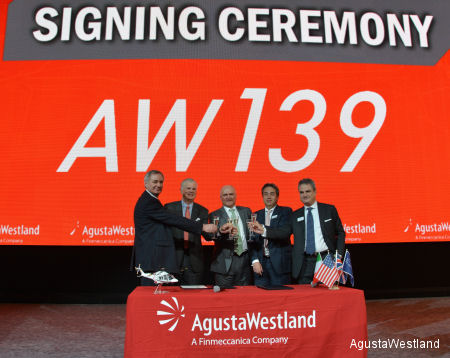 Bristow Group orders 6 more AW139s, 06-Mar-13 : AgustaWestland, a Finmeccanica company, is pleased to announce it has signed a contract with Bristow Group Inc. for six AW139 helicopters plus a number of options for additional aircraft. The contract was signed today at Heli-Expo in Las Vegas by Mark Duncan, Bristow Group SVP, Commercial and Emilio Dalmasso, AgustaWestland's SVP Commercial Business.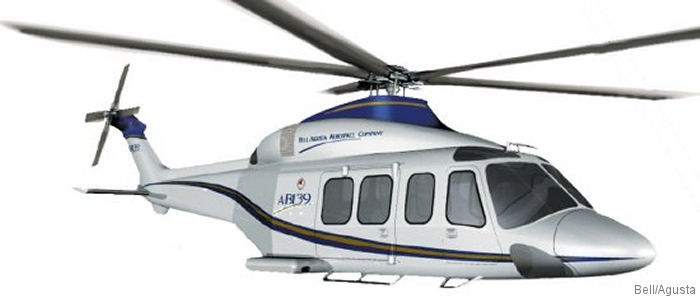 AB139 at Helitech 1999, 08-Oct-99 : Bell/Agusta Aerospace Company announced Bristow Helicopter ordered two AB139 during Helitech 1999. First flight scheduled for late 2000
C/N
Mod
Built
ID In this Organisation
In other Org


31312
2010
G-CGSN: Bristow Dec10-Jul11

N439BG: Bristow US from Aug11

31310
2010
G-CHBY: Bristow d/d 03may12; ex OY-HLB; first Bristow AW.139

OY-HLB: Bel Air d/d 2011

31465
2012
G-CHNS: Bristow from Jan13

31571
2014
G-CIJW: Bristow from Dec14; stop-gap due UK SAR AW189 delay

I-EASS: Agustawestland Oct14, UK HM Coast Guard mrks


---

G-CIJW: HM Coast Guard, op by Bristow; Aug15 Lydd sector

31579
2014
G-CIJX: Bristow Helicopters from Dec14 form HM Coast Guard, test ser+

G-CIJX: HM Coast Guard op by Bristow; 19dec14 pictured (top and+


---

17feb15 pictured (bot) at Norwich. Super Puma G-TIGE on+


---

14aug15 based at Lydd Airport


---

27jun17 at Lydd

41378
2014
G-CIKO: Bristow from Nov14

N603SM: AgustaWestland, PA Jun14

31586
2014
G-CILN: Bristow from Mar15

G-CILN: HM Coastguard 2015, op by Bristow


---

10jun15 1936 GMT arriving at Norwich airport with G-CIL+


---

06aug15 22:40hs heading east across Kent


---

11aug15 22:05hs heading east across Staplehurst Kent at+


---

26aug15 at Lydd airport


---

Coastguard /Rescue187; 04oct15 carried out the first o+


---

29nov15 2020z Working Cardiff to Swansea via Bristol Ch+


---

27dec16 00:16hs flying from Cardiff to what looks like +

31590
2014
G-CILP: Bristow from Mar15

G-CILP: HM Coastguard from 2015

31583
2015
G-CIMU: Bristow Feb/Jun 2015

HL9614: Bristow South Korea, op by Heli Korea from Aug15

41344
2013
G-CIPW: Bristow from Aug15

N435SH: AgustaWestland, PA Jun/Sep 2013, to Bristow


---

N435SH: Bristow canc 13sep13, for Tanzania


---

5H-EXT : Everett Aviation Tanzania Oct13-Jul15


---

5H-EXT: 22Jul15 noted at Redhill with Bristow Titles on engine +

41346
2013
G-CIPX: Bristow from Aug15

N438SH: AgustaWestland, PA Aug/Sep 2013, to Bristow


---

N438SH: Bristow canc 10sep13, for Tanzania


---

5H-EXU: Everett Aviation Tanzania Oct13-Jul15