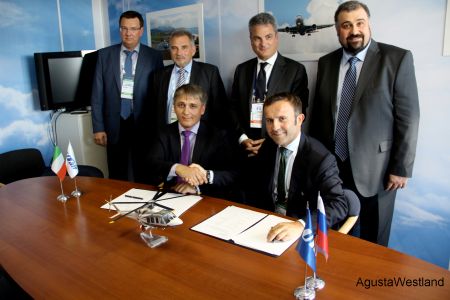 UTair will be AW139 Service Centre, 28-Aug-13 : AgustaWestland, a Finmeccanica company, is pleased to announce the signing of a Service Centre Agreement with UTair Aviation of Russia during an official ceremony held at MAKS 2013 today.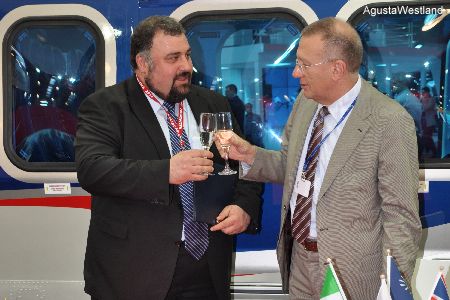 UTair to Operate Ten AW139 Helicopters, 18-May-12 : AgustaWestland, a Finmeccanica company, is pleased to announce that UTair of Russia has recently been certified as an AW139 helicopter operator and is set to operate ten AW139s for passenger, corporate and VVIP transport missions in Russia. The first aircraft is expected to be handed over this summer with deliveries planned to be completed by summer 2013. The aircraft will be deployed in Moscow, Saint Petersburg, Sochi and at additional bases located in Siberia. Additionally UTair is set to become an authorized service centre for the AW139. Initial training of UTair staff has started with plans for approximately 60 pilots and 40 technicians to be qualified to fly and maintain the AW139.
UTair Confirms a Planned Order of 20 AW139 Helicopters, 30-Aug-11 : Russian Helicopters (subsidiary of JSC UIC Oboronprom, part of Russian Technologies State Corporation) and AgustaWestland (a Finmeccanica company) have recently signed a Memorandum of Understanding for a planned order of 20 AW139 helicopters to be assembled in Russia. AgustaWestland and Russian Helicopters have also recently announced the establishment of HeliVert, a joint venture company which will assemble and deliver to UTair a batch of AW139 helicopters from its Tomilino plant in the Moscow region.
C/N
Mod
Built
ID In this Organisation
In other Org


31422
2012
RA-01971: UTAir from Dec12, test serial I-RAIU

31429
2012
RA-01972: UTAir from Dec12, test serial I-RAIX

31453
RA-01974: UTAir for Rosneft from May13

RA-01974: Rosneft from May13, op by UTAir, test serial I-RAIR

31454
RA-01975: UTAir for Rosneft from Feb13

RA-01975: Rosneft from Feb13, op by UTAir, test serial I-EASL (an+

31462
RA-01976: UTAir for Rosneft from May13

RA-01976: Rosneft from May13, op by UTAir, test serial I-RAIU

31464
RA-01977: UTAir for Rosneft from Jul13

RA-01977: Rosneft from Jul13, op by UTAir, test serial I-RAIR

31472
2013
RA-01992: UTAir for Rosneft from Jul13

RA-01992: Rosneft from Jul13, op by UTAir, test serial I-RAIX

31473
2013
RA-01993: UTAir for Rosneft from Oct13

RA-01993: Rosneft from Oct13, op by UTAir, test serial I-EASS

31487
RA-01994: UTAir for Rosneft from Oct13

RA-01994: Rosneft from Oct13, op by UTAir, test serial I-EAST