Mitsui Bussan Aerospace is the exclusive distributor for the AW139 in Japan. As of October 2012, 42 AW139s were in order.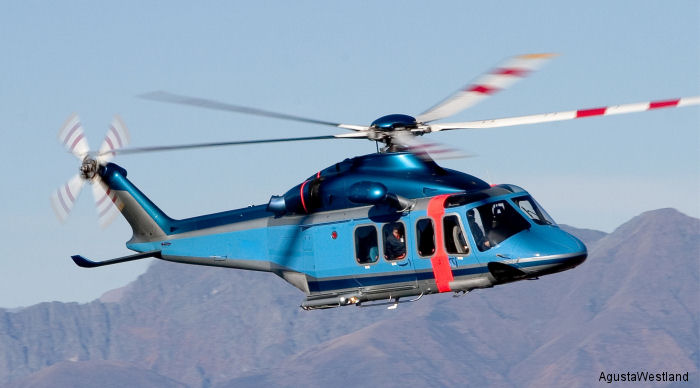 Mitsui Bussan Orders for AW139 in Japan, 03-Mar-15 : Heli-Expo 2015 Mitsui Bussan announced signing of 3-year Basic Ordering Agreement for spare parts, ground support equipment, tools, technical assistance, training and additional services dedicated to Japan AW139s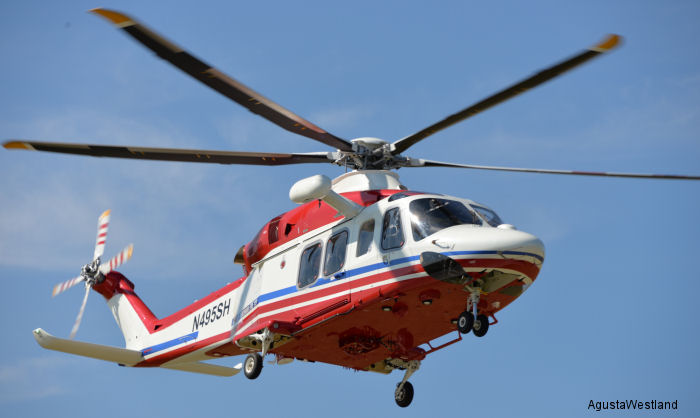 AgustaWestland Philadelphia Delivers 200th AW139, 19-Sep-14 : AgustaWestland announced today that the Company's Philadelphia assembly line has built and delivered its 200th AW139 helicopter, featuring a firefighting configuration for delivery to Mitsui Bussan Aerospace and the City of Yokohama.
Two more Fire Fighting AW139s for Japan, 09-Jul-12 : AgustaWestland, a Finmeccanica company, and Mitsui Bussan Aerospace are pleased to announce that two additional AW139 intermediate twin helicopters have been ordered in Japan to perform fire fighting missions. Contracts have been signed by the Fire Disaster Management Agency (FDMA) and Yokohama City respectively.
Eight more AW139 ordered in Japan, 07-Mar-11 : AgustaWestland, a Finmeccanica company, is pleased to announce the signing of contracts for eight more AW139 medium twin helicopters in Japan through its distributor Mitsui Bussan Aerospace. The new helicopters will be operated by the Japan Coast Guard and the Japanese Fire Fighting and Disaster Relief Organisation.
C/N
Mod
Built
ID In this Organisation
In other Org


41543
2018
JA004C: Mitsui Bussan from Oct18

N642SH: AgustaWestland. PA Mar18


---

JA004C: Chukyo TV ordered Oct16, d/d Nov18

41274
JA03FD: Mitsui Bussan d/d 12dec11 for FDMA

N404SH: AgustaWestland,PA, to JA03FD


---

JA03FD: Saitama Prefecture Disaster Air Corps; pictured

31440
JA04HP: Mitsui Bussan Nov12

JA04HP: National Police Agency d/d Mar13; Hokkaido police

41324
JA05FD: Mitsui-Bussan May13

N431SH: AgustaWestland, PA Jan13


---

JA05FD: Kochi Prefecture, Fire and Disaster Air Corps from Aug1+

41372
JA05HP: Mitsui Bussan

N488SH: AgustaWestland, PA Jan14


---

JA05HP: Hokkaido police from Feb15

31252
JA08DX: Mitsui Bussan Nov09; May10 to Kansai TV

41514
2016
JA09TR: Mitsui Bussan Aug16-Mar17

N586SH: AgustaWestland, PA Mar16


---

JA09TR: Tochigi Fire and Disaster Air Corps from Mar17; picture+

41506
JA10TE: Mitsui Oct15-Mar16

N583SH: AgustaWestland, PA Jul15


---

JA10TE: Iwate air disaster corps from Mar16

41515
2016
JA119M: Mitsui Bussan from Aug16

N587SH: AgustaWestland, PA Mar16


---

JA119M: Mie Prefecture disaster reduction air corps from Feb17

41279
JA12HP: Mitsui Bussan d/d jan12; ex N406SH; Hiroshima Prefecture Air+

N406SH: AgustaWestland,PA; to JA12HP

41315
2012
JA131Y: Mitsui Bussan from Dec12

N427SH: AgustaWestland, PA, to JA131Y


---

JA131Y: Yokohama City Fire Department from Mar13

41373
JA139F: Mitsui-Bussan Jul/Dec 2014

N489SH: AgustaWestland, PA Jan14


---

JA139F: Fukushima Prefectural Police from Dec14

41539
2018
JA139R: Mitsui Bussan from Aug18

N641SH: AgustaWestland, PA Mar18

41345
2013
JA139T: Mitsui Bussan from Nov13

N451SH: AgustaWestland, PA Aug/Oct 2013


---

JA139T: Toyama Prefectural Police

31435
JA13MP: Mitsui Bussan Oct12

JA13MP: Tokyo Metropolitan Police Keishichō Mar13

31486
JA13NP: Mitsui Bussan from Aug13

JA13NP: Niigata Prefectural Police from Jan14

41518
2016
JA14TD: Mitsui Bussan Aerospace Oct16-Mar17

N588SH: AgustaWestland, PA Jun/Aug 2016


---

JA14TD: Tokyo Shobo-cho Tachikawa / Tokyo Fire Department from +

41386
JA15AR: Mitsui Bassan Mar15

N496SH: AgustaWestland, PA Jun14,


---

JA15AR: Niigata Prefecture Emergency from Aug15

41402
JA15KP: Mitsui Bussan Jun15

N202MM: AgustaWestland, PA Feb15


---

JA15KP: Kagoshima Prefectural Police from Dec15

41390
2014
JA15YA: Mitsui Bussan Dec14

N497SH: AgustaWestland, PA Jun14


---

JA15YA: Yamagata Harbin Fire Disaster Prevention from Mar15

41408
2015
JA16MP: Mitsui Sep15-Feb16

N566SH: AgustaWestland, PA Apr15


---

JA16MP: Tokyo Metropolitan Police Keishichō from Feb16

41519
2016
JA17AR: Mitsui Bussan Aerospace Aug16-Feb17

N592SH: AgustaWestland, PA Jun/Aug 2016


---

JA17AR: Sapporo City fire department fire brigade from Mar17; p+

41538
2018
JA18KG: Mitsui Bussan from Jul18

N630SH: AgustaWestland, PA Mar18

31436
JA220E: Mitsui Bussan Oct12

JA220E: National Police Agency d/d Mar13; Nagano Prefectural Po+

41275
JA31AR: Mitsui Bussan dec11

N403SH: AgustaWestland,PA, to JA31AR


---

JA31AR: Saitama disaster Prevention Agency; pictured

31371
JA6196: Mitsui Bussan Aerospace from Nov11

JA6196: Osaka police from Feb14

31759
JA83KT: Mitsui Bussan Aerospace Apr17;

JA83KT: Ministry of Land, Infrastructure and Transport from Mar+

31334
2011
JA91CP: Mitsui from Feb11

JA91CP: Chiba Prefectural Police from Sep11

31237
2009
JA91NH: Mitsui Bussan from May09

JA91NH: ANH from Aug09


---

Apr13 pictured fitted with RSG Universal Gimbal mount d+

31259
2009
JA92NH: Mitsui Bussan from Sep09

JA92NH: ANH from Dec09

41526
2016
JA94NH: Mitsui Bussan Aerospace

N595SH: AgustaWestland Philadelphia Corp.


---

JA94NH: All Nippon Helicopter

31358
JA967A: Mitsui Bussan Aerospace from Aug11

JA967A: Japan Coast Guard Mar12 Niigata

31360
JA968A: Mitsui Bussan Aerospace from Aug11

JA968A: Japan Coast Guard /MH968 Mar12 Ishigaki


---

09aug16 hard landing at Shichigahama, Miyagi prefecture

31361
JA969A: Mitsui Bussan Aerospace from Oct11

JA969A: Japan Coast Guard Mar12 Sendai

31362
JA970A: Mitsui Bussan Aerospace from Dec11

JA970A: Japan Coast Guard Mar12 Niigata

31426
2012
JA971A: Mitsui Sep12

JA971A: Coast Guard from Mar13

31438
JA972A: Mitsui Bussan Oct12

JA972A: Coast Guard Nov12

31437
JA973A: Mitsui Bussan Oct12

JA973A: Coast Guard Nov12

41385
N495SH: Mitsui Bassan Sep14

N495SH: AgustaWestland, PA Jun14, 200th US AW139


---

JA152Y: Yokohama City Fire Department from Mar15