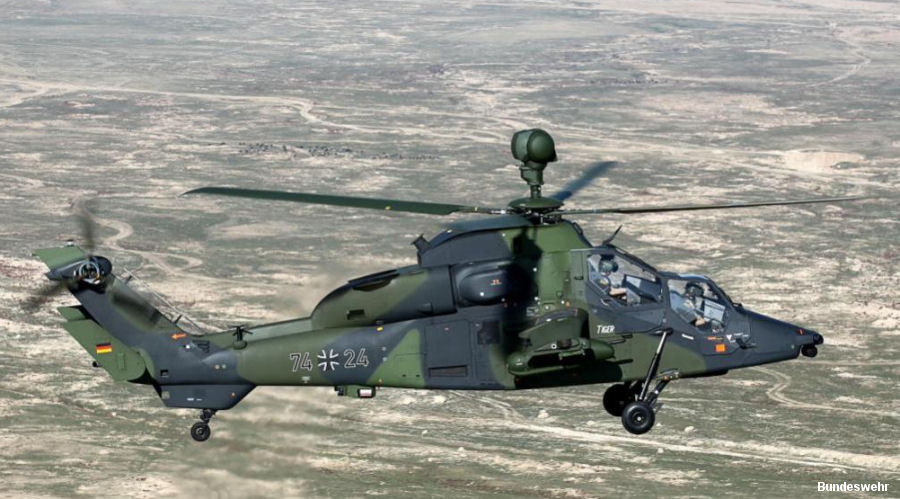 80 were originally ordered to replace the
PAH-1
but the program was delayed and have thrown up technical problems. As of 2011, the orders have been cut to 40 with 27 already delivered by September 2012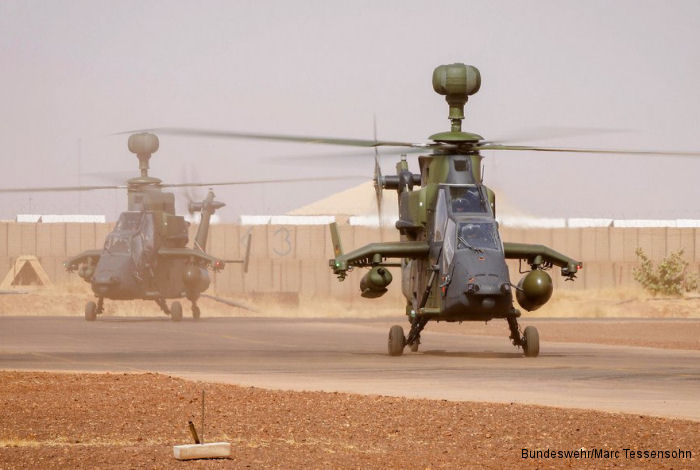 German Army Tigers Arrived to Gao in Mali, 25-Mar-17 :

After being transported to Mali by AN-124 as part of MINUSMA, the first two of four German Army's Tiger attack helicopters self deployed 1000 km north of the Capital to their area of operations.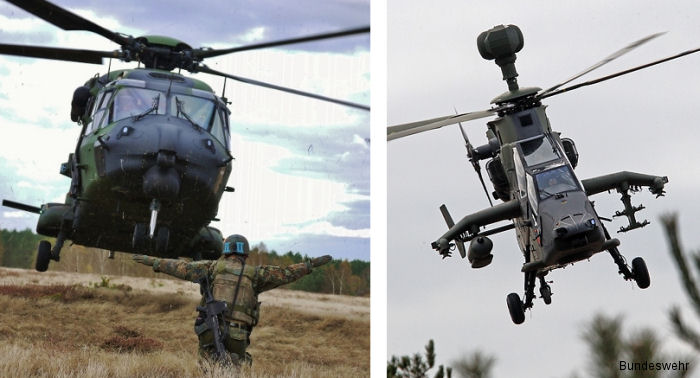 Germany Deploying Helicopters in Mali, 12-Jan-17 : The German Army deploying 4 NH90 and 4 Tiger helicopters to Mali under UN Mission MINUSMA replacing Dutch Chinook and Apaches. Will remain in country until Mid-2018.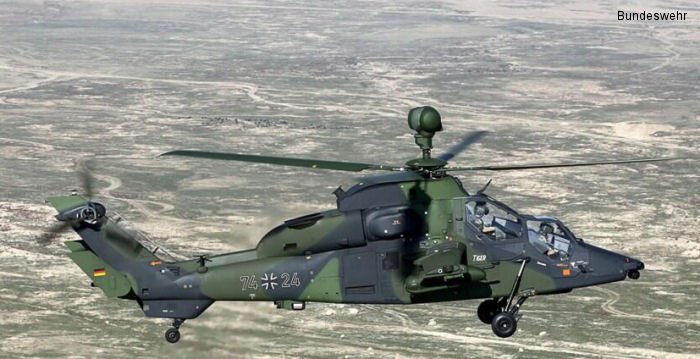 German Army get final upgraded Tiger Asgard, 06-Mar-14 : Donauwörth - The Germany Army today received the last of 12 Tiger UHT support helicopters upgraded by Airbus Helicopters for Afghanistan missions to support ground troops, protect convoys and perform reconnaissance operations.
4 German Tigers ready for Afghanistan, 12-Sep-12 : Berlin - A significant milestone in Eurocopter's Tiger support helicopter program has been reached following the delivery of the first four helicopters to be upgraded for deployment to Afghanistan. This now leaves the German Army in possession of a complete batch of ASGARD helicopters – a vital prerequisite if the Tiger is to be deployed in theater by the end of the year.
C/N
Built
ID In this Organisation
In other Org


1002
74+02: HEER 1002/UHT02, ex 98+12

98+12: Eurocopter; 10sep06 Tag der Heeresflieger


---

Eurocopter toward 74+02

1003
74+03: 2009 instructional airframe

1004
74+04: HEER 1004/UHT04

98+14: Eurocopter to 74+04

1005
74+05: HEER 1005/UHT05

1006
74+06: HEER 1006/UHT06

1007
74+07: HEER 1007/UHT07

1008
74+08: 10sep06 D/F HFAZT Tag der Heeresflieger

1009
74+09: HEER 1009/UHT09

1010
74+10: 2011 KHR36

1011
74+11: HEER 1011/UHT11; from end 2009

98+11: Eurocopter toward 74+11

1012
74+12: HEER 1012/UHT12, reser 98+16

1013
74+13: HEER 1013/UHT13; from end 2009

98+17: Eurocopter toward 74+13


---

98+17: WTD61 until at least 2008

1014
74+14: HEER 1014/UHT14

98+14: Eurocopter to 74+14

1015
74+15: 2013 D/F HFAZT

1016
74+17: HEER 1016/UHT17; aug11 KHR36

98+20: Eurocopter toward 74+17

1017
74+17: HEER 1017/UHT17, reser 98+20; KHR36

1018
74+18: HEER 1018/UHT18, reser 98+21

1019
74+19: HEER 1019/UHT19, reser 98+22; KHR36 May11

1020
74+20: HEER 1020/UHT20; KHR36 Nov11

1021
74+21: HEER 1021/UHT21; 2012 KHR36

1022
74+22: HEER 1022/UHT22; KHR36 Jul12

1027
74+27: HEER 1027/UHT27; w/o 05mar13 KHR36

1031
74+31: HEER 1031/UHT31

74+31: Mar17 to Mali in AN-124 for MINUSMA

1032
74+32: HEER 1032/UHT32; Jun15 KHR36

1034
74+34: HEER 1034/UHT34; 2016 KHR36

1035
74+35: HEER 1035/UHT35; 2017 KHR36

1036
74+36: HEER 1036/UHT36; 2015 KHR36

1038
74+38: HEER 1038/UHT38; 2016 KHR36

1040
74+40: HEER 1040/UHT40; 2016 KHR36

1042
74+42: HEER 1042/UHT42; 2015 KHR36

1045
74+45: HEER 1045/UHT45; 2016 KHR36

1046
74+46: HEER 1046/UHT46; 2015 KHR36

1047
74+47: HEER 1047/UHT47

1048
74+48: HEER 1048/UHT48

1049
74+49: HEER 1049/UHT49

1010
98+10: HEER 1010/UHT10, reser 74+10

1003
98+13: HEER 1003/UHT03, reser 74+03

1015
98+15: HEER 1015/UHT15, reser 74+15

1001
98+26: HEER 1001/UHT01, with Eurocopter

98+26: Eurocopter; 16-20may06 Berlin air show


---

74+01: WTD61, used to test fire the Stinger missile