15 ordered in LUH SOF variant to be operated by the Luftwaffe on behalf Bundeswehr Special Forces Command (Kommando Spezialkräfte). 15th and last one delivered on June 2017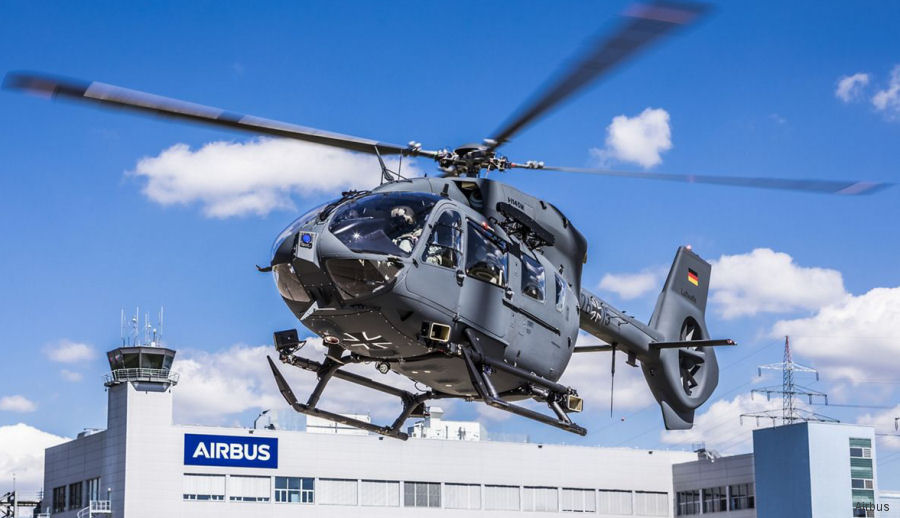 Luftwaffe Received 15th and Last H145M, 26-Jun-17 : Airbus delivered the 15th and final H145M/EC645T2 LUH SOF to be operated by the Luftwaffe on behalf Bundeswehr Special Forces Command (Kommando Spezialkräfte). First delivered on December 2015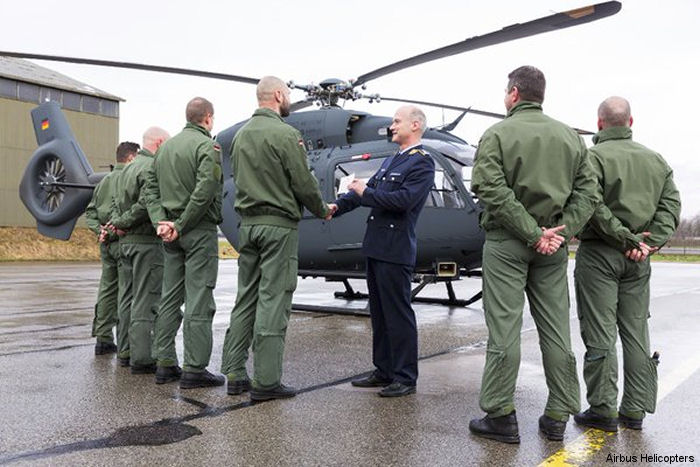 German H145M First Pilots Complete Training, 09-Mar-16 : The first crew for the H145M LUH SOF of the German Armed Forces has successfully finished their training at the Airbus Helicopters Training Academy in a mere two months.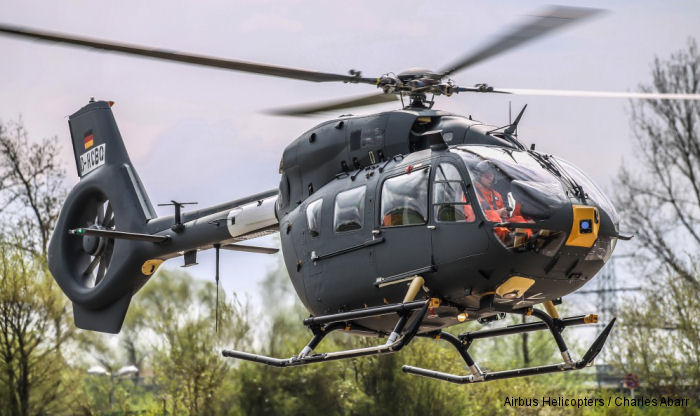 Luftwaffe Signs Contract for H145M, 02-Jun-15 : The German Armed Forces (Bundeswehr) awarded a full-service contract for the new H145M (ex EC645T2 ) which is to make its military debut with the German Air Force (Luftwaffe) later this year.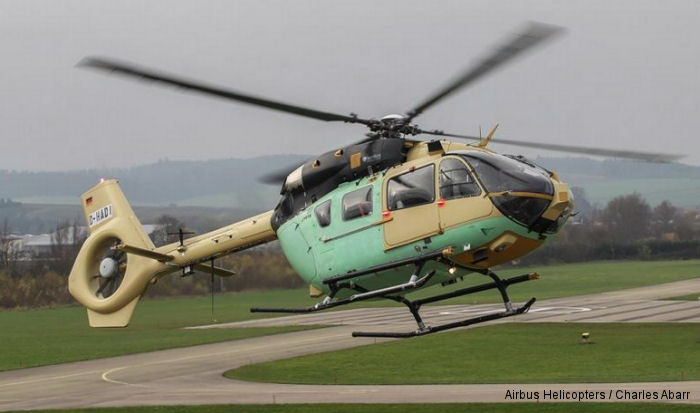 Bundeswehr EC645T2 First Flight, 27-Nov-14 :

The EC645T2, military variant of the EC145T2 helicopter, completed its first flight. German Bundeswehr, launch customer, will received first helicopters in this series in late 2015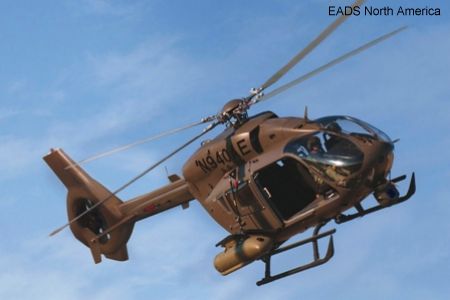 15 EC645 T2 LUH for German KSK special forces, 11-Jul-13 : Eurocopter and the German Federal Ministry of Defense today signed a contract for 15 EC645 T2 Light Utility Helicopters (LUH) to be used by Kommando Spezialkräfte (KSK), Germany's Special Forces Command. With this order, the Bundeswehr has now joined the customer list for the most powerful model in Eurocopter's proven EC145 family.
C/N
Built
ID In this Organisation
In other Org


20016
2014
76+01: Kommando Spezialkräfte (KSK) Bundesweh

D-HADI: AH Germany, EC645T2 LUH-SOF f/f 27nov14

20019
2014
76+02: Kommando Spezialkräfte (KSK) Bundesweh, test serial D-HCBQ

20033
76+03: Kommando Spezialkräfte (KSK) Bundesweh, test serial D-HBTA

20051
76+04: Kommando Spezialkräfte (KSK) Bundeswehr

D-HADP: Airbus Helicopters

20066
76+05: Kommando Spezialkräfte (KSK) Bundeswehr

20068
76+06: Kommando Spezialkräfte (KSK) Bundeswehr

20081
76+07: Kommando Spezialkräfte (KSK) Bundeswehr, test serial D-HCBU

20083
76+08: Kommando Spezialkräfte (KSK) Bundeswehr, test serial D-HCBW

20096
76+09: Kommando Spezialkräfte (KSK) Bundeswehr

D-HADV: Airbus Helicopters

20097
76+10: Kommando Spezialkräfte (KSK) Bundeswehr

D-HCBQ: Airbus Helicopters

20108
76+11: Kommando Spezialkräfte (KSK) Bundeswehr

20110
76+12: Kommando Spezialkräfte (KSK) Bundeswehr

20125
76+13: Kommando Spezialkräfte (KSK) Bundeswehr

D-HADV: Airbus Helicopters

20136
76+14: Kommando Spezialkräfte (KSK) Bundeswehr, test serial D-HADH

20139
76+15: Kommando Spezialkräfte (KSK) Bundeswehr