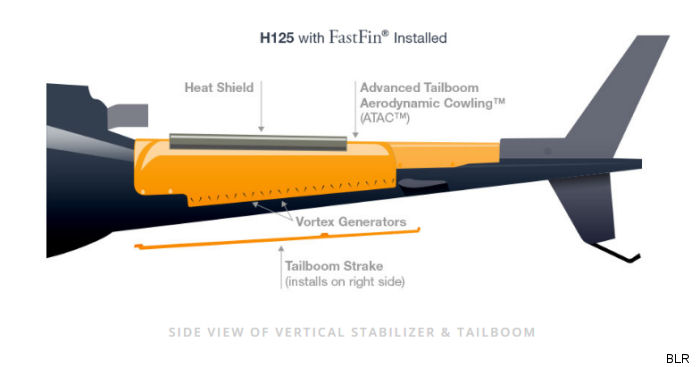 BLR developed its FastFin Tail Rotor Enhancement and Stability System for installation on Airbus
H125
. It does not modify the vertical fin like in the Bell models but is comprised of an Advanced Tailboom Aerodynamic Cowling (ATAC), a Tailboom Strake and Vortex Generators.
The first factory installation was completed on February 2018. By that time, 30 AS350B3/H125 FastFin systems have been sold to operators in 7 countries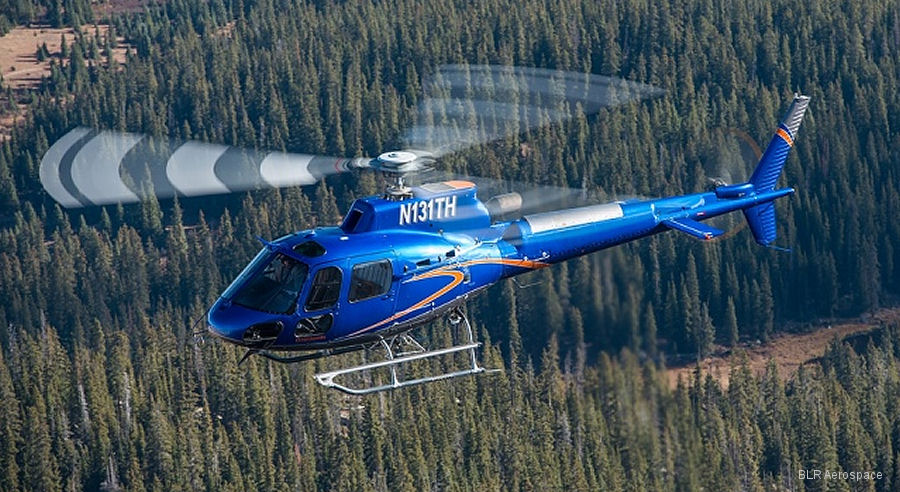 Canada Approves H125 FastFin System, 08-May-17 : BLR Aerospace FastFin Tail Rotor Enhancement and Stability System has been approved by Transport Canada for Canadian registered H125/AS350 helicopters. Available through Airbus, Vector and Avialta.
C/N
Mod
Built
ID In this Organisation
In other Org


7586
2013


ON SALE

N131TH: BLR Aerospace at Everett, WA from Sep14

N340AE: American Eurocopter Feb13


---

- N131TH: Timberline Helicopters at Sandpoint, ID May13-Sep14

7398
2012
N234BH: Brainerd Helicopters; 07mar17 first BLR Fastfin sale presen+

N350MW: American Eurocopter Dec12-Feb14, test serial N350MW


---

N234BH: BHI Helicopters at Ontario, OR from Feb14


---

N234BH: Brainerd Helicopters