The six Merlins purchased by the RAF from the
Danish Air Force
are known as
HC.3A
and were first delivered to RAF Benson in July 2007.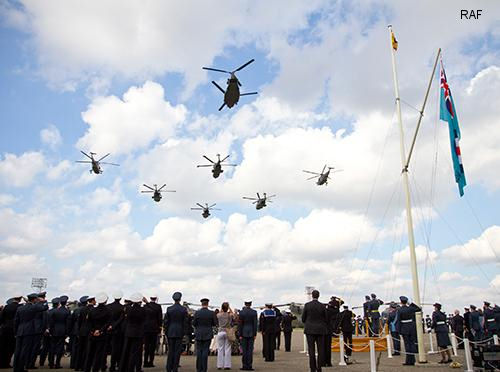 Royal Air Force Hand Over Merlin To Royal Navy, 01-Oct-14 : Yesterday marked the end of an era for the Royal Air Force and the start of a new one for the Royal Navy as the official handover of the Merlin helicopter took place in a formal ceremony at RAF Benson in Oxfordshire.
Six Danish EH101 Helicopters goes to the RAF, 30-Mar-07 : UK / Italy - AgustaWestland and the UK Ministry of Defence (MoD) have today signed an agreement to modify six EH101 Merlin helicopters the MoD are buying from Denmark, to provide additional helicopter support for the UK armed forces. The agreement also includes the purchase of six new build EH101 Merlin helicopters that will be delivered by the MoD to the Royal Danish Air Force to replace the original aircraft.
C/N
Built
ID In this Organisation
In other Org


50089
2003
ZJ990: First delivered to the Royal Danish air force as M-501 in Oc+

M-501: 50089/DEN01 return to UK as ZJ990


---

ZJ990: RN from Sep16; Sep17 pictured (pic3) asg 845Sq trainin+

50106
2005
ZJ992: Delivered to RDAF as M-503 in 2006, arrived in UK for conver+

M-503: 50106/DEN03 return to UK as ZJ992; Jul06 pictured (top)+

50121
2005
ZJ994: Delivered to RDAF as M-505 on 2 Feb 2006. Returned to UK fo+

M-505: 50121/DEN05 return to UK as ZJ994


---

ZJ994: 02jul16 pictured as 845 NAS /AC at RNAS Yeovilton durin+

50123
2005
ZJ995: Delivered to RDAF as M-506 on 29 Apr 2006. Returned to UK on+

M-506: 50123/DEN06 return to UK as ZJ995

50148
2005
ZJ998: Delivered to RDAF as M-509.  Returned to UK on 29jun07 for +

M-509: 50148/DEN09 return to UK as ZJ998


---

RDAF; 16jul06 pictured (top) as /Rescue-09 at RAF Fairf+

50160
2005
ZK001: Delivered to RDAF as M-511.  Returned to the UK on 29jun07 +

M-511: 50160/DEN11 return to UK as ZK001

6 C/N.