Since mid-2009, three have been deployed to Afghanistan. As of 2010, 40 HAP plus 40 HAD are ordered with 24 already delivered. From 2011 Tigres were also deployed against Libya and in the Sahel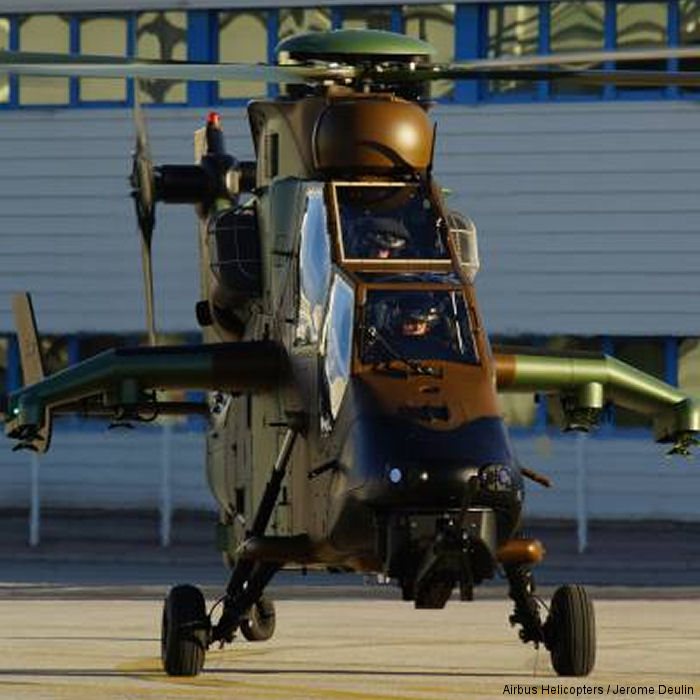 First Tiger HAD Block 2 to the French Army, 11-Dec-14 : The first two attack helicopters Tiger HAD Block 2 version were delivered to the French Army (ALAT). Block 2 has new digital avionics, can carry external fuel tanks and are also navalized.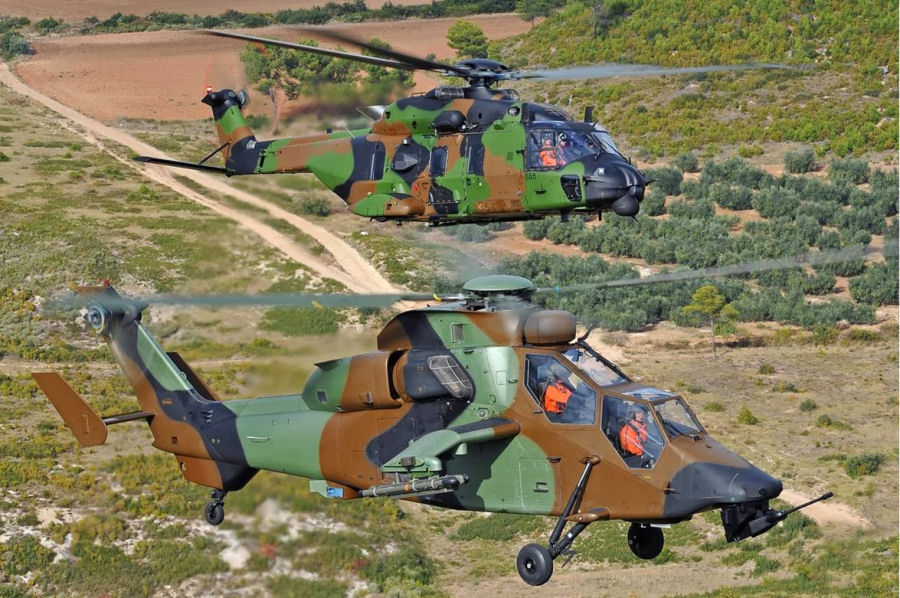 Mission Planning System for Tiger and NH90, 24-Sep-13 : Sagem signed a contract for development and production of a new version of the MPME mission planning system for helicopter crews to be deployed by the French army s air arm (ALAT)
Tiger HAD version for France performs its maiden flight, 17-Dec-10 : Marignane, France, The first pre-serial Tiger HAD (fire support and destruction) for France made its maiden flight from Eurocopter's Marignane, France facility. It marks an important step towards the Block I initial qualification of the Tiger HAD, which is one of four versions in Eurocopter's multi-role Tiger combat helicopter family.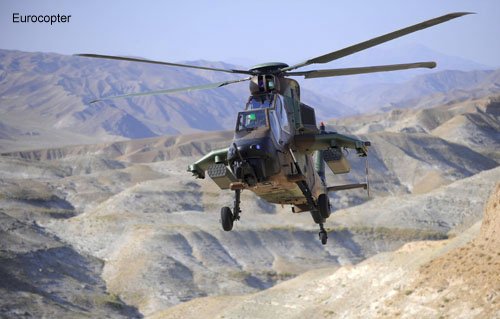 Tiger: 1,000 Flight Hours in Operations in Afghanistan, 29-Jul-10 : The EC665 Tiger HAP (combat support) helicopter received its operational certification from NATO for the Afghan theater of operations in August 2009, just seven months after the final operational standard qualification was issued by government agencies in December 2008. The fleet of three EC665 Tiger HAPs, operated by the French Army's 5th Combat Helicopter Regiment, has now logged more than 1,000 flight hours in Afghanistan in less than a year.
C/N
Mod
Built
ID In this Organisation
In other Org


2001
hap
2001: ALAT; 2011 /ATA; 2015 /BHH

F-ZKDB: Eurocopter; 2003 Le Bourget air show as H246

2002
hap
2002: ALAT /ATB

2003
hap
2003: ALAT /BHJ

F-ZWRM: Eurocopter; 2007 Le Bourget air show as H197


---

F-ZKCD: Eurocopter France 2013 /BHJ crossed out

2004
hap
2004: ALAT /ATE;

2006
hap
2006: ALAT /BHL

2009
hap
2009: Jun11 pictured (pic2) with EAALAT/EFA at Le Luc air show

2010
hap
2010: ALAT. BHA on Paris Le Bourget air show 2009

F-ZWRD: Eurocopter toward 2010

2011
hap
2011: ALAT /BHM Jun10

2012
hap
2012: ALAT /BST

2013
hap
2013: 14jul10 5RHC Flew in parade quatorze juillet 2010.

F-ZWRC: Eurocopter France, to ALAT

2015
hap
2007
2015: ALAT /BHD

F-ZKBF: Eurocopter

2016
hap
2016: ALAT 2016/BID; ex F-ZWRN

F-ZWRN: Eurocopter France; to ALAT; 2011 back (loan) to Eurocop+

2018
hap
2018: ALAT /BHF

2019
hap
2019: ALAT /BHE

F-ZKBS: Eurocopter; at Dubai Airshow 2009 as BHE

2021
hap
2021: ALAT /BHN; May 2011 pictured with EAALAT/EFA at NTM air show+

2022
hap
2022: ALAT /BHG; 14jul10 5RHC Flew in parade quatorze juillet 2010+

2023
hap
2023: ALAT /BHP

2024
hap
2024: ALAT /BHO

2025
hap
2025: ALAT /BHQ

2026
hap
2026: ALAT /BHR

2027
hap
2027: ALAT /BHS, F-ZWBD

2028
hap
2028: ALAT /BHU

2029
hap
2029: ALAT; 14jul13 pictured at Issy-les-Moulineaux

2030
hap
2030: ALAT /BHW

2031
hap
2031: ALAT; 14jul13 5RHC./BHX flew in parade Quatorze Juillet 2013

2032
hap
2032: ALAT /BHY

2033
hap
2033: ALAT /BHZ from Mar11, test serial F-MBHZ

2034
hap
2034: ALAT /BIB

2035
hap
2035: ALAT /BIC

2036
hap
2036: ALAT /BID

2037
hap
2037: ALAT /BIE

2038
hap
2038: ALAT /BIF

2039
hap
2039: ALAT /BIG

2040
hap
2040: ALAT /BIH

2041
hap
2041: ALAT; 14jul13 5RHC./BII flew in parade Quatorze Juillet 2013

2042
hap
2042: ALAT; 14jul13 5RHC./BIJ flew in parade Quatorze Juillet 2013

F-ZKBF: Eurocopter toward 2042

2043
hap
2043: ALAT /BIK

2044
hap
2044: ALAT /BIL

2045
hap
2045: ALAT; 14jul13 EFA./BIM flew in parade Quatorze Juillet

2046
hap
2046: ALAT /BIN

6001
had
2010
6001: ALAT, test serial F-ZWPB

F-ZWPB: Eurocopter f/f 17dec10; 1st HAD for French Army


---

Aug14 w Airbus Helicopters at MSPO 2014, Poland

6002
had
2012
6002: ALAT /BJB dd 10apr13, F-MBJB

F-ZWBV: Eurocopter France

6003
had
6003: ALAT /BJC Aug13 EFA

6004
had
6004: ALAT c/n 6004

6005
had
6005: ALAT /BJE Oct13 EFA

6006
had
6006: ALAT /BJF Dec13 1RHC

6007
had
6007: ALAT /BJG, test serial F-MBJG; 2014 1RHC

6008
had
6008: ALAT /BJH, test serial F-MBJH; Jul15

6009
had
6009: ALAT /BJI, test serial F-MBJI

6010
had
6010: ALAT /BJJ, test serial F-MBJJ

6011
had
6011: ALAT /BJK, test serial F-MBJK; Oct14 as F-ZWBH

6012
had
6012: ALAT /BJL, test serial F-FMBL; Jul15

6013
had
6013: ALAT /BJM, test serial F-FMBM; 2015 as F-ZKBL

6014
had
6014: ALAT /BJN, test serial F-FMBN; 2015 as F-ZKBU

6015
had
6015: ALAT /BJO, test serial F-FMBO; Jul16

6016
had
6016: ALAT /BJP, test serial F-FMBP

6017
had
6017: ALAT /BJQ, test serial F-FMBQ

6018
had
6018: ALAT /BJR, test serial F-FMBR; Feb16 as F-ZKBI

6019
had
6019: ALAT /BJS, test serial F-FMBS; Feb16 as F-ZKBM

6020
had
6020: ALAT /BJT, test serial F-FMBT; May16 as F-ZKBC; Sep16 on d+

6009
had
F-MBJI: 14jul17 pictured leading the ALAT section of the helicopter +