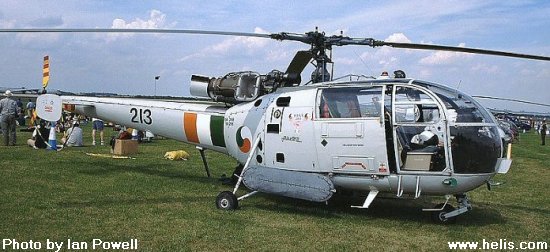 With its then large rural communities, a particularly bad winter in 1962/63 prompted The Dáil to approve an order for the SAR-equipped Alouette III. It was to be the mainstay of Irish Air Corps rotary wing operations from Nov 1963, when the first two of three initially ordered, were based at Baldonnel; the third was delivered in Apr 1964.
A further 5 airframes were ordered with deliveries over 2 years, commencing 1972. By Aug 1987, the SAR role began to migrate to
newer IAC models
while the government looked to civilianise more of the SAR services and the Alouette IIIs took on a more Utility role.
The last six airframes were formally retired on 21 Sep 2007, after more than 40 years distinguished service.

C/N
Mod
Built
ID In this Organisation
In other Org


1151
sa316b
1963
195: ex F-WJDH. Delivered 25 Nov 1963 as 195. wfu 21 Sep 2007, st+

1153
sa316b
1963
196: ex F-WKQB. Delivered 25 Nov 1963 as 196. Retired from servic+

1194
sa316b
1964
197: Delivered 15 May 1964 as 197. Retired from service and store+

1973
sa316b
1972
202: Delivered 24 Mar 1972 as 202. Crash landing 1996 badly damag+

1983
sa316b
1972
211: Delivered 4 Feb 1973 as 211. Noted wfu at Baldonnel Aug 2005+

1984
sa316b
1973
212: ex. F-WMHH. Delivered 29 Mar 1973 as 212. Retired from servi+

2116
sa316b
1973
213: Irish Air Corps d/d 16dec73 as 213; Aug05 noted wfu at Baldo+

2122
sa316b
1974
214: Delivered 25 Mar 1974 as 214. Noted still in use at RNAS Yeo+