AH-1W Super Cobra shipborne operations
1968 - 38 US Army AH-1G handed over to Marines and retaining Army serials

May68 - AH-1J Sea Cobra twin engine variant ordered by USMC

18apr69 - Marines AH-1G operational in Vietnam. VMO-2 will remain until December

14oct69 - First twin engine AH-1J Sea Cobra rolled out at the Bell factory

Dec69 - HML-367 replaced VMO-2 in Vietnam and remain until May 1971

1970 - First 4 AH-1J delivered to the Naval Air Test Center at Patuxent River

18feb71 - First 4 AH-1J arrived in Vietnam within HML-367

1974 - Last 2 AH-1J conv to AH-1T whilst on production line

AH-1G survivors went to HMA-169 (Sep71-Aug76) and HMA-773 (Sep71-Nov78) and then they were returned to the Army.

BuNos 157204 - 157241 (38) AH-1G Huey Cobra US Army
BuNos 157757 - 157805 (49) AH-1J Sea Cobra ( May68 )
BuNos 159210 - 159229 (20) AH-1J Sea Cobra ( last 2 conv AH-1T )
BuNos 160105 - 160114 (10) AH-1J Sea Cobra
BuNos 160115 - 160119 (5) cancelled AH-1J Sea Cobra
BuNos 160742 - 160748 ( 7) AH-1T Sea Cobra
BuNos 160797 - 160826 (30) AH-1T Sea Cobra
BuNos 161015 - 161022 ( 8) AH-1T Sea Cobra

Following 179 new-built AH-1W plus 43 upgrades.

BuNos 162532 - 162553 (22 c/n 26201 - 26222) AH-1W Super Cobra
BuNos 162554 - 162575 (22 c/n 26223 - 26244) AH-1W Super Cobra
BuNos 163921 - 163954 (34) AH-1W Super Cobra, some for Turkey
BuNos 164572 - 164578 ( 7) AH-1W Super Cobra
BuNos 164586 - 164596 (11) AH-1W Super Cobra
BuNos 164913 - 164938 (26) AH-1W Super Cobra, for Taiwan as 501 - 526
BuNos 165037 - 165056 (20) AH-1W Super Cobra, some for Turkey
BuNo 165097 ( 1 c/n 26298) AH-1W Super Cobra
BuNos 165271 - 165292 (22 c/n 26319 - 26340) AH-1W Super Cobra
BuNos 165317 - 165333 (16) AH-1W Super Cobra
BuNos 165334 - 165341 (8) AH-1W Super Cobra Taiwan as 527 - 534
BuNos 165358 - 165369 (12 c/n 26358 - 26369) AH-1W Super Cobra
BuNos 165370 - 165377 ( 8) AH-1W Super Cobra Taiwan as 535 - 542
BuNos 165392 - 165396 ( 5) AH-1W Super Cobra
BuNos 165445 - 165450 ( 6) AH-1W Super Cobra
BuNos 165545 - 165565 (21) AH-1W Super Cobra

Continue with the AH-1Z

BuNos 166477 - 166479 ( 3) AH-1Z Super Cobra
BuNos 166759 - 166761 ( 3) AH-1Z Super Cobra
BuNo 166774 (1) AH-1Z Super Cobra
BuNo 167809 (1) AH-1Z Super Cobra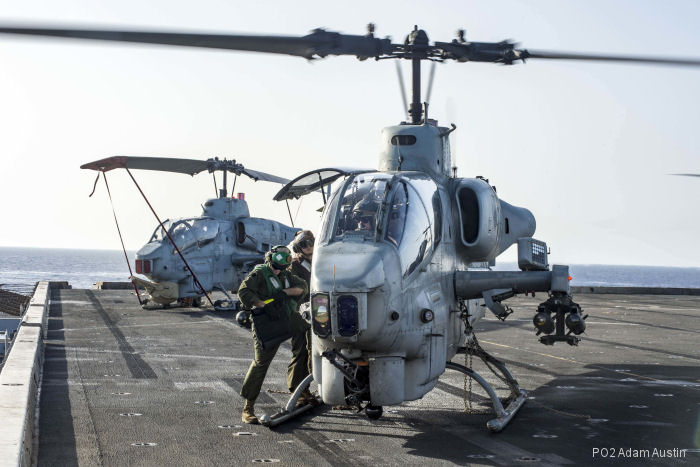 Operation Odyssey Lightning, 03-Nov-16 : USMC AH-1W Super Cobra of the Wasp Amphibious Ready Group (ARG) 22nd Marine Expeditionary Unit (MEU) conducted precision air strikes against ISIS in Sirte, Libya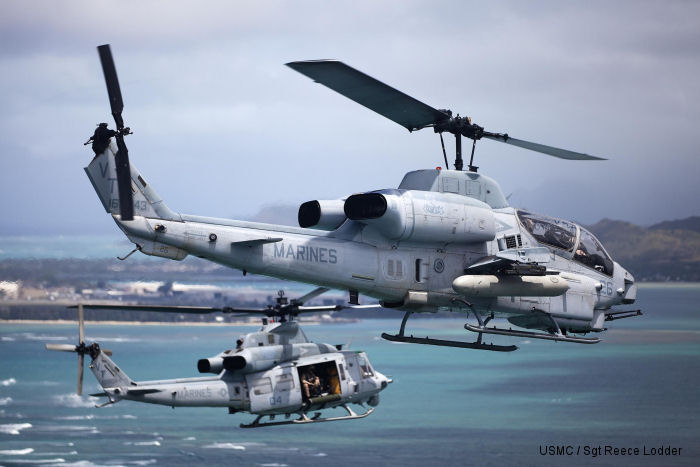 Marine Corps H-1 Upgrades, 09-Jul-15 : Northrop Grumman will deliver its next-generation mission computer for Lot 12 of the Marine Corps UH-1Y and AH-1Z helicopter upgrade program.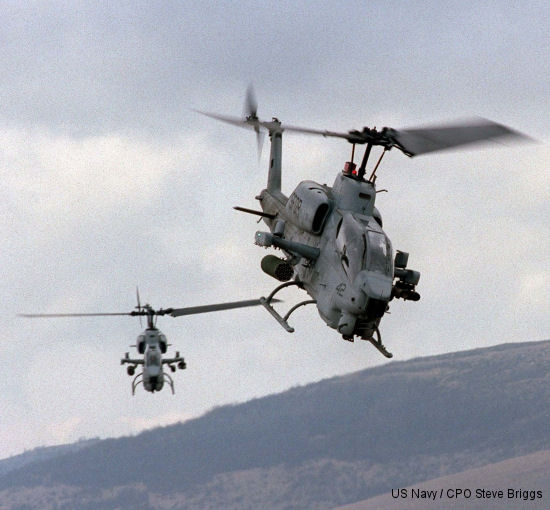 Elbit to Upgrade Marine Corps AH-1W Super Cobras, 18-May-14 : FORT WORTH, Texas - Elbit Systems of America, LLC, a wholly-owned subsidiary of Elbit Systems, Ltd., has been awarded two contracts, totaling $14.1 million, supporting the U.S. Marine Corps' upgrade of their Bell AH-1W attack helicopter fleet.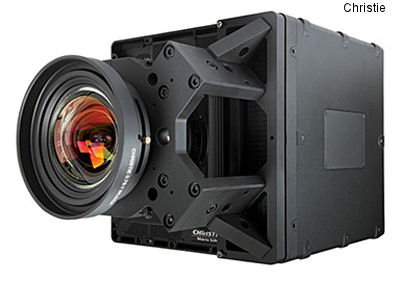 Christie projectors for AH-1W Weapons Trainer, 02-Dec-13 : I/ITSEC/ORLANDO, Fla. – Christie today announced that Aero Simulation Inc. (ASI) awarded Christie the contract to supply the U.S. Marine Corps with projection systems consisting of 12 Christie Matrix StIM WQ 1-chip DLP solid state LED projectors for AH-1W Weapons Systems Trainer (WST) Device 2F136A upgrades. Six display system projectors will be installed at Marine Corps Base Camp Pendleton, Calif., and six at Marine Corps Air Station (MCAS), New River, N.C. in 2015.