The NH90 NFH Caiman replaced the Super Frelon and Lynx and entered operational service in the Marine Nationale on December 8, 2011. At the time 5 of the 27 on order were already delivered. 13 of them will have a rear loading ramp, allowing them to carry out combat assault missions. The other 14 will be used in the antisubmarine role.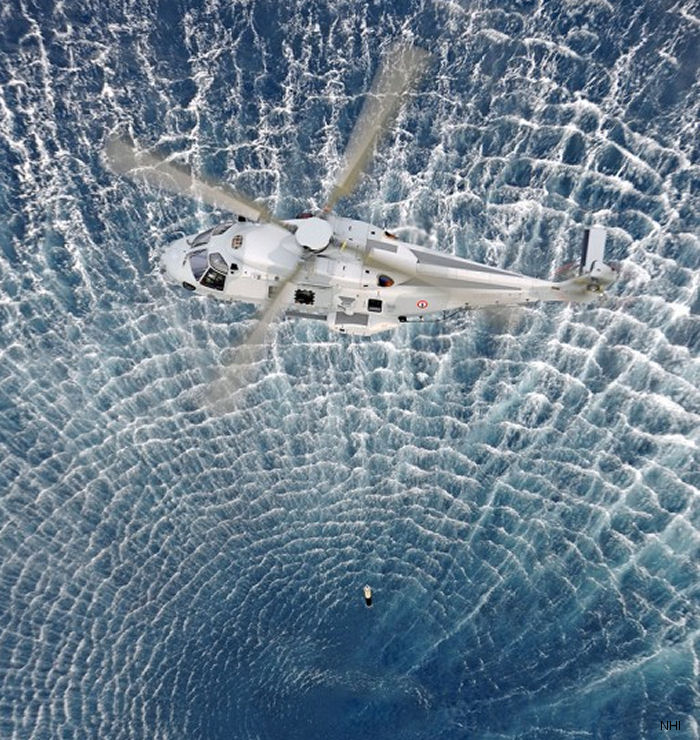 15th NH90 Caiman Delivered to French Navy, 21-Sep-15 : The French Navy took delivery of its 15th (of 27 ordered) NH90 NFH "Caiman Marine" helicopter. As of today, 249 NH90 of all variants have been delivered to 13 countries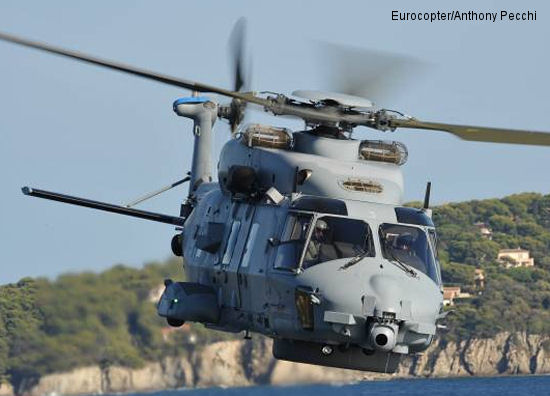 First NH90 NFH B version to French Navy, 21-Dec-12 : Eurocopter today achieved a new milestone in its NH90 program with two ceremonies held at its Marignane facility near Marseille in the south of France, during which the manufacturer delivered Belgium's first NH90 Tactical Transport Helicopter (TTH) in the presence of the Belgian Defense Minister Pieter de Crem; along with the French DGA defense procurement agency's first NH90 NATO Frigate Helicopter (NFH), in its naval Step B version, to be used by the French Navy.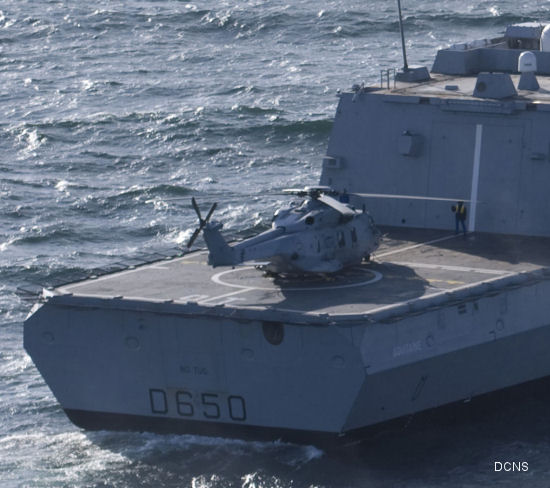 First deck landing of NH.90 Caiman on FREMM Aquitaine, 08-Mar-12 : Having successfully conducted deck landing in January to qualify the FREMM Aquitaine flight deck for a Lynx five-tonne class helicopter, DCNS, the French Navy and the DGA organised the first deck landings of a Caiman Marine ten-tonne class helicopter on board the same frigate. As in the previous trials with the Lynx, French Navy pilots appreciated the absence of turbulence above the flight deck in all landing positions.
C/N
Built
ID In this Organisation
In other Org


1018
1: 1018/NFRS001; Marine Nationale

F-ZWTO: Eurocopter; to FN as 1

1252
10: FN 31F Jun14, test serial F-XHFJ;

1278
11: FN, test serial F-XHFK; Mar14 33F

1300
12: FN, test serial F-XHFL, F-ZWCF; Jun15 33F; pictured

1301
13: FN, test serial F-XHFM, F-ZKBS

1302
14: FN d/d 17jul15, test serial F-XHFN

1303
2015
15: FN d/d 21sep15 , test serial F-XHFO

1304
16: FN d/d Feb16, test serial F-XHFP, F-ZKBD

1339
17: FN from Jun16 10S; 24jun16 d/d 31F

F-ZKBL: Airbus Helicopters France, test serial F-XHFQ

1020
2: 1020/NFRS002; FN d/d Jun 2010

1055
3: FN; 2011 10S/CEPA

1075
2010
4: 19jun11 pictured (pic1) with 10S/CEPA at static meeting Aeri+

1093
5: FN 33F Mar13, test serial F-XHFE

1163
6: FN; 2011 10S/CEPA

1181
7: FN; Oct11 seen as F-ZWDG w 1181 paper

1243
8: FN, test serial F-ZWDF; Jun16 33F

1251
9: FN, test serial F-ZWBT