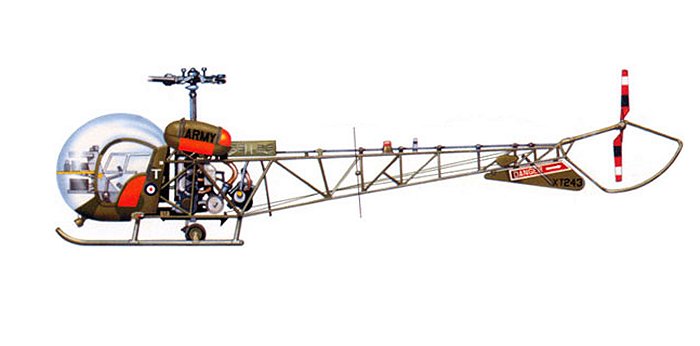 Bell 47G-3B-1 Sioux won the Light Helicopter Competition between
Hughes
300 and the Hiller 12E-4 (coming second), the Brantly B-2 a late entrant - in March 1964, to replace the
Skeeter
. The deal was politically complicated by a need to sell Rolls Royce aero engines to
Italy
, so the first 50 were
supplied by Agusta
and remainder from Westland.

First deliveries were from Apr 1965 and initial maintenance difficulties (of these and the
Agusta
supplied models - which began deliveries in 1964) were largely overcome by July 1965, with final deliveries at the end of 1968. Known as the
Clockwork Mouse
or
Iron Budgie
in AAC service.
666 Squadron
was the last UK unit to retire its Sioux in Feb 1978, followed by
11 Flight
(in Brunei and Hong Kong) in Sep 1978.

Years
Units
Base
1972/77
AAC Flight BATUS
CFB Suffield

1970/75
7 Flt
RAF Gatow

closed 1994


Terendak Camp

1969/78
16 Flt
Dhekelia Strip

1969/78
657 Squadron
Colchester Kirkee
Long Kesh

closed 1979


Bournemouth Barracks

1969/78
665 Squadron
Colchester McMunn

1969/77
662 Sq
Waterloo Barracks, Münster

closed 1994



1969/75
660 Squadron
Long Kesh

closed 1979


Soest
RAF Topcliffe

1969-
Historic Aircraft Flight
AAC Middle Wallop

1969/??
663 Squadron
1967/69
1 Flt
Detmold

1967/??
D&TS
??/78
666 Squadron (Volunteers)
AAC Netheravon

closed 2012


RAF Topcliffe

??/78
11 Flt
UNFICYP Flight
Nicosia (Lefkosia)