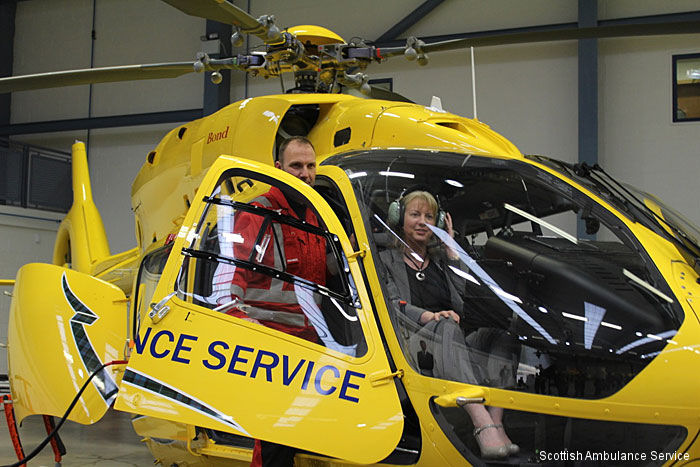 New H145 in the Scottish Ambulance Service, 26-Jun-15 :

Scottish Ambulance Service is replacing their current EC135 helicopters which have been in service since 2006 with two new H145/EC145T2. Bond Air Services operate the helicopters on Gama's behalf.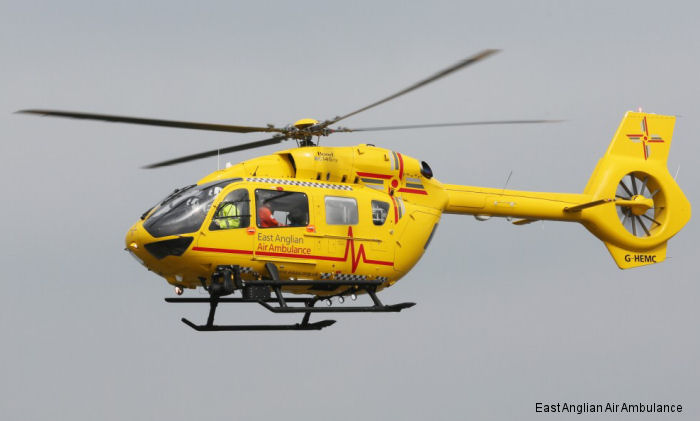 East Anglian Air Ambulance First Saving With H145, 22-Apr-15 : United Kingdom s first H145 / EC145T2, operated by Bond Air Services on behalf of East Anglia Air Ambulance (EAAA) has completed its first mission transporting a patient to the Royal London Hospital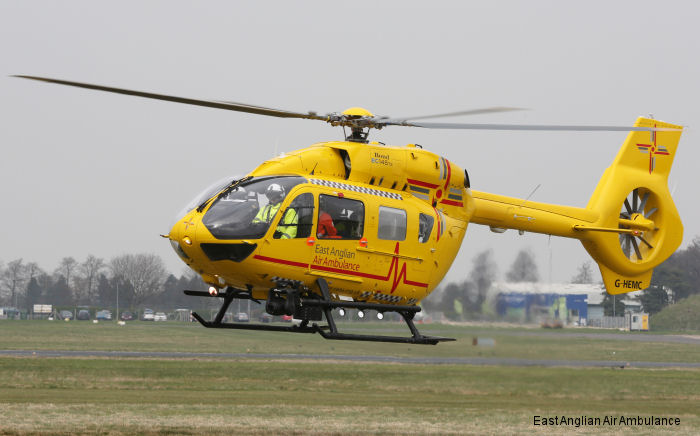 East Anglian Air Ambulance Launch EC145T2, 22-Apr-15 : East Anglian Air Ambulance (EAAA) celebrates arrival of its new H145. Has begun service operation as Anglia Two based at Cambridge Airport and is the first of its kind to go into service in England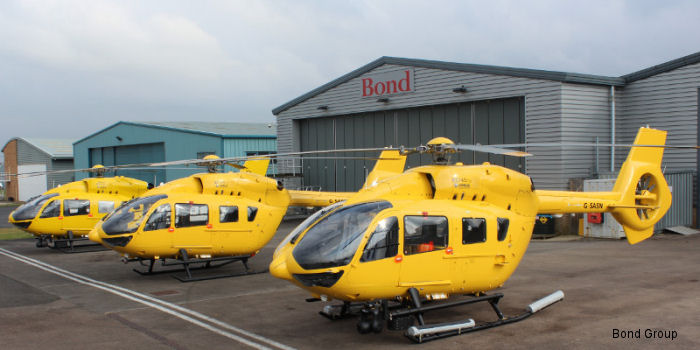 Bond Air Services Gets UK Third H145 / EC145T2, 17-Mar-15 : The third H145 (formerly EC145T2) to arrive in the UK was delivered to Bond Air Services this week joining the other two which are both already at the company's Staverton headquarters
Scottish Ambulance Service upgrades to EC145T2, 12-Jun-12 : The next generation of Scotland's air ambulance service will operate larger helicopters with more room and equipment for enhanced clinical care, as a new contract is due to be awarded to the incumbent air operator, Gama Aviation.
C/N
Mod
Built
ID In this Org
In other Org


20012
2014
G-HEMC: Bond Air Services Nov14-Apr16, test serial D-HADM; First UK +

D-HADM: Test serial D-HADM (4th issue). To UK.


---

G-HEMC: Babcock Mission Critical Services Onshore Ltd from Apr1+


---

G-HEMC: East Anglian Air Ambulance (EAAA) from 22


---

22apr15 first saving


---

as EAAA /Anglia 2 based at Cambridge Airport (Marshal+


---

EAAA delivered emergency patient to Addenbrookes Hosp+


---

15dec18 struck a wire whilst taxiing, Near Hollesley, S+


---

pictured at Norwich

20052
2015
G-RESU: Bond Air Services from Oct15, test serial D-HADQ

D-HADQ: Manufacturer test serial; to UK


---

G-RESU: Babcock Mission Critical Services Onshore Ltd from


---

G-RESU: East Anglian Air Ambulance (EAAA) from op by Bond; pi+


---

East Anglian Air Ambulance; first landing at Ipswich +


---

2 Jun 2019, tracking SE, then operating between Hadleig+


---

doing loops around Tibenham village, South Norfolk

20025
2014
G-SASN: Bond Air Services from Mar15

D-HCBW: Manufacturer test serial; to UK


---

G-SASN: Babcock Mission Critical Services Onshore Ltd from Apr1+


---

G-SASN: Scottish Ambulance Service


---

Scottish Ambulance Service, op by Babcock; Based in GA+


---

pictured at Scottish Ambulance Service base


---

Churchdown airport between Gloucester and Cheltham

20022
2014
G-SASS: Bond Air Services Jan15-Apr16, test serial D-HCBT

D-HCBT: Manufacturer test serial (6th use); to UK


---

G-SASS: Babcock Mission Critical Services Onshore Ltd from Apr1+


---

G-SASS: Scottish Ambulance Service from Jan15, op by Bond


---

Scottish Ambulance Service, op by Babcock; Jan18 pictu+


---

03jan19 at Rothesay, Scotland


---

F-HSIK: Babcock MCS France from Nov20, lsd TVPX for SAMU


---




---

F-HSIK: SAMU 26 from Jan21, op by Babcock