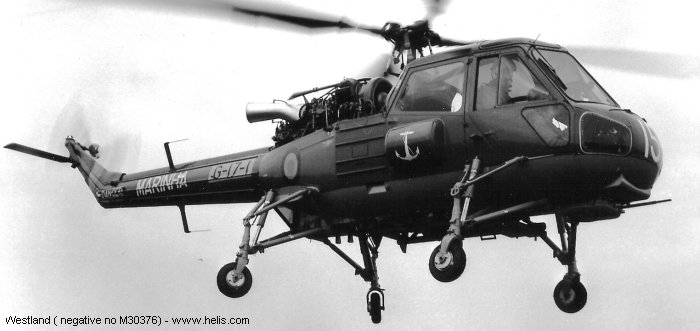 Known as the UH-2 & UH-2A Wasp in FAMB service. Operated by 1 Esquadrao de Helicopteros de Emprego Geral (HU.1) from Gearing and Allen M Summer Class destroyers - (first Wasp deck landing on these April 1975, following their conversion to the failed DASH drone operation) and the Niterói class frigates. 3 new build airframes acquired in April 1966 and 7 ex UK Royal Navy Wasp HAS.1s in 1977. Defensora (F41) transported the last 2 Wasps in 1977 on its delivery voyage from Southampton to Rio de Janeiro. 4 Wasps still in active service 1991.

C/N
Mod
Built
ID In this Organisation
In other Org


f.9542
1962
N-7016: Second UH-2 Wasp to bear this FAMB serial after previous bea+

XS476: Pre-production airframe built at Hayes. ff as G-17-2; T+


---

22Jul79 uncoded on dump at Portland Open Day

f.9557
1963
N-7040: d/d 1963 to UK RN as XS530, to G-17-7, then to FAMB as N-704+

XS530: Royal Navy HAS1 type; to Brazil as N-7040

f.9569
1964
N-7042: ex RN XS542 and Westland G-17-30, then to FAMB as N-7042, w/+

XS542: d/d 17/03/1964 to UK RN, 829 Sq Juno Flt/465 by Jul 196+


---

21oct78 noted in store RNAY Wroughton

f.9575
1964
N-7037: ex UK RN XS564 and G-17-22. To FAMB 1977 (N-7019 ntu ?) as N+

XS564: dd 21 May 1964 to RN. 829Sq Argonaut Flt/466-AT by Nov +

f.9589
1964
N-7036: ex UK RN as XT419. To G-17-1, then to FAMB 1977 (N-7018 ntu +

XT419: dd 23 Dec 1964 to RN as XT419. RAF Bahrain SAR Flt/422 +

f.9603
1965
N-7039: ex UK RN XT433. to G-17-6, then to FAMB 1978 as N-7039.

XT433: dd 1965 to RN. ex G-17-6. 829Sq Arethusa Flt/426-AR by +


---

N-7039: preserved at Museu Aeroespacial, west of Rio de Janeiro+

f.9614
1966
N-7015: Delivered as UH-2 Wasp to FAMB 20 Apr 1966, code 15.

f.9615
1966
N-7016: 20apr66 d/d as UH-2 Wasp to FAMB code 16; w/o 15jul67 and r+

f.9616
1966
N-7017: Delivered as UH-2 Wasp to FAMB 20 Apr 1966, code 17.

f.9674
1967
N-7041: ex UK RN XT792 and G-17-8. To FAMB as N-7041

XT792: dd 11 Jul 1967 to RN. 829Sq Bacchante Flt/425-BC +

f.9728
1968
N-7038: d/d 07/01/1969 to UK RN as XV633, to G-17-21, then to FAMB 1+

XV633: Royal Navy HAS1 type; to Brazil


---

706Sq/591 by Sep 1969, 706Sq/584 by Jul 1972 still Sep +

11 C/N.