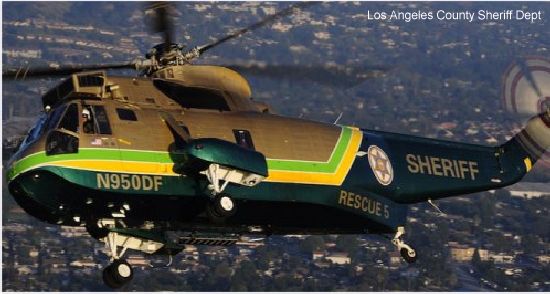 Four Sikorsky
SH-3H Sea-King
rescue helicopters were completely refurbished, including the installation of medical interiors and new avionic instruments on the flight deck. The first of these "new" rescue helicopters went in-service in June 2000 as a replacement for the aging fleet of Sikorsky S-58T. The "Sea King" were used by the Sheriffs Department for rescue missions in the National Forest and other remote areas, to transport and insert special weapon teams, to transport personnel in the event of disasters or civil emergencies, and for marijuana eradication and removal missions. A special mission was added in the form of standby rescue and medical evacuation for the Space Shuttle crew and ground personnel in the event of Space Shuttle landings at Edwards Air Force Base.
---
As of 17nov12 all 5 of the below aircraft have already started the transition back to the Navy system. They are being transferred to
HMX-1
. 950SB is the last one currently flying. DF and DG are still at LASD awaiting transportation. HJ and 139 already transferred late 2011 and early 2012

Years
Units
bold : Current base of the Unit

1999/12
LASD




C/N
Mod
Built
ID In this Org
In other Org


61-141
hss-2
N950DG: LASD Los Angeles County Sheriff Department from 2008, ex 149+

149724: US Navy; conv to SH-3H unk; Aug91 SH-3H type HC-1 /UP-7+


---

conv UH-3H; 21oct05 pictured as HC-2 /743 USS Mount Whi+

61-186
hss-2
1963
N3173U: 18aug14 op by Siller pictured (pic2) with County of Los Ange+

149916: USN; conv HH-3A CSAR variant


---

N3173U: Carson from Nov10; pictured (pic1) after conversion to +


---

N3173U: Siller from May11


---

still Siller Helicopters Inc at Yuba City, CA


---

pictured (pic3) at Hemet-Ryan airport, Hemet, CA.

61-222
S-61N
1964
N307Y: SFO Airlines 196?-1971; San Francisco Oakland Airlines

N307Y: Sikorsky S-61N-3; New York Airways, Sikorsky serial N30+


---

G-BEIC: BIH Dec76-Jan93


---

G-BEIC: Brintel leasing Jan93-May94; Brintel Helicopters May94-+


---

G-BEIC: CHC Scotia Aug00-Nov01


---

C-GROV: CHC Nov01-Jan02


---

CHC Sep/Dec 2003, again Feb04-Jan06


---

- YV-1033C: Venezuela Feb02-Aug03, lsd CHC


---

C-GBSF: Executive Transport Airways Ltd Jan06-Jun08; Helijet in+


---

C-GBSF: Coulson Apr10-May12


---

N804AR: EP Aviation Jun12-Apr19; conv to S-61T ?


---

Afghanistan


---

N804AR: Croman Corp at White City, OR from Apr19

61-223
S-61N
1963
N317Y: San Francisco Oakland (SFO) Airlines Apr74-Nov76

N317Y: Sikorsky S-61N, c/n 61-223 ff?; del Sikorsky as N317Y u+


---

JA9507: del Mitsubishi Heavy Industries in kit form 1963; reass+


---

G-BEID: sold UK as G-BEID, 24Nov76; engine fire warning, a/c di+


---

- G-BEID: gone from Hanningfield Metals by May 1995. Scrapped ?

61-309
sh-3d
N8139T: LASD Los Angeles County Sheriff Dept 1998-2002; ex 152139

152139: US Navy; 1989 SH-3H type HS-1 ./AR-450


---

prototype YSH-3D; conv to SH-3D; Conv to SH-3H; to civ +

61-360
sh-3d
N950DF: LASD Los Angeles County Sheriff Department d/d 07nov07; ex +

152702: USN; conv SH-3H; 17dec94 to 9H0061/AMARC; 1997 to civ


---

as SH-3D with HS-74 at NAS South Weymouth, MA

61-372
sh-3d
N950SB: LASD Los Angeles Co Sheriff Dept d/d 07nov97; ex 152707

152707: SH-3D for US Navy; HS-11 / AU-555 at Farnborough air sh+


---

USN; conv SH-3H; 13dec93 to 9H0054/AMARC; 1997 to civ

61-378
sh-3d
N240HJ: LASD Los Angeles County Sheriffs Department d/d 07nov97; ex +

152712: US Navy; 1989 SH-3D type HS-17./AK-610


---

USN; conv SH-3H; 25sep90 pictured as /610 HS-17 USS Abr+

61-523
ch-3c
1964
N308SB: SBSD San Bernardino County Sheriff Dept c 2001 -2008; sponso+

63-9691: USAF CH-3C d/d 05Sep64; conv CH-3E; 17Aug76-03Oct78 a+


---

04jul68 conv to CH-3E type


---

9691: CG 9691 was stationed at Air/Sta Traverse City from 198+


---

09oct91 pictured (pic1) at Davis Monthan AFB, AZ


---

N308SE: Croman from Apr08


---

Apr18 with Croman Corp at White City, OR

9 C/N.