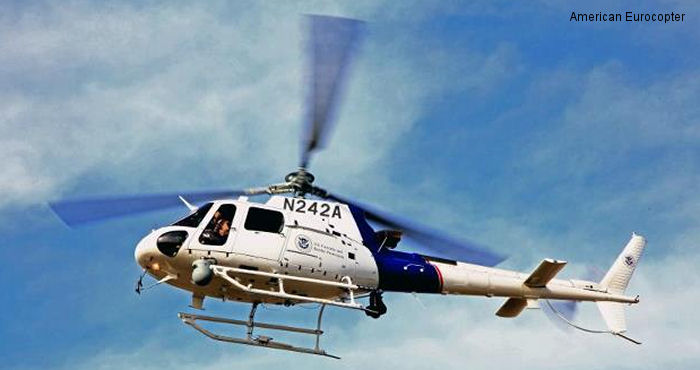 The Light Enforcement Helicopter (LEH) are used by the Customs and Border Protection (CBP) in surveillance and security patrol missions.

Additional 50 units were order in 2008 with 14 delivered by February 2010
CBP adds 6 more AS350B3 LEH, 23-Feb-10 : Houston, From the Eurocopter booth at Heli-Expo, American Eurocopter announced that U.S. Customs and Border Protection has entered into the first option year on the Light Enforcement Helicopter (LEH) contract and placed an order for six AS350B3s. This is the second order on the LEH contract that was awarded to American Eurocopter by the Department of Homeland Security in July 2008.
Years
Units
bold : Current base of the Unit

CBP




C/N
Mod
Built
ID In this Organisation
In other Org


3872
as350b3
2004
N186AE: CBP

4362
as350b3
2007
N203TU: CBP

7176
as350b3
2011
N242A: DHS d/d 24feb12

N190AE: Eurocopter USA Jun11, to N242A

4806
as350b3
2009
N3939A: CBP from May10; w/o 10jan14 near Falfurrias, Texas

4952
as350b3
N3949A: US Customs and Border Protection from Jan11

7082
as350b3
2011
N3972A: DHS d/d 30jun11

7101
as350b3
2011
N3983A: DHS d/d 22sep11; 26th DHS AS.350

2699
as350b2
1993
N6095U: US Customs Service (CBP) from Oct93; w/o 29jul15 during auto+

7463
as350b3e
2012
N6977A: Dept of Homeland Security from Sep13

N6977A: American Eurocopter from Nov12, test serial N6971A

4483
as350b3
2008
N753AM: DHS from Jan09

4335
as350b3
2007
N791AM: Department Of Homeland Security from May08; CBP

- N202TU: test serial F-WWXS

3588
as350b3
2002
N851BP: USBP dd 2003; w/o 22may07 San Elizario, Texas

3595
as350b3
2002
N853BP: US Customs and Border Protection; 18oct12 pictured Yuma, AZ