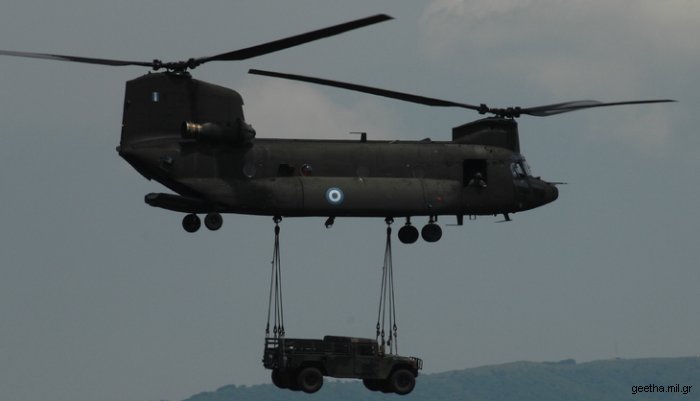 Ten italian-built
Elicotteri Meridionali CH-47C
were originally bought by the Greek Army in late 1970s.
Nine ( serial 006 w/o 25may84 ) of them were upgraded by Boeing to the
CH-47DG
type in 1990.
Seven additional
CH-47SD
arrived in 2001
Former US Army CH-47D from 2015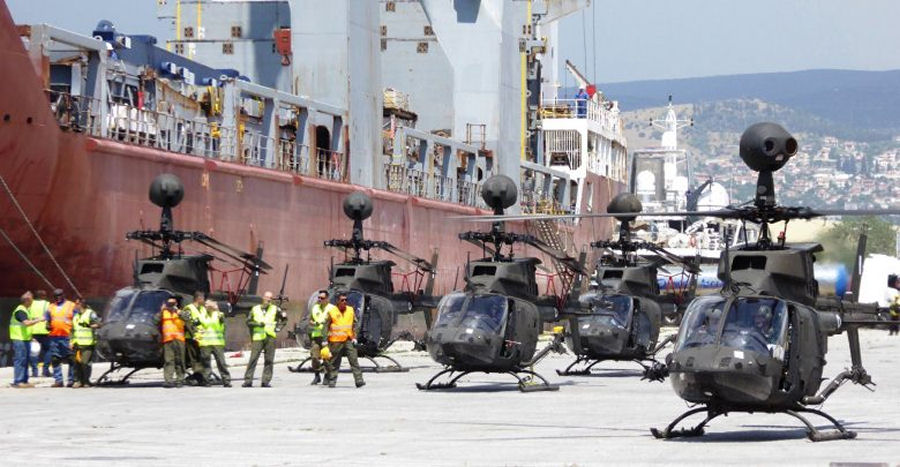 Greece Receives 70 OH-58D and Last Chinook, 21-May-19 : #Kiowa Cargo ship transporting ex US army helicopters arrived to Greece. The Hellenic Army received 70 OH-58D Kiowa Warrior valued €44M and the last of 10 CH-47D Chinook.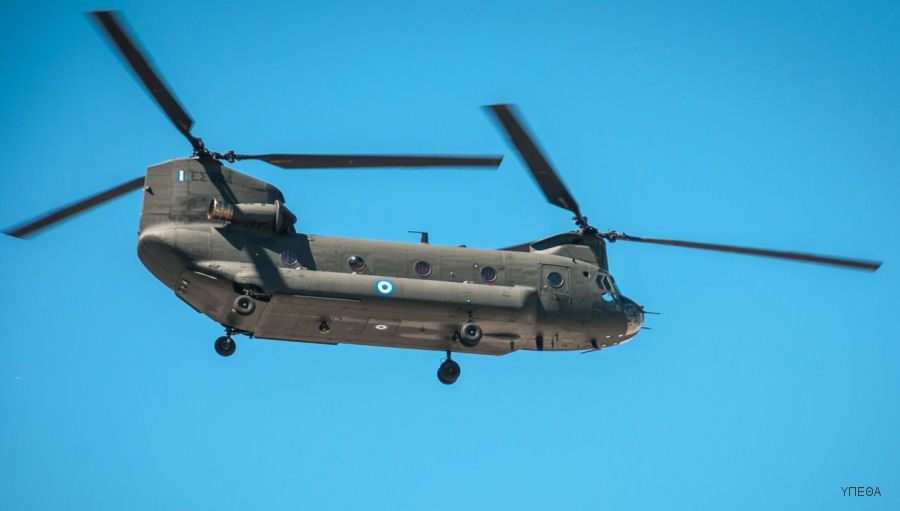 Greece Requested Five CH-47D Chinooks Via FMS, 28-Apr-17 : Greece requested 5 ex US Army CH-47D helicopters through a $80M Foreign Military Sale (FMS). The Hellenic Army is already a Chinook user having receiving first units back in 1982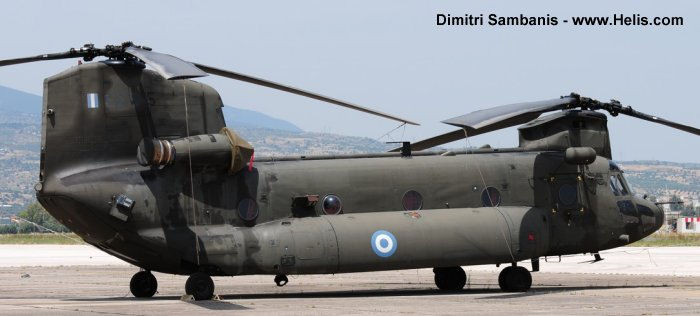 Greece Requests 10 Second-Hand CH-47D Chinooks, 11-Dec-14 : US State Department approved a possible Foreign Military Sale (FMS) to Greece for 10 CH-47D Chinook helicopters coming from US Army stock and logistical support for an estimated cost of $150 million
C/N
Mod
Built
ID In this Org
In other Org


M.3569
ch-47d
ES901: V-001 d/d 1992 convt. from CH-47C 001

M.3564
ch-47d
ES902: V-003 d/d 1989 convt. from CH-47C 003; 07jun11 CH-46DG type +

M.3561
ch-47d
ES903: V-005 d/d 1989 convt. from CH-47C 005; 24apr10 CH-47DG type+

M.3562
ch-47d
ES904: Hellenic Army Aviation; V-007 d/d 1989 convt. from CH-47C 00+

M.3567
ch-47d
ES905: V-009 d/d 1990 convt. from CH-47C 009; 07jun11 CH-46DG type +

M.3565
ch-47d
ES906: V-002 d/d 1990 convt. from CH-47C 002

M.3563
ch-47d
ES907: V-004 d/d 1995 convt. from CH-47C 004; 23jul09 CH-47DG type +

M.3568
ch-47d
ES908: V-008 d/d 1992 convt. from CH-47C 008

M.3566
ch-47d
ES910: V-010 d/d 1993 convt. from CH-47C 010

M.4281
ch-47sd
ES911: CH-47SD d/d 2001; N50446

M.4282
ch-47sd
ES912: CH-47SD d/d 2001, test serial N5045D; 4TEAS; 29apr08 picture+

M.4283
ch-47sd
ES913: CH-47SD d/d 2001; N5045R; 18sep09 pictured with 4TEAS EUFOR +

M.4284
ch-47sd
ES914: CH-47SD d/d 2001; ex N5069L; EUFOR markings for deployment a+

M.4285
ch-47sd
ES915: CH-47SD d/d 2001; ex N50924; 07jun11 CH-46SD type pictured +

M.4286
ch-47sd
ES916: CH-47SD d/d 2001; N5096U; w/o 11sep04 crash on Aegean Sea ki+

M.4287
ch-47sd
ES917: CH-47SD d/d 2002; N5099U

M.3373
ch-47d
ES921: Army by 2017

90-00221: US Army, 90-0221, conv from CH-47C 68-16007

M.3401
ch-47d
ES922: Army, ex 91-00252

91-00252: US Army cnvt. from ex CH-47C 70-15026