Entered Service in November 2012, twelve EC725AP ordered for search and rescue and utility missions under a contract signed in 2010. As of 2018, RMAF H225M fleet has achieved 13,000 flight hours.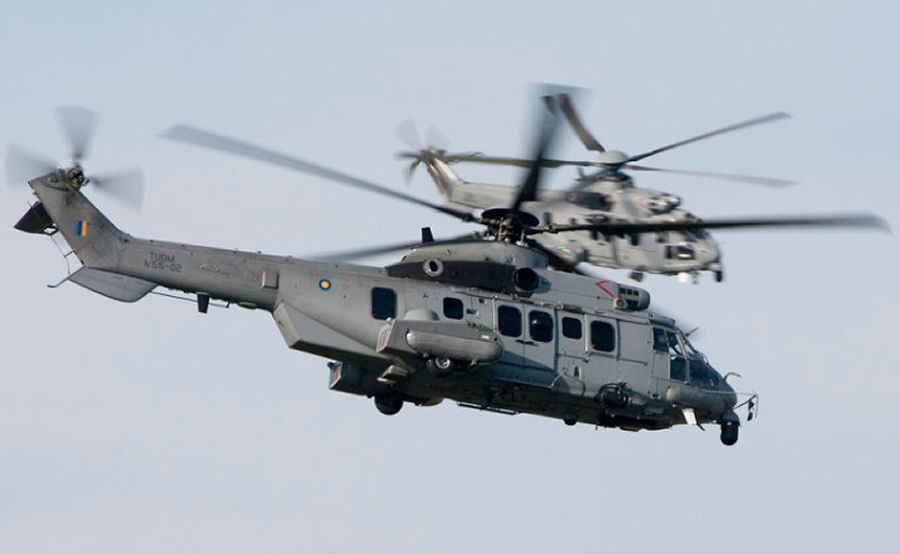 13,000 Flight Hours for Malaysian H225M Fleet, 17-Apr-18 : The 12 Royal Malaysian Air Force EC725 achieved 13,000 flight hours since entered service in 2012. Serial M55-02 recognized in ceremony by Airbus during the DSA 2018 exhibition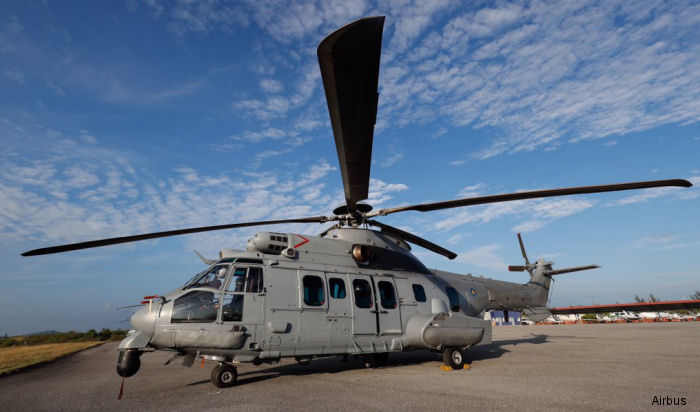 10,000 flying hours for Malaysian H225M, 22-Mar-17 : LIMA 2017 Airbus Helicopters held a ceremony during LIMA 2017 to celebrate the 10,000 safe flying hours for the Royal Malaysian Air Force's fleet of 12 EC725AP/H225M helicopters in service since 2012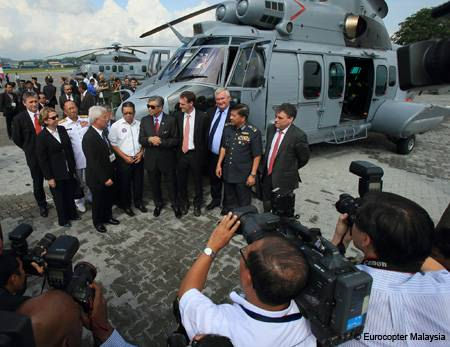 First two EC725 for Royal Malaysian Air Force, 03-Dec-12 : The initial two Eurocopter EC725 helicopters for the Royal Malaysian Air Force were formally presented today during a ceremony in Kuala Lumpur, with the first unit being delivered on time and the second unit coming three months ahead of schedule.
C/N
Mod
Built
ID In this Organisation
In other Org


2817
2011
M55-01: RMAF d/d 28nov12 to Subang Airport by Antonov An-124, test s+

F-ZWDQ: Eurocopter France

2840
M55-02: TUDM 10Sqn d/d Dec12, test serial F-ZWBZ

2843
M55-03: TUDM 10Sqn d/d Jul13, test serial F-ZWBX

M55-04: TUDM 10Sqn d/d Jul13

2847
M55-05: TUDM 10Sqn d/d Aug13, test serial F-ZWDK

2856
M55-06: TUDM 10Sqn d/d Aug13, test serial F-ZWDW

2859
M55-07: TUDM 10Sqn d/d Oct13, test serial F-ZWDX

2861
M55-08: TUDM 10Sqn d/d Oct13, test serial F-ZWDA

M55-09: TUDM 10Sqn d/d Nov13, test serial F-ZWBL

M55-10: TUDM 10Sqn d/d Nov13, test serial F-ZWBS

M55-11: TUDM 10Sqn d/d Nov13, test serial F-ZWDO

2887
M55-12: TUDM 10Sqn