Initial order for 20 EH101 took place in 1997.

First helicopter (MM81480) first flown October 4th 1999 with deliveries completed by 2006 :

10 Mk.110 anti-surface and anti-submarine (ASW)
4 Mk.112 HEW-784 radar in large underfuselage radome for air early warning (AEW)
4 Mk.410 transports
4 Mk.413 amphibious support helicopter (ASH)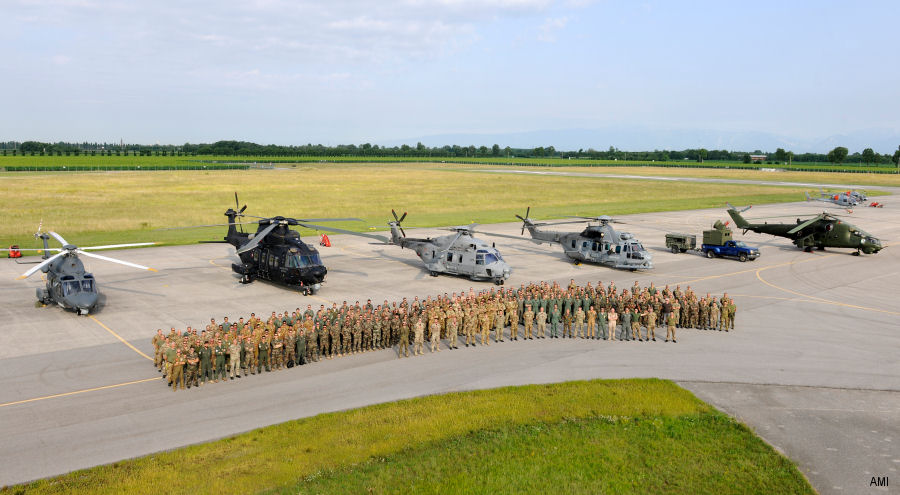 APROC 2017, 28-Jun-17 :

Italian air force held the Air Centric Personnel Recovery Operatives Course (APROC), the main training event in Europe in combat search and rescue.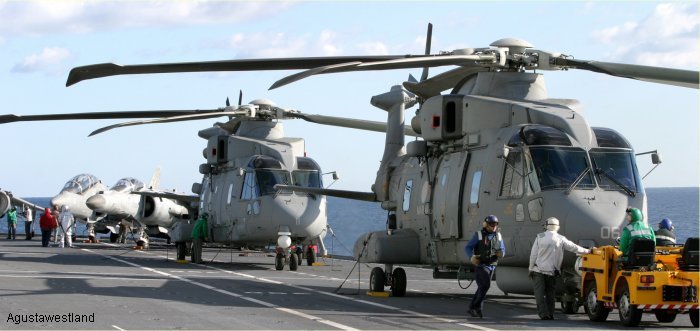 Italian Navy Takes Delivery Of Its 21st AW101 Helicopter, 04-Aug-09 : UK / Italy : AgustaWestland, a Finmeccanica company, is pleased to announce that the Italian Navy has taken today delivery of its 21st AW101 three engine medium/heavy helicopter during an official ceremony held at Maristaeli Luni naval base in Italy. This Anti-Submarine Warfare (ASW)/Anti-Surface Warfare (ASuW) configured aircraft is the first unit of the last AW101 batch for the service which has committed to a total of 24 AW101s.
Harris to provide cockpit for italian EH.101, 29-Mar-01 : MELBOURNE, Florida, USA - Harris Corporation, a world leader in cockpit digital moving maps for military aircraft, announced today that it has been awarded a multi-million dollar contract by Agusta, Cascina Costa, Italy, to provide the Digital Map System (DMS) for the Italian Navy's fleet of EH-101 anti-submarine helicopters. The DMS provides the EH-101 with real-time, advanced terrain visualization data via cockpit displays, assisting the aircraft's flight crew with critical navigation and situational awareness capabilities specifically tailored for the helicopter's unique mission.
C/N
Mod
Built
ID In this Organisation
In other Org


50142
mk410
50142: 27mar18 at Venice for Joint Small Operation 2018

50010
mk110
1999
MM81480: Marina 2-01. 110001. ff 04oct99. press 06dec99

50016
mk110
MM81481: Marina 2-02. 110002

50020
mk110
MM81482: Marina 2-03. 110003

50024
mk110
MM81483: Marina 2-04. 110004

50028
mk110
MM81484: Marina 2-05. 110005

50032
mk110
MM81485: Marina 2-06. 110006

50036
mk110
MM81486: Marina 2-07. 110007

50039
mk110
MM81487: Marina 2-08. 110008

50044
mk112
MM81488: Marina 2-09. 112001, AEW type

50070
mk112
MM81489: Marina 2-10. 112002, AEW type

50084
mk112
MM81490: Marina 2-11. 112003, AEW type

50096
mk112
MM81491: Marina 2-12. 112004, AEW type

50108
mk410
2003
MM81492: Marina 2-13. 410001. ff sep03

50117
mk410
MM81493: Marina 2-14. 410002, c/n to be confirmed

50142
mk410
MM81494: Marina 2-15. 410003, c/n to be confirmed

50144
mk410
MM81495: Marina 2-16. 410004. 2005 in USA for VH-71 program

50146
mk413
MM81633: Marina 2-18, 410006/UTY

50150
mk413
MM81634: Marina 2-19, 410007/UTY, c/n to be confirmed; 12jan07 pictur+

50154
mk413
MM81635: Marina 2-20, 410008/UTY, c/n to be confirmed

50156
mk413
2009
MM81636: Marina 2-21 410009/UTY; 12jan07 pictured with 1 Gruppo Elico+

mk110
MM81719: Marina 2-22. 110009, UK G-17-021

50172
mk110
MM81726: Marina 2-23, UK G-17-022