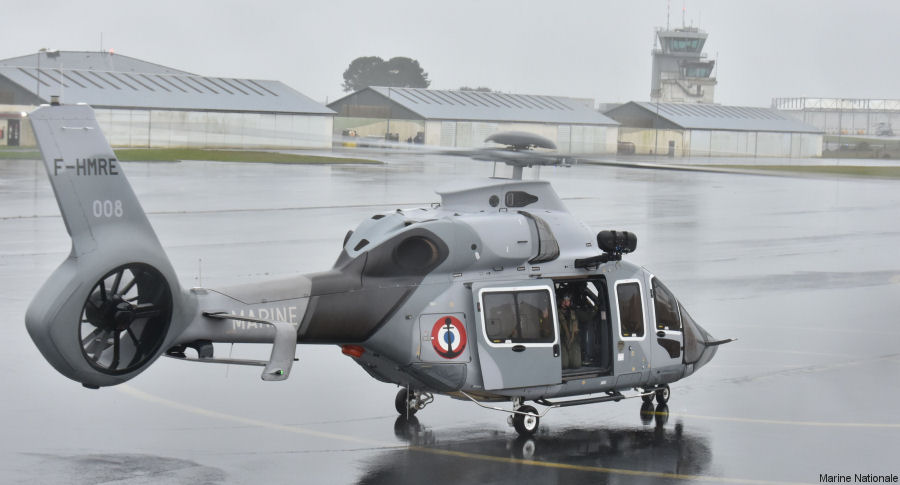 In February 2020 was announced that 4 new
H160FI ( flotte interimaire )
helicopters will be leased from
Babcock
for 10 years for search and rescue missions in the Atlantic and the Channel as an interim measure until arrival of the
H160M Cheetah
(Guepard).
On May 2021, the Direction Générale de l'Armement (DGA) ordered 2 additional H160
SAR missions first scheduled to start in May 2022 from naval bases Lanveoc-Poulmic (
LFRL
) and Hyeres (
LFTH
) and the Cherbourg airport (
LFRC
). In January 2023 the first H160B arrived to BAN Lanveoc for trials and is expected to enter operational service with 32F during this year.
The H160FI modifications include military communications, the
Euroflir 410
sensor, armor plates, and the cabin fitted for both surveillance and medical evacuation missions.
H160M
deliveries planned to start in 2027
More News ...


Deployments
| | C/N | Mod | Built | ID In this Org | In other Org |
| --- | --- | --- | --- | --- | --- |
| | 1008 | | | 008 French Navy H160B, lsd from Babcock | F-HMRE: Babcock France, test serial F-WWOA |
| | 1016 | | | 016 16 French Navy H160B, lsd from Babcock | F-HTNS: Babcock France, test serial F-WWOV |
| | 1020 | | | 020 French Navy H160B, lsd from Babcock | F-HBQN: Babcock France, test serial F-WMXX |
| | 1024 | | 2023 | 024 French Navy H160B, lsd from Babcock | F-HDBE: Babcock France, test serial F-WWOG |