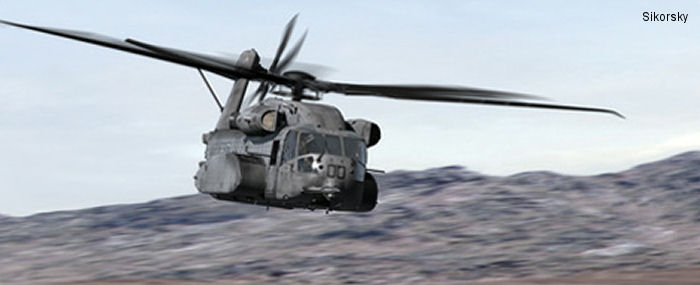 The USMC ordered 200 CH-53K production aircraft (including the four SDTA aircraft) to stand up 8 active duty, 1 reserve and 1 training squadron to replace the
CH-53E Super Stallion
.
First helicopter, SDTA #3, delivered for trials and testing on May 2018.
Production of the helicopter is forecast to more than double from four (4) aircraft in 2022 to nine (9) in 2023, and then increase by an additional 2/3rds to fifteen (15) aircraft in 2026. It is expected that the CH-53K will remain in production through 2032 and beyond.
The 2nd Marine Aircraft Wing (2 MAW) was selected to be the first to begin transition to the CH-53K in 2020 in a process that will continue with the rest of fleet up to FY30.
The CH-53K entered Initial Operational Test and Evaluation in 2021 and is set to conclude in 2022.
On January 24, 2022 HMH-461 (2 MAW) in MCAS New River became the first operational squadron to receive the CH-53K.
In December 2022 the CH-53K entered Full Rate Production (FRP) and squadrons transition continues on schedule. Full Operational Capability is expected for FY2029.
C/N
Mod
Built
ID In this Org
In other Org


169019: MV-005

169019: SDTA-1 Apr18; Sikorsky


---

ILA Berlin 2018

169020: MV-006

169020: SDTA-2, Sikorsky

2018
169021: MV-007 USMC d/d at MCAS New River, NC; first CH-53K delivered to U+

169021: SDTA-3; Sikorsky

169022: MV-008 VMX-1 /MV-008

169022: SDTA-4 Sikorsky


---

first test of chaff and flares defensive suite

2021
169662: 009 LRIP - Low Rate Initial Production - Lot 1 #1; Ceremony held+

2022
169663: CJ-010 LRIP - Low Rate Initial Production - Lot 1 #2

2022
170001: LRIP CH-53K Lot 2

2022
170002: LRIP CH-53K Lot 2

2022
170003: Delivered to MCAS New River at Camp Lejeune

170004: LRIP CH-53K Lot 2

2023
170005: LRIP CH-53K Lot 2

170006: LRIP CH-53K Lot 2

170007: LRIP CH-53K Lot 2

170008: LRIP CH-53K Lot 2

170009: LRIP CH-53K Lot 2

170010: LRIP CH-53K Lot 2

170011: LRIP CH-53K Lot 2

170012: LRIP CH-53K Lot 2