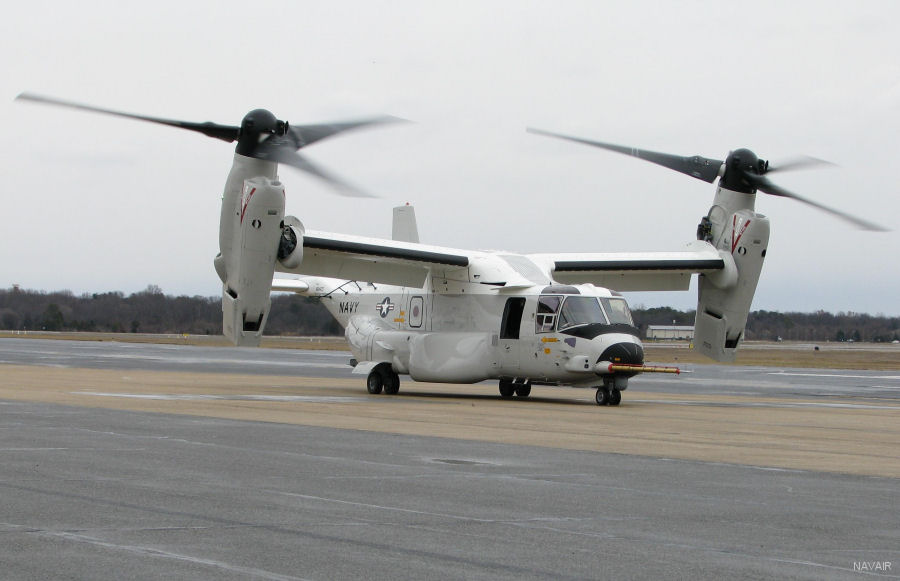 The US Navy will use the tilt-rotor Osprey to replace the Grumman C-2A Greyhound in the carrier on board delivery (COD) missions. Configuration will be virtually the same as the
Marine Corps MV-22B
but with an extended-range fuel system, a high-frequency radio and a public address system.
First trials conducted with a Marine MV-22B in 2012 by
VMX-22
evaluation squadron. First 12 aircraft could be obtain from the Marine Corps order for Fiscal Years 2018-2020. The Navy plans to get its own fleet of 44 Ospreys taking possession of eight a year starting in 2020.
Originally promoted as the
HV-22
received official designation of
CMV-22B
on February 2016.
On June 2018, Bell/Boeing awarded contract for production of 39 CMV-22B through 2025
On July 16, 2018 for the first time an all US Navy crew completed flight on a Marine MV-22B between Norfolk and MCAS Cherry Point.
In August 2018, trials aboard the USS George H.W. Bush (CVN-77) successfully demonstrated rolling landing and takeoffs in excess of 57000 pounds (25800 kg), some 8000 pounds (3600 kg) more weight than the C-2A.
On December 2018 was established the first squadron VMR-30 in California, and the east coast based VMR-40 planned.
On December 2019, the first CMV-22B was rolled out at Bell plant in Amarillo, TX.
On February 2020, first CMV-22B delivered to NAS Pax River.
Initial operational capability (IOC) scheduled for 2021.
The Navy also plans to stand up a training squadron, Fleet Logistics Multi-Mission Squadron VRM-50 in California adjacent to VRM-30.
Full transition from C-2A expected for 2028
C/N
Built
ID In this Org
In other Org


169435: First CMV-22B COD; Dec19 at Bell, Amarillo, TX

169436: USN May20

169437: First fleet COD Osprey