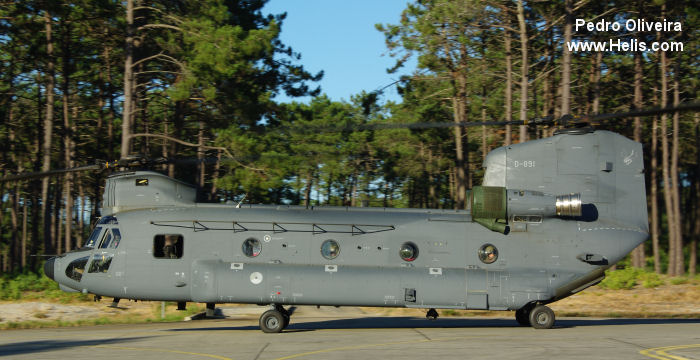 First 6 received from 2012. Additional 14 ordered in 2015 to replace last 11
CH-47D
models. Deliveries expected from 2019.
On April 2020, the first of 14 additional CH-47F Chinook was delivered to the RNLAF. Deliveries of the new helicopters (which includes 6 upgraded D models) is expected to be completed by 2021
C/N
Mod
Built
ID In this Org
In other Org


M.8890
D-890: NL014 Dec10, test serial N1004W

M.8891
D-891: NL015, test serial N1074E; Aug12 298 Sqd

M.8892
D-892: NL016, test serial N1098X; Aug12 298 Sqd

M.8893
D-893: NL017, test serial N1122R Aug12 302Sq

M.8894
D-894: NL018, test serial N1149Z; Aug12 302Sq

M.8895
D-895: NL019, test serial N1154T; Jan13 302Sq

6 C/N.