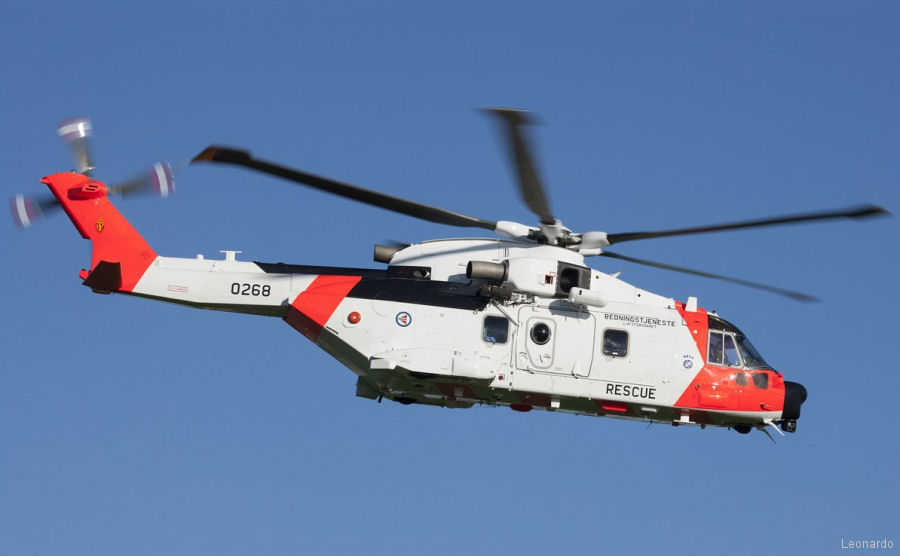 In February 2007, the Norwegian Ministry of Justice announced that their option to buy
10 NH90
in the SAR version to replace the aging
Sea King MK.43
would be allowed to lapse. Instead, they opened the
NAWSARH
( Norwegian All Weather Search and Rescue Helicopter ) competition.
The finalists were the AW.101 and the
EC225
while the
Sikorsky H-92 Superhawk
was eliminated. Other proposals, but not considered, included the
V-22 Osprey
and the
HH-47 Chinook
.
The
AgustaWestland AW101
was chosen after the acquisition process started in October 2011, with tender documents released in July 2012. On November 2013 was announced as the Winner.
The contract, signed on 19 December 2013, includes 16 new SAR helicopters with an option for a further 6, and ensures that the Sea King will be phased out by the end of 2020.
First flight of the AW101-612 achieved March 21, 2016 by #0262. First delivered, #0268, handled over at Yeovil, UK on November 17, 2017 but suffered a ground accident at Sola a week later and needed to be returned to the UK for repairs. #0265 and #0270 followed in January 2018 and #0273 in March 2019.
SAR Queen
, as is known, entered service from Sola on September 2020. Orland followed in May 2021 with the last base, Banak, planned for end of the year.