Signing of AW101 contract
On February 2007, the Norwegian Ministry of Justice announced that their option to buy
10 NH90
in the SAR version to replace the aging
Sea King MK.43
would be allowed to lapse. Instead, they opened the
NAWSARH
( Norwegian All Weather Search and Rescue Helicopter ) competition.
The finalists were the AW.101 and the
EC225
while the
Sikorsky H-92 Superhawk
was eliminated. Other proposals, but not considered, included the
V-22 Osprey
and the
HH-47 Chinook
.
The
AgustaWestland AW101
was chosen after the acquisition process started in October 2011, with tender documents released in July 2012. On November 2013 was announced as the Winner.
The contract, signed on 19 December 2013, includes 16 new SAR helicopters with an option for a further 6, and ensures that the Sea King will be phased out by the end of 2020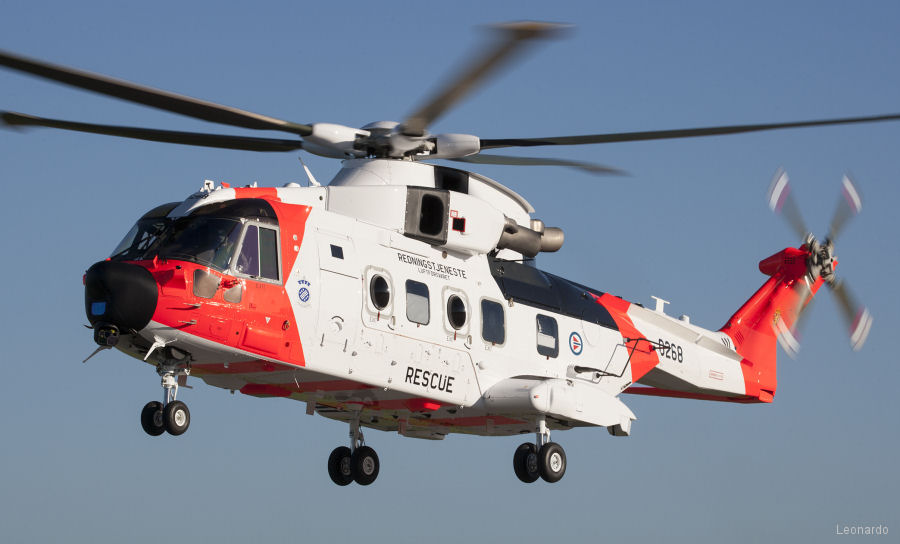 First AW101 Delivered to Norway, 20-Nov-17 : Norway received the first first of 16 AW101. The all-weather search and rescue helicopter departed Leonardo's Yeovil facility in UK for Sola airbase to begin a test period
Norway AW101 Training Centre Opens, 13-Jun-17 : Official opening ceremony of the AW101 Norway Training Centre at Stavanger Sola Airport by Minister of Justice & Public Security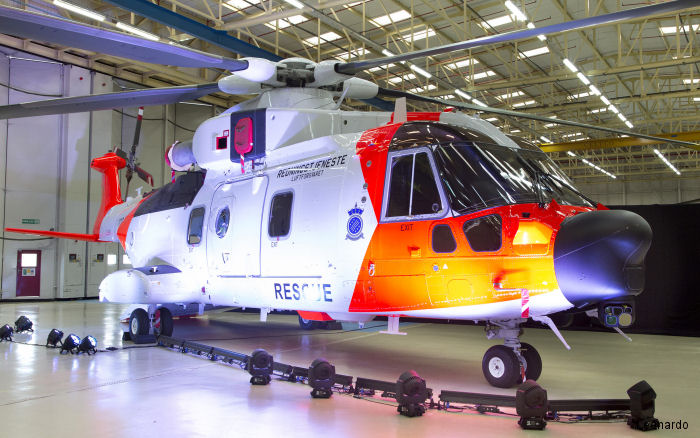 Norwegian AW101 Roll Out Ceremony, 31-May-16 : Norwegian AW101 NAWSARH SAR helicopter was unveilled by Anders Anundsen, Norway's Minister of Justice and Public Security, in a roll out ceremony held at Yeovil, UK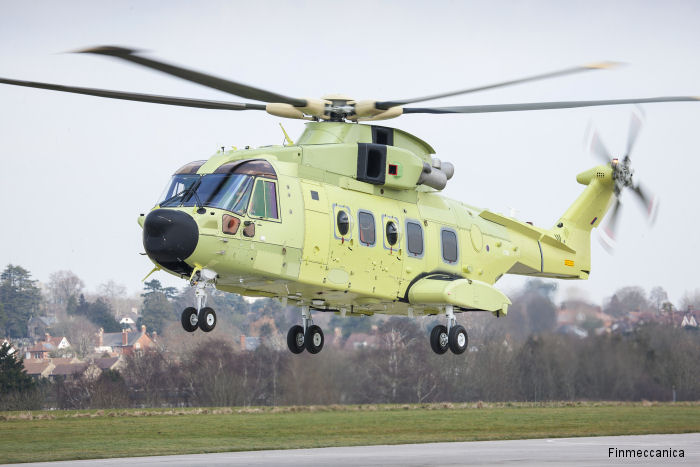 Norwegian First AW101 Maiden Flight, 23-Mar-16 :

Finmeccanica announced the first of 16 AgustaWestland AW101 for Norway successfully performed its maiden flight at its Yeovil factory in the UK on 21st March 2016.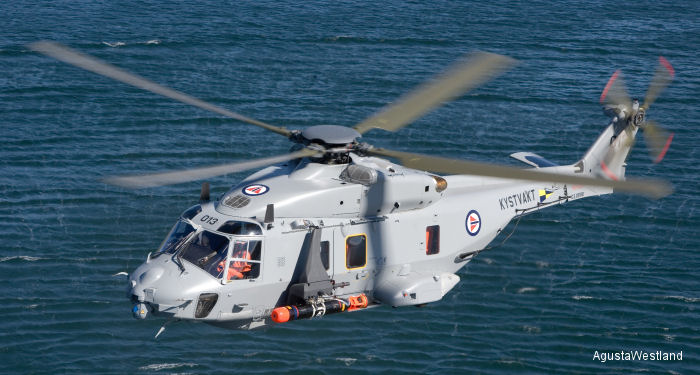 Kongsberg and AgustaWestland Cooperation, 16-Jul-14 : Kongsberg Defence Systems and AgustaWestland today signed a protocol for extending and increasing co-operation relating to Maintenance, Repair and Overhaul (MRO) of dynamic components (including various gear boxes) for the NH90 helicopter and a range of AgustaWestland helicopters.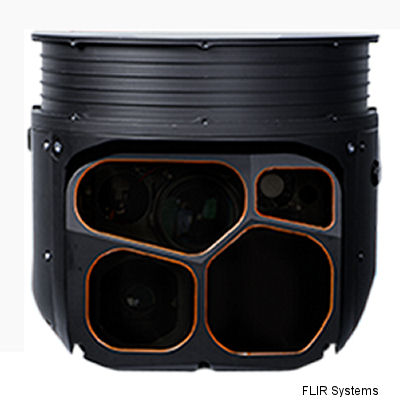 FLIR Star SAFIRE 380-HDc for Norway AW101, 28-May-14 : WILSONVILLE, OR - FLIR Systems, Inc. announced today that its Star SAFIRE 380-HDc was selected by the Norway Ministry of Justice and Public Security for its new fleet of AW101 helicopters to be used in Norway's All Weather Search and Rescue Helicopter (NAWSARH) program.
C/N
Built
ID In this Organisation
In other Org


50262
2016
0262: Norway f/f 21mar16, test serial ZZ100

50264
0264: Norway f/f 17aug16, test serial ZZ101

50265
2017
0265: Second Norwegian AW101; 19jan18 pictured departing Yeovil

ZZ102: AgustaWestland Yeovil Feb17

50268
0268: First Norwegian AW101 delivered, , test serial ZZ103; 17nov1+

50270
0270: Norway, test serial ZZ104

50273
0273: Norway, test serial ZZ105

50275
0275: Norway, test serial ZZ106

50276
0276: Norway, test serial ZZ107

50277
0277: Norway, test serial ZZ108

50278
0278: Norway, test serial ZZ109

50279
0279: Norway, test serial ZZ110

50280
0280: Norway, test serial ZZ111

50281
0281: Norway, test serial ZZ112

50282
0282: Norway, test serial ZZ113

50283
0283: Norway, test serial ZZ114

50284
0284: Norway, test serial ZZ115