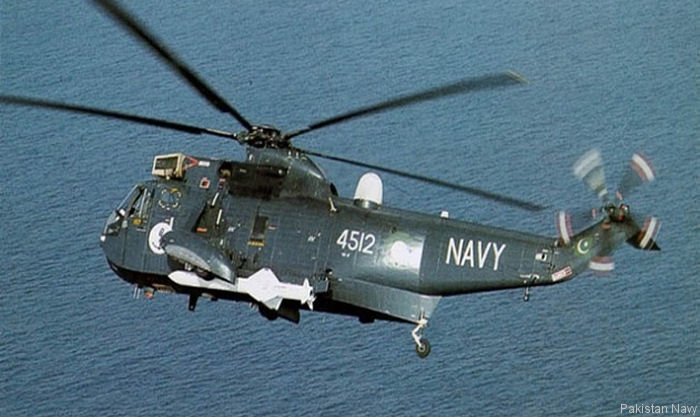 Order for 6 Sea King Mk45 (basically similar to the RN HAS.1) placed in Dec 1972. This order essentially introduced aviation operations to the Pakistan Navy, following the 1971 war with India. Delivered in two batches of 3 in Nov 1975 and Oct 1976, they operate primarily in the Anti-Submarine Warfare role with up to 4 Mk46 torpedos and at least 5 have been modified to take a pair of AM39 Exocet missiles for the Anti-Shipping role, following weapons trials in 1976 and 1977. By May 1995 a contract to add a dipping sonar system was nearing completion and conversions became known as the Mk45A, with the final aircraft completed in Sep 1996. The Sea King is mainly shore based but can operate from the Navy destroyers and larger frigates.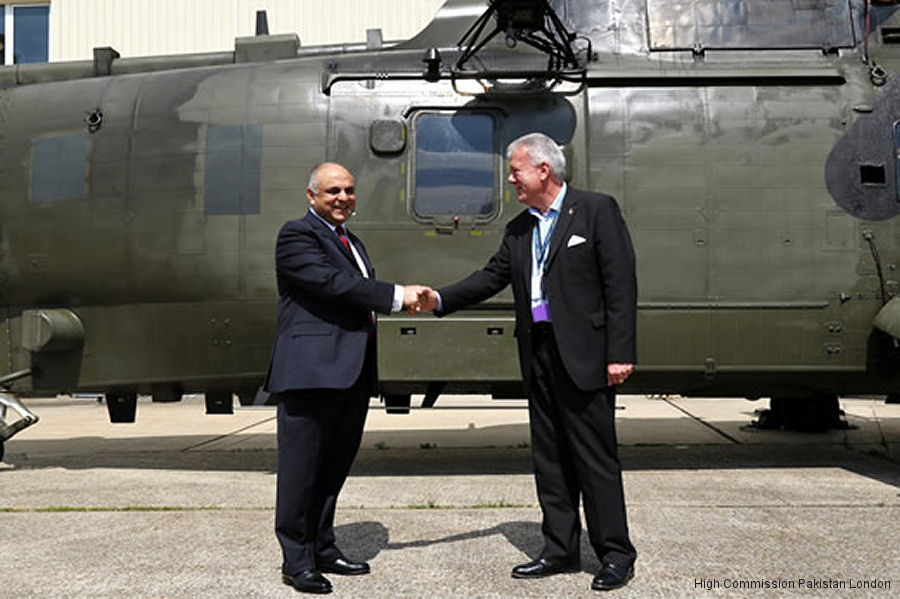 Pakistan Navy New Sea Kings Refurbishment, 08-Jun-17 : Pakistan Navy acquired 7 former Royal Navy Sea Kings. Three are being refurbished by Vector Aerospace at its Fleetlands facility in Gosport, UK in order to return to service
C/N
Mod
Built
ID In this Org
In other Org


wa 797
mk45
1974
4510: 111 sqd, test serial GG-BNCV

wa 798
mk45
1974
4511: to 111 sqd, test serial G-BNCU

wa 799
mk45
1974
4512: to 111 sqd, test serial G-17-23

wa 800
mk45
1974
4513: To 111 Sq. w/o 8 Feb 1986. Replaced by Mk45A 4516 in Jan 198+

wa 801
mk45
1974
4514: to 111 sqd, test serial G-BCNW

wa 802
mk45
1974
4515: to 111 sqd, test serial G-17-266

wa 959
has.5
1986
4516: Mk.45A; to 111 sqd jan1989. ex RN Has.5 ZE421

ZE421: RN HAS.5; to ZG935 Westland; 1989 Pakistan as Mk.45A 45+

wa1010
har.3a
ZH544 flew for the first time in 2 1/2 years after a D1 min+

ZH544: HAR.3A 22 Sq A Flt by Jul 1999


---

22 Sq A Flt by Aug 1999


---

RAF in 2007 22Sqn. C Flt.


---

30aug10 pictured (top) at Bude Lifeboat Day


---

pictured (bot) as 22 Sqn Sierra 170 at RNAS Culdrose


---

retired from RAF service, to Gosport 26 Nov 2015.


---

: acquired for sacrifical spares for RNoAF Mk.43 fleet ?


---

- ZH544: Jul17, Although it was reported at the time of its reti+

8 C/N.