Introduced into FAP service from 1963, eventually 156 of the type were delivered. They were also used in Portugal's
African Wars
in Mozambique in the mid 1960s. In 2005, less than 20 remain in service.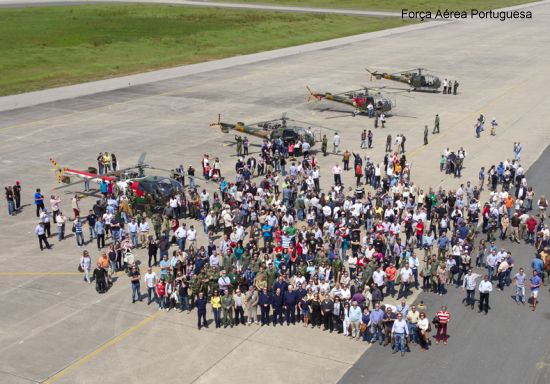 Portugal: 50 years with Alouette III, 20-Apr-13 :

( Google translation ) On April 20 was held in the premises of 552 Squadron "HORNETS", based on the Air Base No. 11 , in Beja, the event commemorating the 50 years of operation of the helicopter ALOUETTE III (ALIII).
C/N
Mod
Built
ID In this Org
In other Org


1556
sa316b
19298: Noted at Beja on 9 Nov 1999

1573
sa316b
19302: Noted at Beja on 9 Nov 1999

1673
sa316b
19342: FAP; ex 9342; w/o 25jul95

1682
sa316b
19344: FAP; ex 9344

1705
sa316b
19349: FAP; ex 9349

1742
sa316b
19356: FAP; ex 9356; 03jul05 pictured at Beja airbase, Portugal

1751
sa316b
19359: FAP; ex 9359; damaged 1994

- 19359: AB7-Tete Moçambique

1786
sa316b
19368: FAP; ex 9368; 17jul05 pictured at Tamariz Beach, Cascais Por+

1818
sa316b
19376: 20apr13 pictured as /068 during 50th Anniversary Alouette II+

1840
sa316b
1971
19383: FAP, ex 9383

1855
sa316b
19384: Noted at Beja on 9 Nov 1999

1913
sa316b
19397: Noted at Beja on 9 Nov 1999

1917
sa316b
19401: FAP, ex 9041; 1994 Esq 552; May15 still

1093
se3160
1963
9254: Sud-Est SE3160, cn1093, ff:?; del FAP as 9254, unk; xfer Moz+

7335: recovered by Rhodesian AF as 7335, 24Aug79.

1129
se3160
1963
9261: Sud-Est SE3160, cn1129, ff:?; del FAP as 9261, unk; xfer Moz+

7354: recovered by Rhodesian AF as 7354, 19Apr79

1136
se3160
9263: del FAP as 9263, unk; xfer Mozambique, unk; wfu & abandoned,+

7535: recovered by RhAF as 7535, Jun79;


---

645: xfer SAAF as 645, unk

1137
se3160
1964
9264: Sud-Est SE3160, cn1137, ff:?; del FAP as 9264, unk; xfer Moz+

5736: recovered by Rhodesian AF as 7536, Jun79.


---

640: xfer SAAF as 640, unk

1232
se3160
1964
9269: Sud-Est SE3160 cn1232, ff:?; del FAP as 9269, unk; xfer Moza+

7537: recovered by Rhodesian AF as 7537, 07Jun79; status unk

1233
se3160
1965
9270: FAP, to N4996G

N4996G: Evergreen 1985


---

: Naciones Unidas; 18mar93 pictured at Marana-Pinal Air P+

1250
se3160
1964
9271: Sud-Est SE3160 cn1250, ff:?; del FAP as 9271, unk; xfer Moza+

7358: recovered by Rhodesian AF as 7358, Jun79


---

642: xfer SAAF as 642, unk

1295
se3160
1964
9273: Sud_est SE3160, cn1295, ff:?; del FAP as 9273, unk; xfer Ang+

7395: recovered by Rhodesian AF as 7395, 07Jun79

1316
se3160
1965
9277: FAP, to N4997J

N4997J: Evergreen 1985, ex FAP-9277


---

: Naciones Unidas; pictured at Marana-Pinal Air Park, AZ

1333
se3160
9280: Sud-Est SE3160 cn1333. ff:?; del FAP as 9280, unk; xfer Ango+

7450: recovered by Rhodesian AF as 7450, 07Jun79

1355
se3160
9281: Sud-Est SE3160 cn1355, ff:?; del FAP as 9281, unk; xfer Ango+

7541: recovered by Rhodesian AF as 7541, 07Jun79

1357
se3160
9283: del FAP as 9283, unk; xfer Mozambique, unk; wfu & abandoned,+

5742: recovered by RhAF as 5742, 07Jun79


---

641: SAAF. ex 9283

1368
se3160
1966
9284: FAP; to Rhodesia as (7)543

646: SAAF; ex AFZ (7)543


---

(7)543: AFZ (formerly known as Rhodesia); ex FAP 9284; to SAAF+

1370
se3160
9286: del FAP as 9286, unk; asgd Mozambique, unk; wfu & abandoned,+

7454: recovered by Rhodesian AF as 7454, 07Jun79


---

: xfer SAAF?, fate unk

1384
se3160
9287: Sud-Est SE3160, cn1384, ff:?; del FAP as 9287, unk; xfer Moz+

7455: recovered by Rhodesian AF as 7455, Jun79


---

643: xfer SAAF as 643, unk

1385
se3160
9288: Sud-Est SE3160, cn1385, ff:?; del FAP as 9288, unk; xfer Moz+

7456: recovered by Rhodesian AF as 7456, Jun79


---

644: xfer SAAF as 644, unk

1386
se3160
9289: Sud-Est SE3160, cn1386, ff:?; del FAP as 9289, unk; xfer Moz+

7547: recovered by Rhodesian AF as 7547, 07Jun79

1396
se3160
9290: Sud-Est SE3160, cn1396, ff:?; del FAP as 9296, unk; xfer Moz+

5748: recovered by Rhodesian AF as 5748, Jun79; w/o 12Jan93.


---

At Air Accident Investigation hangar at Manyame AB by F+

1556
sa316b
9298: FAP 9298. To 19298

1573
sa316b
9302: FAP 9302. To 19302

1674
sa316b
9343: FAP; w/o 22jun76

1683
sa316b
9345: FAP; to civ F-BUAV

Heliocean F-BUAV: ex FAP 9345

1646
sa316b
1969
9346: FAP; 1977 to France as F-ZBDF

F-ZBDF: securite civile from 1977 ex FAP 9346 from 2003 wfu

1648
sa316b
9347: FAP; w/o 23may72

1699
sa316b
9348: FAP; to civ F-GFVH

1706
sa316b
9350: FAP; to Surinam as SAF 400

SAF-400: LUMA, ex FAP 9350, reser PZ-HTH


---

- PZ-HTH: ex SAF-400


---

- N6353F: Helicopter Technology Inc at Century, FL 1999-2008

1709
sa316b
9351: FAP; w/o 21oct92

1732
sa316b
9352: FAP; to Mozambique as C9-HAQ

5729: xfer by RhAF as 5729, 20Sep76

1733
sa316b
9353: FAP

1740
sa316b
9354: FAP; to Mozambique

1741
sa316b
9355: FAP

1749
sa316b
9357: FAP; to France as F-ZBDG

F-ZBDG: Securite Civile; ex FAP 9357; preserved at Museum St.Vi+

1750
sa316b
9358: FAP; to F-GJBM

1855
sa316b
9384: FAP 9384. To 19384

1857
sa316b
9386: FAP, to Surinam as SAF 500

SAF-500: LUMA, ex FAP 9386, reser PZ-HSH


---

- PZ-HSH: ex SAF-500


---

- N63574: Helicopter Technology Inc at Century, FL 2001-

1913
sa316b
9397: FAP 9397. To 19397