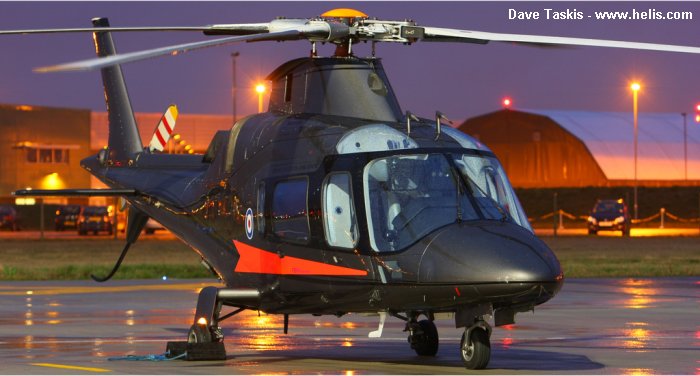 Aircraft from
FB Leasing
used by the Shawbury Defence Helicopter Flying School.
Serials ZR321, ZR322 and ZR323 (used in the VIP role) were built after 2001 and therefore listed under
AgustaWestland
C/N
Mod
Built
ID In this Org
In other Org
11663
aw109e
2006
ZR321 RAF d/d 29mar06 to Northolt; 01apr06 to 32(TR)Sq; Rtn AgustaWestland in

G-CDVB: AgustaWestland UK, 03-29Mar06 for MoD
AgustaWestland UK Apr11-Feb17; Leonardo UK feb17-Jun18
22mar12 flew over North Gorley, Hampshire, England
Sitting on the apron at Southampton Airport
27mar14 seen in Srebrenica, Bosnia and Hercegovina, wit...
01jul14 landed and took off from the household cavalry ...
pictured (pic3) at RAF Northolt. Notice how the RAF ro...
Tottenham Hale > RAF Northolt
RAF Northolt 100 year event
09dec15 13:55 overflew Long Marston
drop off and Pick up at Leonardo Yeovil
- 3X-FOK: Guinea unk 3X- from 2018
CS Aviation, Guinea by Apr20

11664
aw109e
2006
ZR322 RAF, ex Westland G-CDVC, d/d 22mar06 to RAF Northolt; 01apr06 to 32(TR)Sq

G-CDVC: Built Agusta in Italy. To Westland as G-CDVC 3 Mar 2006...
AgustaWestland UK from Apr16; Leonardo UK from Oct17
Registered to AVIATION NETWORK ANM AB, SWEDEN
De-Registerd from th UK, reason recorded as "Permanentl...

11665
aw109e
2006
ZR323 RAF d/d 30mar06 RAF Northolt, to 32(TR)Sq on 1 Apr 2006

G-CDVE: Built Agusta in Italy. Westland 21/29 Mar 2006
G-CDVE: AgustaWestland UK from 26apr13
pictured (pic2) at Yeovil
14jul16 noon at Kensington Palace
- XA-UZU:

11111

w/o 2022

2000
ZR324 RAF, from FB Leasing

- HB-ZDL: Tiriac Air Apr01-Nov03
- YR-TIA: Tiriac Air, Romania Nov03-Mar05
G-EMHB: Castle Air Mar/Apr 2005
- G-EMHB: East Midlands Helicopters Apr05-Mar08, rtn to Castle Ai...
G-EMHB: FB Heliservices 2008 for RAF training; rtn Feb/Mar 2020
Cobham helicopter services at at Bournemouth / Newquay ...
Aug18-Jan19 for sale Agusta A109E 2001; Executive conf...
Aug19 for sale Agusta A109E 2001; Price $1,325,000 fli...
- G-EMHB: Myheli Ltd at Oxford Airport Mar/Sep 2020
I-PIKI: 2A Srl op by Alidaunia from Nov20
w/o 05nov22; Crashed near San Severo, in route from...

11056
2000
ZR325 RAF from Feb09; March 2010 picture at RAF Northolt

G-BZEI: Sloane Jun/Jul 2000
G-BZEI: JJB Sports Jul00-Aug02
Stolkin Helicoptes Aug02-Apr03
Castle Air Nov08-Jan09
- G-RCMS: Stolkin Helicoptes Apr03-Oct05
- N449J: Jay Industries, Ireland Oct05-Nov08
G-BZEI: FB Leasing Jan/Feb 2009




No longer with this org.