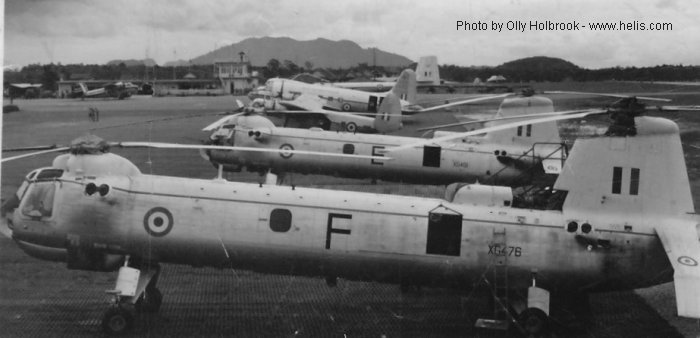 First heavy lift and tandem rotor helicopter for the British armed services. Delivered initially to the Belvedere Trials Unit at
RAF Odiham
in 1960, and after about a year it entered operational service in Sep 1961 as the Belvedere HC.1. The fleet was grounded between Aug and Sep 1962 following an accident in Germany (which was ultimately caused by a design failure in the cockpit ergonomics).
It had a reputation for unreliable engine starters, which gave trouble throughout most if its operational life and the laminated rotor blades were prone to distintegration during flight. A rectification programme saw it give service in the UK, the Middle East (where dust abrasion of the rotor blades was also problematic) and Far East.
Originally designed for a service life of 1000 flying hours, work during 1964 showed it could be extended to 1700 hours.
It was never hugely successful and was eventually withdrawn in Mar 1969. It did however serve a heavy lift requirement and it was to be 1980 and two false starts later, before the RAF took delivery of the
Chinook HC.1
to replace the Belvedere.

---
I remember using this aircraft on survey operations in Aden in the early 60s. I thought there were some mechanical issues there and ( possibly) an accident. I know they were grounded as my party were "marooned" on a fairly inhospitable and hostile area until "rescued" by the Army Air Corp via scouts.

Seven Belvederes served with 26 Squadron in Aden,
Yemen
. Two were destroyed in crashes in which 3 crew were killed and 3 were injured. A third aircraft was severely damaged when a starter motor blew up on start up and had to be returned to the Westland factory for a complete rebuild.

C/N
Mod
Built
ID In this Org
In other Org


13342
1958
XG447: Single prototype airframe ff 5 Jul 1958 at Bristols Weston-s+

13343
1959
XG448: RAF

13344
1959
XG449: RAF 72 Sqdn; went to 66 sqdn; broken up 1969 Seletar

13345
1960
XG450: RAF

13346
1960
XG451: RAF

13347
1960
XG452: RAF Belvedere Type 192 HC.1; 24jul93 pictured preserved at I+

XG452: 5th development Belvedere. Used to rectify handling iss+


---

- G-BRMB: xfer UK Civil register as G-BRMB, pres as XG452

13348
1960
XG453: RAF

13349
1960
XG454: 7th pre-production airframe; handed over to Belvedere Trials+

13350
1963
XG455: RAF Belvedere HC.1 d/d 15feb63; 16mar69 soc and scr at No+

13351
1960
XG456: RAF

13352
1961
XG457: RAF

13353
1961
XG458: RAF

13354
1961
XG459: RAF

13355
1961
XG460: RAF

13356
1960
XG461: RAF; w/o 31dec64

13357
1961
XG462: RAF; preserved (nose) at Weston-Super-Mare helicopter museum

13358
1961
XG463: del RAF as Belvedere HC.1, XG463, 03Nov61; w/o 30Oct64.

13359
1961
XG464: del RAF as Belvedere HC.1 XG464, 06Dec61; soc and scr at No.+

13360
1961
XG465: del RAF as Belvedere HC.1 XG465, 06Dec61; w/o 30Jul62.

13361
1962
XG466: del RAF as Belvedere HC.1 XG466, 10Jan62; soc and scr at No+

13362
1962
XG467: del RAF as Belvedere HC.1 XG467, 08Mar62; soc and scr at No+

13363
1962
XG468: del RAF as Belvedere HC.1 XG468, 20Feb62; w/o 25Jan68; soc a+

13364
1962
XG473: del RAF as Belvedere HC.1 XG473, 29May62; w/o 04May63.

13365
1962
XG474: del RAF as Belvedere HC.1 XG474, 08Jun62; soc 20Mar69; pres +

13366
1962
XG475: del RAF as Belvedere HC.1 XG475, 10May62; w/o 05Dec63; soc a+

13367
1962
XG476: del RAF as Belvedere HC.1 XG476, 11Oct62; soc and scr at No.+