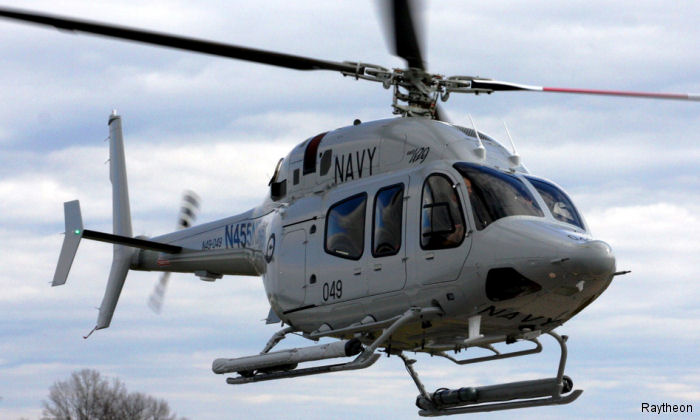 Leased from
Raytheon Australia
initially in a four year contract of 1500 hours per year in service with the RAN 723 Squadron at Nowra, replacing the AgustaWestland
AW109E
in advanced training duties. Were phased out in 2019 been replaced by the
HATS EC135
A training hours contract was let with Raytheon Australia in Sep 2011. This provided 3 Bell 429 Globalranger to 723 Squadron from Jun 2012. A 4th example was introduced in Aug 2015. The 4 were retired at Nowra on 18 Apr 2019.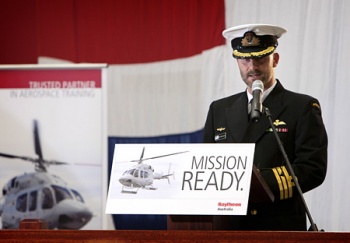 723 Squadron welcomes Bell 429 to HMAS Albatross, 06-Jun-12 : "These are indeed exciting times", 723 Squadron Commanding Officer, Commander Matthew Shand told the assembled guests as the Royal Australian Navy marked the introduction of the Bell 429 helicopter into service with a ceremony at HMAS Albatross on 5th June.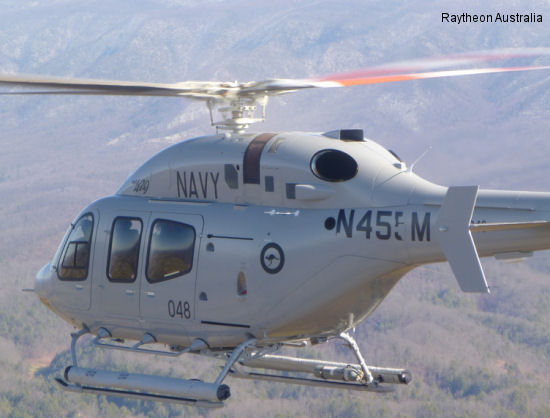 RAN Bell 429s commenced activities, 27-Apr-12 : Raytheon Australia today announced that its new Bell 429 helicopters had commenced activities with the Royal Australian Navy under the RAN's Retention and Motivation Initiative 2 (RMI 2) Program.
C/N
Mod
Built
ID In this Org
In other Org


57047
2011
N49-047: RAN /047 Jun12-2018

C-GLCV: Bell Canada May/Nov , test serial C-GFNO


---

N455KB: Bell Nov11-Mar12


---

VH-NPP: Raytheon Australia Mar/May 2012


---

VH-IWR: Raytheon Australia Mar/Apr 2019


---

ZK-IPB: Advanced Flight Ltd at Onehunga, Auckland from Apr19


---

ZK-IPB: NZ Police from Jul19, op by Advanced Flight Ltd; /Poli+

57048
2011
N49-048: RAN /048 from Jun12, 723 Sqn

C-GLFX: Bell Canada Jun/Dec


---

N455MB: Bell Dec11-Mar12


---

VH-NPQ: Raytheon Australia Mar/May 2012; pictured (pic1)


---

VH-IWS: Raytheon Australia Jan/Mar 2019


---

ZK-IPC: Advanced Flight Ltd at Onehunga, Auckland from Mar19


---

ZK-IPC: NZ Police from Jul19, op by Advanced Flight Ltd; /Polic+

57049
2011
N49-049: RAN /49 from Jun12, pictured

C-GLIK: Bell Canada Jun/Dec , test serial C-FOFG


---

N455NB: Bell Dec11-Mar12


---

VH-NPR: Raytreon Australia Mar/May 2012


---

VH-IWT: Raytheon Australia Jan/Mar 2019


---

ZK-IPJ: Advanced Flight Ltd at Onehunga, Auckland from May19


---

ZK-IPJ: NZ Police from Jul19, op by Advanced Flight Ltd; /Polic+

57218
2015
N49-218: RAN /50 Jul16

C-FDOW: Bell Canada May14-Apr15


---

N542PB: Bell Apr/Jul 2015


---

VH-POJ: Raytheon Australia Jul15-2016