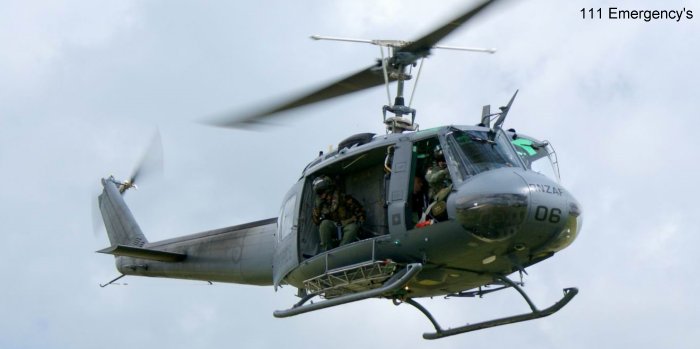 Five UH-1D models originally acquired in 1966 and these underwent a mid-1970s upgrade to UH-1H standard. Nine UH-1H were delivered in 1970, followed by one more in 1976. Two attrition replacements were obtained via the US Army and delivered in Jan 1997.

Only one of the two 1997 airframes has been brought into service (NZ3816)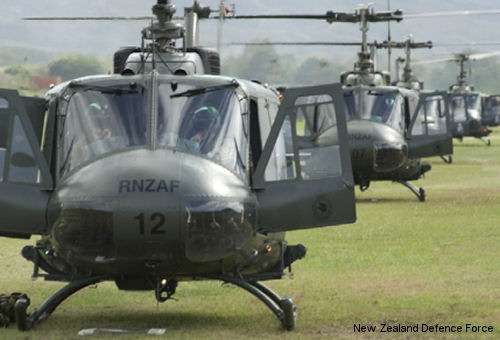 New Zealand Sells UH-1H Helicopters, 17-Sep-15 : The retired Royal New Zealand Air Force UH-1H helicopter fleet has been sold to Dakota Air Parts in the U.S. 10 (of the 13 airframes) total sale was in the $3-5 million range.
Final Tour for Royal New Zealand Air Force Hueys, 07-May-15 : The UH-1H Huey is scheduled to cease flying operations with the Royal New Zealand Air Force on July 1st 2015. No.3 Squadron who fly the Iroquois are making various stops around New Zealand in May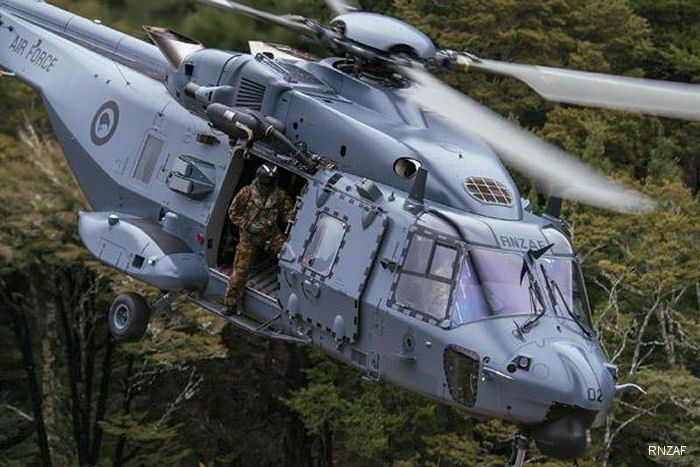 RNZAF Helicopter Fleet Integrated in 3 Squadron, 18-Dec-14 : New Zealand Air Force Helicopter Transition Unit (HTU), responsible for the introduction into service of the NH90 and AW109, was merged into 3 Squadron replacing the UH-1H as RNZAF main helicopter.
C/N
Mod
Built
ID In this Org
In other Org


12211
uh-1h
1970
NZ3800: This airframe never served with RNZAF and bears a false seri+

69-15923: US Army; 507th Medical Coy, Texas; 163rd Aviation Coy, +

4812
uh-1d
NZ3801: RNZAF 01. 3 sqd. BuNo 65-9768. Conv UH-1H

4813
uh-1d
NZ3802: RNZAF 02. 3 sqd. BuNo 65-9769. Conv UH-1H

5158
uh-1d
NZ3803: RNZAF 03. 3 sqd. BuNo 65-10114. Conv UH-1H

5159
uh-1d
NZ3804: RNZAF 04. 3 sqd. BuNo 65-10115. Conv UH-1H

- : Sectrum Aviation at Fargo, ND by Jun16

5160
uh-1d
NZ3805: RNZAF 05. 3 sqd. BuNo 65-10116. Conv UH-1H. United Nations E+

- : Sectrum Aviation at Fargo, ND by Jun16

11705
uh-1h
NZ3806: RNZAF 06. 3 sqd. BuNo 69-15417

11706
uh-1h
NZ3807: RNZAF 07. 3 sqd. BuNo 69-15418

- : Sectrum Aviation at Fargo, ND by Jun16

11707
uh-1h
NZ3808: RNZAF 08. 3 sqd. BuNo 69-15419

11708
uh-1h
NZ3809: RNZAF 09. 3 sqd. BuNo 69-15420

- : Sectrum Aviation at Fargo, ND by Jun16

11938
uh-1h
NZ3810: RNZAF 10. 3 sqd. BuNo 69-15650. w/o 27apr72

11939
uh-1h
NZ3811: RNZAF 11. 3 sqd. BuNo 69-15651

11940
uh-1h
NZ3812: RNZAF 12. 3 sqd. BuNo 69-15652

11941
uh-1h
NZ3813: RNZAF 13. 3 sqd. BuNo 69-15653. w/o 31mar95

11942
uh-1h
NZ3814: RNZAF 14. 3 sqd. BuNo 69-15654

13849
uh-1h
NZ3815: RNZAF 15. 3 sqd. BuNo 74-22525

- : Sectrum Aviation at Fargo, ND by Jun16

11702
uh-1h
NZ3816: RNZAF 16. 3 sqd. BuNo 69-15414