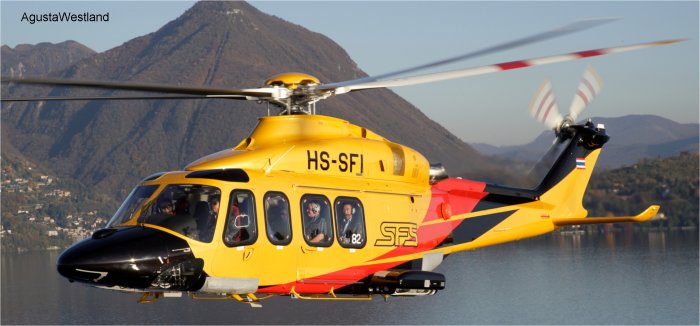 LCI delivers AW139 to SFS Aviation, 06-Nov-13 : Lease Corporation International (LCI), the aviation division of the Libra Group, has delivered a new AugustaWestland AW139 helicopter to SFS Aviation in Asia.
SFS Aviation Orders an AW139 Helicopter, 06-Dec-11 : AgustaWestland, a Finmeccanica company, is pleased to announce that SFS Aviation of Thailand has signed a contract for an AW139 medium twin helicopter. The aircraft will be delivered later this month and will be used for offshore transport operations in the Gulf of Thailand from its Songkhla base in southern Thailand.
C/N
Mod
Built
ID In this Organisation
In other Org


31146
2008
HS-SFH: SFS Aviation Mar11-May14

ZK-HUL: Helicopters NZ Nov/Dec 2008


---

VH-NZE: HNZ Australia Jan09-Mar11


---

VH-NZZ: HNZ Australia May/Jun 2014


---

ZK-IHP: HNZ New Zealand from Jul14; Jul16 still


---

P2-NZE: Herd, Papua New Guinea by Dec16

31382
HS-SFI: SFS Aviation from Dec11

31501
HS-SFK: SFS Aviation from Jul13

41001
2007
HS-SFG: SFS Aviation Dec10-Jun11, ex N428NE, to PR-CDV

N428NE: AgustaWestland, PA, also I-EASJ, to ERA


---

N428NE: ERA Offshore Jun07-Dec10, to HS-SFG


---

PR-CDV: Aeroleo from Jul11, ex HS-SFG


---

Aeroleo Offshore

41310
HS-SFJ: SFS Aviation Oct12

N315YS: AgustaWestland, PA Aug/Sep 2012, to HS-SFJ

41359
2013
HS-SFL: SFS Aviation, noted Jan14, reg not confirmed, Mar14 to Spain

N467SH: AgustaWestland, PA Nov13


---

EC-MBP: INAER from Mar14


---

01aug17 INAER at DGTK

41360
2013
HS-SFN: SFS o/o as Jun14

N469SH: AgustaWestland, PA from Nov13

7 C/N.