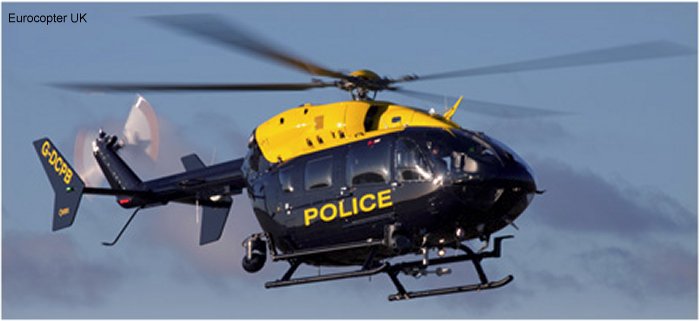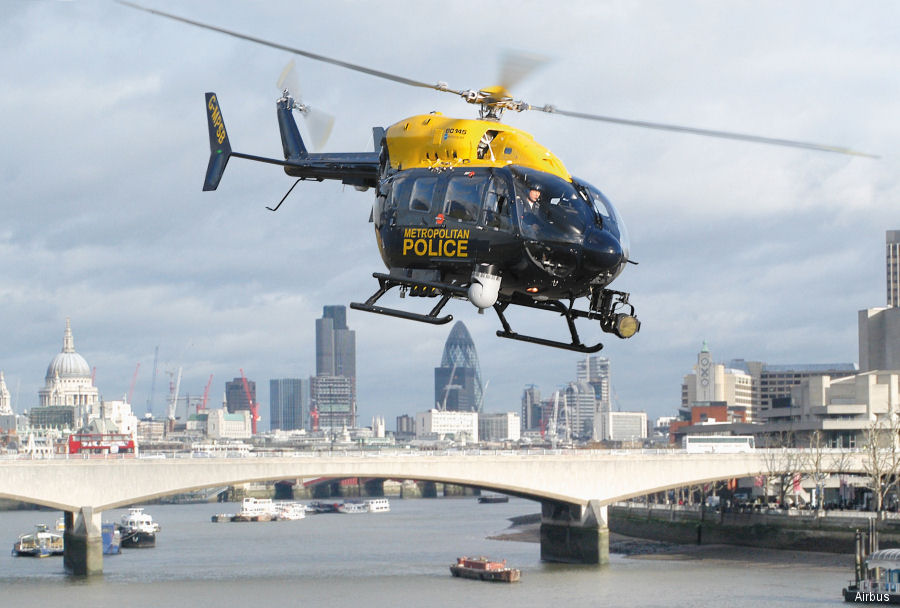 05-Mar-19 -

UK' National Police Air Service (NPAS) signed contract with Airbus to provide support and maintenance for its fleet of 15 EC135 and 4 EC145 helicopters

#NPAS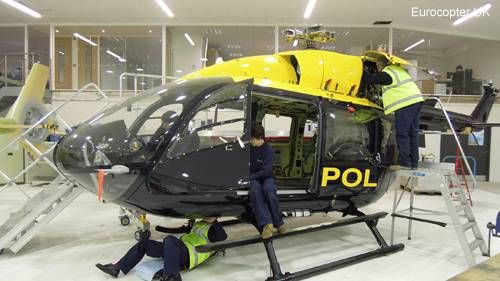 14-Mar-13 -

The acquisition of an EC145 by the Police Service of Northern Ireland will add another helicopter to this agency's all-Eurocopter fleet, and reinforces the company's impressive presence with law enforcement agencies in the British Isles.
08-Mar-10 -

Oxford, On Friday 5th March the Devon & Cornwall Police took delivery of a new EC145 helicopter. This most modern machine was customised at Eurocopter UK in Oxford to meet the demanding needs of the modern police service. It is equipped with the latest aids to police reconnaissance and airborne crime fighting. Included is a state-of-the-art Infra Red camera, sophisticated video viewing and recording equipment, and night vision goggles which enable the crew to see at night almost as well as in the day.
C/N
Mod
Built
ID In this Org
In other Org
9265
2009
G-DCPB Police D&DC Apr10-Jul13

D-HMBZ: Manufacturers test serial (4th incarnation); To UK
G-DCPB: Eurocopter UK Jun09-Apr10, test serial D-HMBZ

9065
2005
G-MPSA Metropolitan Police Air Support Unit from Jun07

D-HMBA: Test serial D-HMBA (3rd issue). To UK
G-MPSA: McAlpine Nov05-Jun07

9068
2005
G-MPSB Metropolitan Police Air Support May07-May15

D-HMBG: Manufacturers test serial (8th issue). To UK
G-MPSB: McAlpine Nov05-May07

9075
2005
G-MPSC Metropolitan Police Air Support Unit from Jun07

D-HMBE: Manufacturers test serial (6th issue). To UK.
G-MPSC: McAlpine Dec05-Jun07

9296
2009
G-PSNO Northern Ireland Police (PSNI) from Jul10; /Police 45; /Police 442

G-PSNO: Eurocopter UK Nov09/Jul10

9488
2011
G-PSNR Police Service of Northern Ireland (PSNI) from Jul13; /Police 443

G-LFRS: Eurocopter UK Jan12-Jan13, test serial D-HADB