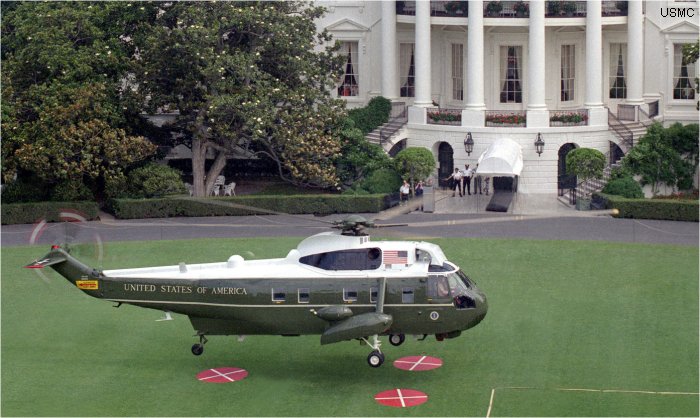 The VH-3D is a twin engine, all-weather helicopter flown by Marine Helicopter Squadron One (HMX-1) to transport the President of the United States. It is based on the
Navy SH-3 Sea King
antisubmarine helicopter and received the callsign
Marine One
when the president is on board. The VH-3D was first delivered to HMX-1 in December 1974 as a replacement for the
VH-3A
, which entered service in 1963. By the end of 1976, the VH-3A had been completely replaced by the VH-3D.
It was intended to be replaced by the
Lockheed Martin VH-71 Kestrel
, a derivative of the
AgustaWestland AW.101
but President Obama cancelled the program in February 2009
As of 2015 they are still in use and scheduled to be replaced by the
VH-92
by 2020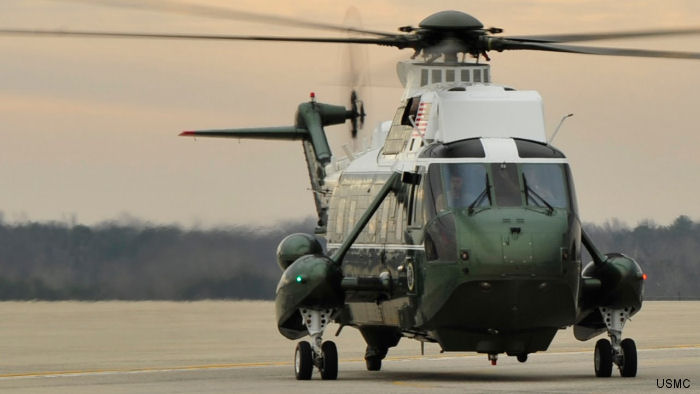 VH-3D Cabin Interiors to be Upgraded , 25-Sep-15 : Five Marine One VH-3D will receive new cabin interior kits to reduce the total gross weight of the aircraft and allow for greater lift capability
New H-3 for support of presidential airlift training, 13-Dec-12 : The US Navy has awarded a $25.3 million contract to Sikorsky Aircraft Corp (SAC) in Stratford, Conn., to convert a H-3 helicopter to a flyable trainer aircraft in support of the presidential airlift program, according to contract documents released this Thursday through the Federal Business Opportunities (FedBizOpps) website.
C/N
Built
ID In this Org
In other Org


61-724
159350: HMX-1

61-725
159351: HMX-1

61-726
159352: USMC HMX-1; late nov95 in United Kingdom for visit President+

61-727
159353: USMC HMX-1; end may97 in Netherlands for visit president Cli+

61-728
159354: HMX-1

61-729
159355: USMC HMX-1; early Jun07 in Poland for visit President George+

61-730
159356: USMC, HMX-1

61-731
159357: USMC HMX-1; Nov95 in United Kingdom for visit President Clin+

61-732
159358: HMX-1

61-733
159359: HMX-1

61-734
159360: 18jan09 pictured (bot) during President Obama Inauguration