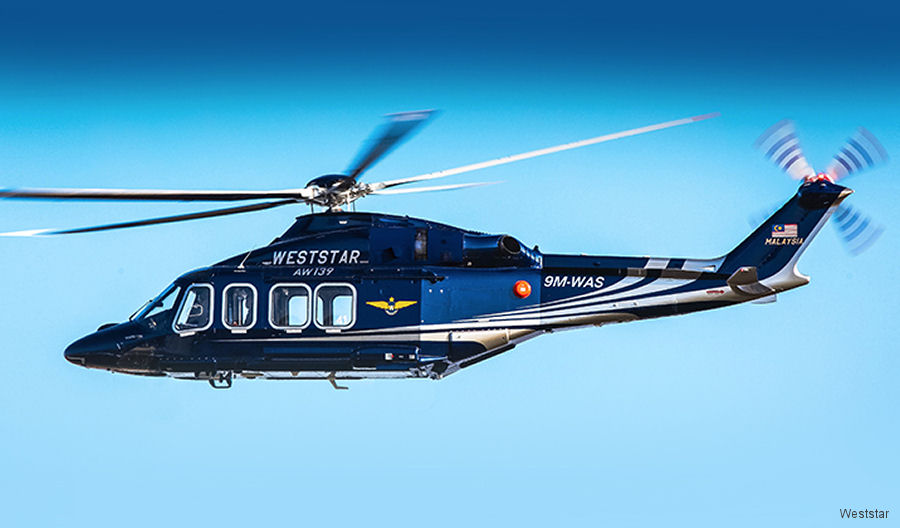 Weststar Aviation Services is the largest operator of AW139 helicopters in Asia starting operations in 2011 and with 13 already delivered by July 2012.

As of February 2014, 18 AW139s provides offshore aviation services in Malaysia ( Kota Bharu, Kerteh and Kota Kinabalu), Mauritania and Thailand.

By July 2014, 34 AW139 were in service or in order. The fleet reaches 50,000 flight hours performing offshore transport missions.
C/N
Mod
Built
ID In this Org
In other Org


31543
Weststar May14, test serial I-EASI for Thailand

HS-UOH: United Offshore Aviation (UOA) Thailand, lsd Weststar J+

31550
Weststar May14, test serial I-EASS for Thailand

HS-UOJ: United Offshore Aviation (UOA) Thailand, lsd Weststar J+

31554
Weststar Jun14 for Thailand

HS-UOI: United Offshore Aviation (UOA) Thailand, lsd Weststar J+


---



31324
2010
9M-WAA: Weststar d/d Nov10, test serial I-EASK, pictured

31326
9M-WAB: Weststar d/d Nov10

31336
2011
9M-WAD: Weststar d/d Jan11

31340
9M-WAE: Weststar d/d Jan11

31342
9M-WAF: Weststar d/d Feb11

31343
9M-WAG: Weststar d/d Feb11

31344
9M-WAH: Weststar d/d Feb11

31349
9M-WAI: Weststar d/d May11

31352
2011
9M-WAJ: Weststar d/d Jun11; 30June11 crashed shortly after lift off +

41267
9M-WAK: Weststar Jun11-Oct16

N305YS: Agusta Aero Space Corp Apr11


---

- PK-WAD: Weststar Aviation Indonesia from Oct16

31384
9M-WAL: Weststar d/d Jun11

31391
9M-WAM: Weststar Aviation, noted 2013

31419
2012
9M-WAO: Weststar d/d Jul12, ex I-EASW, I-RAIU

I-RAIU: AgustaWestland, 500th AW139; pictured at Farnborough a+

31461
2013
9M-WAP: Weststar Aviation Jul13-Jun18, test serial I-RAIP

EI-GGS: LCI from Jun18

31467
9M-WAQ: Weststar from May13, test serial I-EASH

41342
2013
9M-WAR: Weststar Aviation d/d Sep13, their 18th aw139

N326YS: AgustaWestland, PA


---

HS-UOB: United Offshore Aviation (UOA) Thailand, lsd Weststar

31441
9M-WAS: Weststar Aviation, VIP blue livery in Thailand, test serial +

HS-UOF: United Offshore Aviation (UOA) Thailand, VIP, lsd Wests+

41365
9M-WAV: Weststar from Dec14

N614SM: AgustaWestland, PA May14


---

- VT-HLH: India by 2018

41383
9M-WAX: Weststar from Mar15

N238MM: AgustaWestland, PA Aug14

31501
9M-WAY: Weststar 2019

HS-SFK: SFS Aviation Jul13-Mar18


---

based at Songkhla Airport


---

PK-BAJ: Air Born Mar/Jul 2018


---

HS-HVH: TAS May18-2019


---

EI-GOU: LCI Helicopters Eight Ltd from Jun19, still with Westst+

31543
9M-WBA: Weststar Aviation

HS-UOH: United Offshore Aviation (UOA) Thailand, lsd Weststar J+

41342
2013
I-WNDD: Weststar NDD Srl from Jun19

N326YS: AgustaWestland, PA


---

HS-UOB: United Offshore Aviation (UOA) Thailand, lsd Weststar

41558
2019
N114DV: Weststar Aviation in Saudi Arabia from Aug19

N114DV: AgustaWestland, PA from Mar19


---

N114DV: Tvpx Aircraft Solutions Inc Trustee at North Salt Lake,+


---

pictured starting delivery flight to Weststar Saudi Ara+


---

Delivery Flight


---

Delivery flight

31134
2008
PK-WAI: PT Weststar Aviation Indonesia from Oct15

PH-SHQ: LN-OLO ntu; CHC Jun08-Dec13


---

I-AWXX: AgustaWestland Italy Jan/Feb 2014


---

F-HKAH: Heliconia Morocco Apr/Oct 2014, lsd via Weststar Aviati+


---

I-AWCP: AgustaWestland Italy Oct14-Oct15