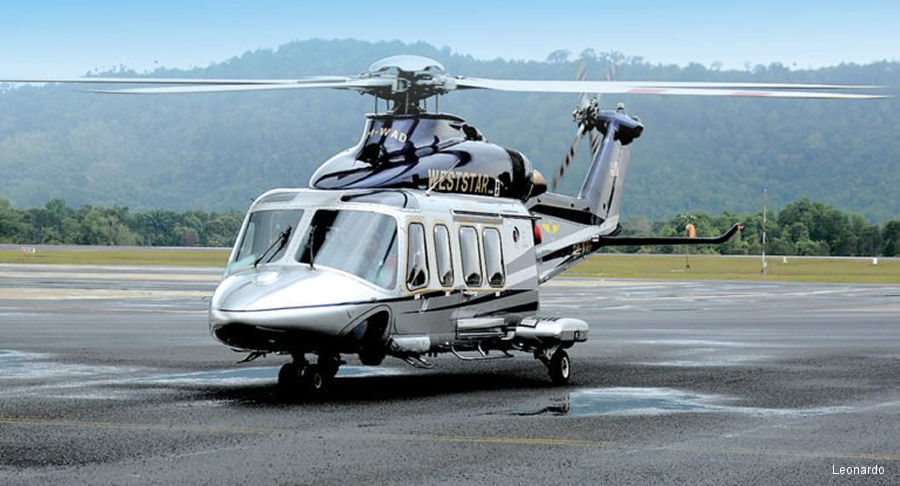 Weststar Signs for Three AW169 and Two AW139, 27-Mar-19 : LIMA 2019 Weststar Aviation Services signs new contract for 3 AW169 and 2 AW139 for offshore transport in West Africa and the Middle East during LIMA 2019. WAS currently operates 33 AW139/169/189 helicopters from bases in Malaysia, Thailand, and Indonesia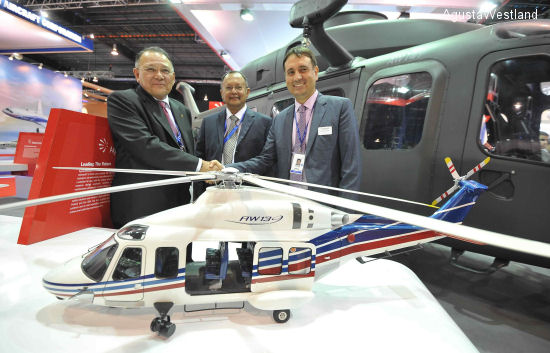 Weststar Orders 10 Additional AW139, 12-Feb-14 : AgustaWestland, a Finmeccanica company, and Weststar Aviation Services are pleased to announce that a contract for 10 AW139 intermediate twin helicopters was signed yesterday at the Singapore Air Show by Vincenzo Alaimo, Managing Director of AgustaWestland Malaysia Sdn Bhd, and Y.Bhg. General Tan Sri Muhammad Ismail Jamaluddin (R), Weststar Group CEO.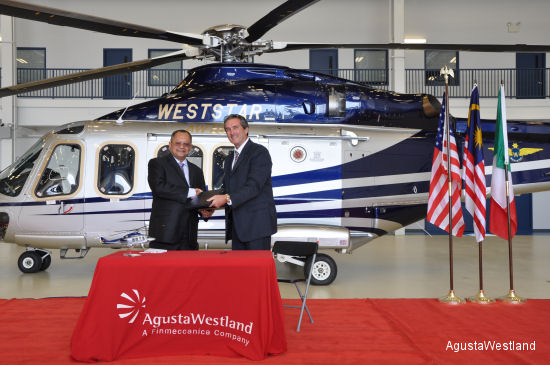 18th AW139 for Malaysia Weststar Aviation, 04-Sep-13 : AgustaWestland, a Finmeccanica company, today announced that Weststar Aviation Services of Malaysia has taken delivery of an additional AW139, bringing the total delivered of the type to 18 in support of Weststar's offshore oil & gas transportation and VIP transport services.
LCI to provide 2 AW139 to Weststar, 14-Jun-13 : LONDON - Lease Corporation International (LCI) announces its delivery of two Agusta Westland helicopters to Malaysian operator Weststar Aviation Services in a long-term lease. The new AW139 helicopters, valued at over $30 million, will be initially operated under contract to Tullow Oil. They have both been delivered this week.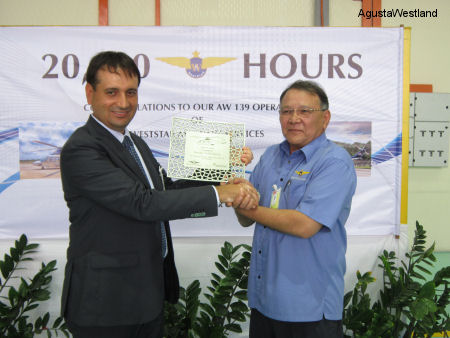 Weststar AW139s achieves 20,000 flying hours, 18-Oct-12 : AgustaWestland, a Finmeccanica company, is pleased to announce that the AW139 intermediate twin-engine helicopter fleet operated by Weststar Aviation Services of Malaysia has achieved the milestone of 20,000 flying hours, just 18 months after their first AW139 entered service in April 2011.