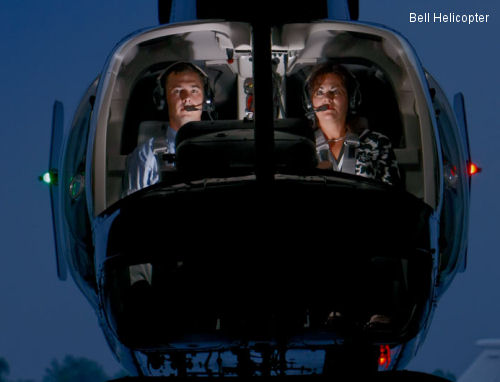 Bell Helicopter, November 28, 2011 - Bell Helicopter, a Textron Inc. company, announced today that its newest version of the popular Bell 407 – the 407GX – has earned European Aviation Safety Agency (EASA) certification following its certification by Transport Canada and the Federal Aviation Administration (FAA) earlier this year.

Since the Bell 407GX was introduced in March at the 2011 HELI-EXPO annual convention in Orlando, Fla., Bell Helicopter has received more than 60 orders, with the first aircraft expected to deliver later this year.

Built on the success of the Bell 407 , the 407GX is the only helicopter equipped with the innovative Garmin G1000HTM integrated glass flight deck, making it the most advanced light, single-engine rotorcraft on the market.

The 407GX's integrated glass flight deck provides aircrews essential flight information at a glance for greater situational awareness, improved operational capability and increased safety.

The advanced cockpit features two 10.4" high-resolution LCD displays with an intuitive, easy to scan layout and an integrated avionics system that presents flight instrumentation, navigation, communication and engine information. Integrated safety features include:

Traffic Information System (TIS)
Helicopter Synthetic Vision Technology (HSVT™)
Moving map
Helicopter Terrain Avoidance Warning System (HTAWS), and
Range ring calculation
Engine and crew alerting systems such as power situation indicators (PSI) and fuel flow, as well as automatic power assurance checks, are additional benefits of the Garmin G1000HTM integrated flight deck. The advanced suite features critical flight parameter storage on an SD card for post flight analysis.


About Bell Helicopter
Bell Helicopter, a wholly owned subsidiary of Textron Inc., is an industry-leading producer of commercial and military, manned and unmanned vertical-lift aircraft and the pioneer of the revolutionary tiltrotor aircraft. Globally recognized for world-class customer service, innovation and superior quality, Bell's global workforce serves customers flying Bell aircraft in more than 120 countries.

About Textron Inc.
Textron Inc. is a multi-industry company that leverages its global network of aircraft, defense, industrial and finance businesses to provide customers with innovative solutions and services. Textron is known around the world for its powerful brands such as Bell Helicopter, Cessna Aircraft Company, Jacobsen, Kautex, Lycoming, E-Z-GO, Greenlee, and Textron Systems. More information is available at www.textron.com.
Bell 407GX

Garmin