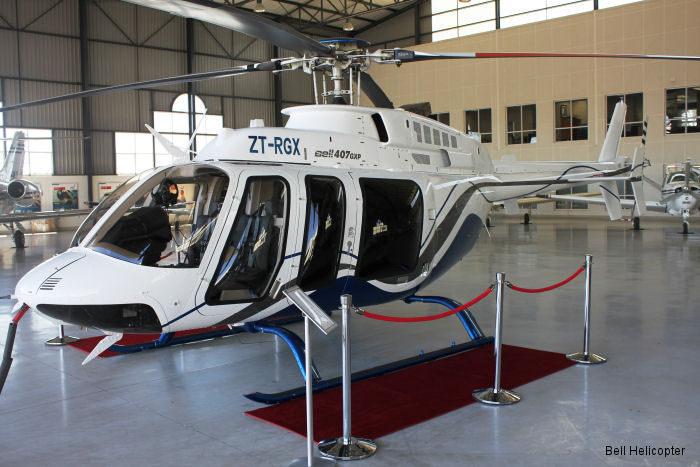 Bell Helicopter, September 16, 2016 - Africa Aerospace and Defence, South Africa – Bell Helicopter, a Textron Inc. company, in collaboration with its authorized Independent Representative National Airways Corporation, is delighted to announce the delivery of the fourth corporate Bell 407GXP into South Africa.

"We are seeing success and opportunities for the Bell 407GXP platform across Africa," said Steve Suttles, Bell Helicopter vice president of sales, Middle East and Africa. "This helicopter is truly versatile and is becoming popular in the corporate transport sector, and we also see increased opportunities for it equipped as a light attack helicopter across the continent."

The Bell 407GXP integrates reliability, speed, performance and maneuverability with a cabin configurable for an array of missions and payloads. Its Rolls-Royce 250-C47B/8 turbine FADEC engine delivers exceptional hot and high performance with the ability to cruise at 133 kts/246 km/h. Its spacious cabin has five club-passenger seats with an additional passenger seat in the cockpit in single pilot operations. For added passenger comfort, the Bell 407GXP also provides a very quiet and smooth ride in virtually all weather conditions.

"Corporate helicopter transport in South Africa is primarily a single engine aircraft market," said Gary Phillips, Executive Director, Helicopter Division, National Airways Corporation. "The Bell 407GXP is becoming the aircraft of choice with four deliveries just for South Africa alone since 2015. We have also already received 15 letters of intent for the Bell 505 since its launch."

About National Airways Corporation

Since its inception in 1946, National Airways Corporation (NAC) has spread its wings to become the largest general aviation company in Africa and one of the largest of its kind in the world. NAC offers you a full range of aviation products and services to the fixed wing and helicopter markets, including aircraft sales, aircraft maintenance, parts, value added products, charter, international operations and pilot, technical and ATC training.

With more than 68 years' experience in aviation, you are assured that we have a keen understanding of the business and the importance of providing a comprehensive service offering to our clients. Our strength lies in the relationships that we have built and nurtured with both our clients and our suppliers. These formidable partnerships enable us to provide you with cost effective solutions that other general aviation companies simply cannot provide.

More than that, our knowledge and expertise enables us to advise you and guide you to the right solution for your specific needs. Our company's headquarters are located at Lanseria Airport in Johannesburg and we operate a local network of offices in Cape Town, Durban, Grand Central Airport, Wonderboom Airport and Rand Airport. NAC's international businesses include Awesome Flight Logistics in Perth, Australia and Specialised Aircraft Services in Wichita, Kansas, USA.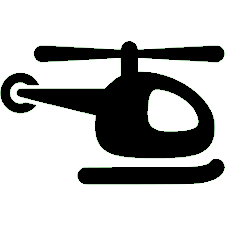 Aircraft mentioned in this article :
407GXP ZT-RGX ( )


Bell 407GXP


National Airways Corporation