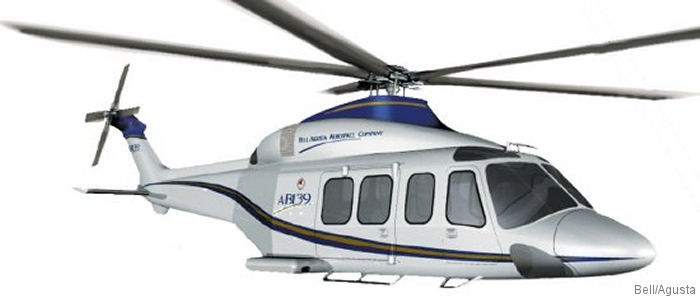 Bell Helicopter, October 08, 1999 - FT. WORTH, TX- The Bell/Agusta Aerospace Company reports the sale of two AB 139 twin engine helicopters during the recent Helitech exhibition near London.

The aircraft were purchased by the Bristow Helicopter Group, one of the world's leading operators of helicopters with headquarters at Redhill Aerodrome in Surrey.

The AB139 program is on time and budget. BAAC has completed 78% of the technical designs and the manufacturing process and tooling assembly progress as planned. Bell/Agusta will build three pre-production aircraft of the AB139.

The first flight is scheduled for late 2000 with first deliveries in 2002.

The AB139, along with the BA609, will be built at Agusta's Final Assembly Line in Vergiate plant, Italy. An AB139 assembly line will be established at a Bell plant. All parts and components for both lines will come from the exact same sources (i.e. engines from Pratt & Whitney of Canada, avionics from Honeywell, etc.). The aircraft will be identical whether assembled in Italy or USA.

The AB139 is a market driven product, that it is based on proven technology and has state-of-the-art systems integration, that it has better productivity and performance than its competitors, and that it is time to market compliant. The AB139's competitive objectives are lower operating costs and higher productivity than the competition, category "A" performance without payload loss, reliability with advanced and proven technology, and design standards to meet all new regulatory and operational requirements.

The AB139 overcomes limitations of existing helicopters and offers flexible baseline with configurations tailored to different applications.

The AB139 program is maturing with the collaboration of several leading international as risk-sharing partners including Pratt & Whitney of Canada, Honeywell of the USA, GKN Westland Aerospace of the UK, PZL Swidnik of Poland, Liebherr of Germany, Kawasaki of Japan, and others.

The AB139 takes advantages of the market and marketing support of Bell and Agusta that are world leaders in this class. Bell/Agusta Aerospace Company will manage, market, sell and support its products.
Agusta AB139
AW139 in

Bristow
AW139 in

Bristow US

Bell