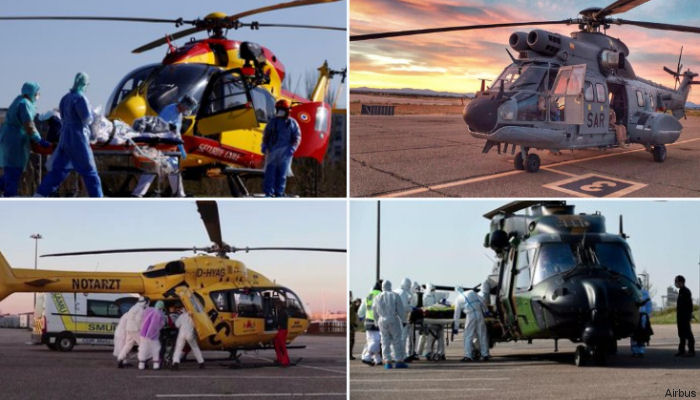 Airbus Helicopters, March 30, 2020 - Albacete, Spain - March 29, 2020 - The Spanish government announced new measures in the fight against COVID-19. These measures are taking effect between Monday 30 March and Thursday 9 April inclusive and restrict all non-essential activities across the country.

Some key activities in Commercial Aircraft, Helicopters and Defence and Space remain essential. Minimum activity in these areas for necessary support functions such as Security, IT, Engineering, will remain under the stringent health and safety measures implemented by Airbus to protect its employees against the COVID-19 pandemic.

All other activities in Commercial Aircraft, Defence and Space as well as Helicopters in Spain will be paused until 9 April, the date when it is foreseen that restrictions will be lifted.

Airbus will closely work with its social partners to apply the social measures applicable under the latest restrictions. Airbus employees in Spain whose jobs are not linked to production and assembly activities and can work from home will continue to support Airbus business continuity in these difficult times.

As a leading company, Airbus needs to retain its ability to support the global crisis efforts, support customers, suppliers and continue to bring its essential contribution to society."

---

UK - March 17, 2020 - Airbus designs, tests and manufactures wings for commercial aircraft at factories in Broughton, North Wales, and Filton, Bristol. It employs at total of 13,500 people across more than 25 UK sites. There are currently no changes affecting UK operations.

On March 25, Airbus announced will slow its wing production in Germany and the UK for three weeks.


---

China - February 5, 2020 - Airbus is closely monitoring the evolution of the Coronavirus situation and following the World Health Organisation travel advice that is affecting Airbus globally.

The Company is regularly updating staff on the situation and on necessary precautions to take.

Airbus China is observing Chinese Government requirements for staff to work from home and is facilitating with IT equipment so employees from all locations including Tianjin do not need to travel to work where possible. With regards to the business impact, China domestic and worldwide travel restrictions are posing some logistical challenges. The Tianjin Final Assembly Line facility is currently closed.

Airbus is constantly evaluating the situation and monitoring any potential knock on effects to production and deliveries and will try to mitigate via alternative plans where necessary.


About Airbus: Airbus is a global leader in aeronautics, space and related services. In 2018 it generated revenues of € 64 billion and employed a workforce of around 134,000. Airbus offers the most comprehensive range of passenger airliners. Airbus is also a European leader providing tanker, combat, transport and mission aircraft, as well as one of the world's leading space companies. In helicopters, Airbus provides the most efficient civil and military rotorcraft solutions worldwide.

List of Coronavirus outbreak
Airbus


Airbus Helicopters España
Airbus Helicopters Spain

Airbus Helicopters China

Airbus Helicopters UK