Developing Future Airport Infrastructure


Designing new ways for connecting airports with urban transport and the mobility of the future, Fraport airport operator and Volocopter are developing airport infrastructure and passenger processes for air taxi services

Volocopter, February 13, 2019 - FRA/Bruchsal – Fraport AG and Volocopter GmbH are pioneering mobility of the future. Together, they are developing concepts for ground infrastructure and operations required for air taxi services at airports.

This cooperation focuses on smooth passenger handling and efficient integration into existing transport infrastructure. This will be examined using a so-called Volocopter Port. In the future, Volocopter Ports could link existing urban transportation junctions with one another and provide connections to and from Frankfurt Airport (FRA).

Fraport is a globally active airport manager with many years of expertise in airport operations – particularly in ground infrastructure, ground handling, and terminal and passenger services. Fraport can also leverage its extensive experience in unmanned flying. Via its FraDrones program, Fraport has already tested various scenarios for using drones for operational purposes.


Mobility of the Future
Volocopter has already proven that its electrically-powered vertical take-off multicopters meet the requirements of Urban Aerial Mobility in various test flights, most notably in Dubai. Based on drone technology, the Volocopter offers space for two people and is a suitable urban transport solution thanks to its quiet and zero-emissions flying. Frankfurt Airport, Germany's most important aviation hub with more than 69.5 million passengers last year, offers the ideal conditions for this innovative partnership.

Anke Giesen, Fraport AG's executive board member for operations (COO), explained: "Autonomous flying will fundamentally change aviation in the years to come. We want to be the first airport in Europe to harness the potential of electric air taxis in partnership with pioneer Volocopter – for the benefit of our passengers and the Frankfurt/Rhine-Main region. This partnership underscores Fraport AG's role as a key driver of innovation in diverse fields."

Florian Reuter, CEO of Volocopter GmbH, said: "Providing the ideal connection between the city center and the airport poses a huge challenge for the world's major cities. Together with Fraport AG, we are excited to pioneer the implementation of an air taxi service at one of Europe's most important airports. We will be tapping into Fraport's wealth of experience to integrate the Volocopter Service safely and efficiently into the complex array of processes required at a major international airport."

About Volocopter GmbH: Volocopter is the global leader in the development of electrical vertical take-off and landing multicopters (eVTOL) as air taxis to fly people safely to their destination. The technical platform is extremely flexible and permits piloted, remote controlled, and fully autonomous flight. In addition, the unique design offers unprecedented degrees of safety based on the high level of redundancy in all critical components. As early as 2011 the company earned its entry into the history of aviation through the manned flight of the world's first purely electrical multicopter.

Since then, the young enterprise has set new milestones: in 2016 Volocopter obtained provisional licensing for a two-seater Volocopter from the German aviation authorities, and in 2017 the aviation start-up showcased the first ever autonomous flight of an urban air taxi in cooperation with RTA Dubai. In the meantime, the founders Stephan Wolf and Alexander Zosel have gathered an effective team of experienced managers like CEO Florian Reuter, CTO Jan-Hendrik Boelens, and CFO Rene Griemens. This has paved the way for the further expansion of the company. Daimler and Intel are among the investors in the company.

About Fraport AG and Frankfurt Airport: One of the leading players in the global airport business, Fraport AG offers a wide range of operational and management solutions based on over 90 years of aviation expertise. Fraport's portfolio of companies spans four continents with activities at 30 airports worldwide. In fiscal year 2017 (Dec. 31), Fraport generated sales of €2.93 billion and profit of about €360 million.

More than 176 million passengers in 2018 used airports around the world in which Fraport has more than a 50 percent stake. In its Mission Statement, Fraport places the focus on its customers. The Group's commitment to ensuring a "good trip" to all passengers and travelers is also reflected in its corporate slogan: "Gute Reise! We make it happen". This applies to all of Fraport's business activities and services at Germany's largest aviation hub in Frankfurt and the Group's airports worldwide.

At its Frankfurt Airport (FRA) home base, Fraport welcomed more than 69.5 million passengers and handled about 2.21 million metric tons of cargo (airfreight and airmail) in 2018. For the current winter timetable, FRA is served by 89 passenger airlines flying to 266 destinations in 101 countries worldwide.

A total of 131 intercontinental destinations are served from FRA in the 2018/2019 winter schedule – underscoring Frankfurt's role as a leading hub in the global air transportation system. In Europe, Frankfurt Airport ranks second in terms of cargo tonnage and is the fourth busiest for passenger traffic. With about 55 percent of all passengers using Frankfurt as a connecting hub, FRA also has the highest transfer rate among the major European hubs.

Frankfurt Airport City has become Germany's largest job complex at a single location, employing approximately 81,000 people at some 450 companies and organizations on site. Almost half of Germany's population lives within a 200-kilometer radius of the FRA intermodal travel hub – the largest airport catchment area in Europe. FRA also serves as a magnet for other companies located throughout the economically vital Frankfurt-RMN (Rhine-Main-Neckar) region.

Thanks to synergies associated with the region's dynamic industries, networked expertise, and outstanding intermodal transportation infrastructure, FRA's world route network enables Germany's export-oriented businesses to flourish in global markets. Likewise, FRA is a key gateway for companies wanting to access the huge European marketplace. Thus, Frankfurt Airport – which is strategically located in the heart of Europe – is one of the most important hubs in the global logistics chain.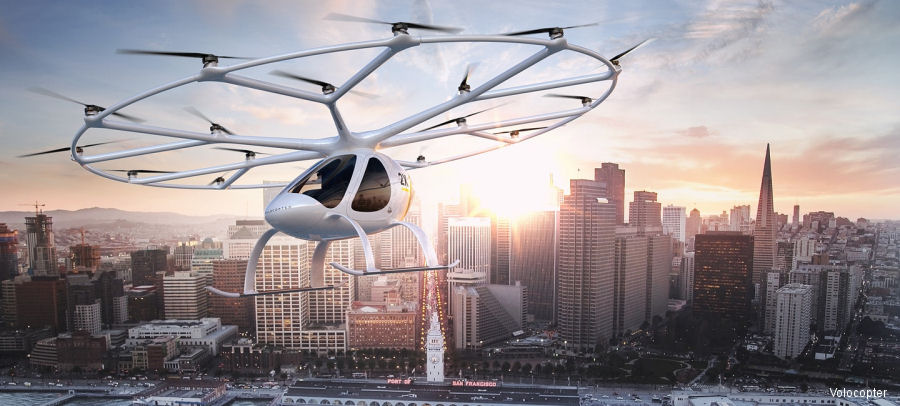 This article is listed in :
Programs: Urban Air Mobility
E-Volo Volocopter VoloCity
--Helicopters UAV & Drones


Frankfurt am Main
What links here :
New Urban Air Mobility Strategic Alliance